Happy 2011.
A New Year means a new word for me. In case you haven't noticed it when I changed my banner, my one little word for 2011 is Free.
Free.
As I do every year, I feel like it's the most important word I could have chosen. It has meaning on two levels for me:
The first part is about the past. I want to be free of my past. Of the ideas, thoughts, worries in my head of who I am, what I can do, what I deserve, etc. The past has a strong way of influencing who you are. And, of course, who you are affects your dreams, future possibilities and aspirations. The people and thoughts and words in your past shape who you've become and they are creating a limited view of the world for you. At least this is what I believe. I have a lot of strong convictions about what I am good at and what I should and should not do.
So a big part of this word (and this year) for me is letting go of the past. Of the hurt I carry around. Of the anger, jealousy, resentment I have for some of the people who broke my spirit. Of the words that were said to me or whispered behind my back. Of the limitations provided by my surroundings. Of the needs I think I have.
I want to be free of the past that's chained to me. I want to feel like I am an empty vessel waiting to be filled with joy and possibility and dreams that I make up. Anything I want. Completely free. Starting over and not in the way I thought moving to America would help me start over. Not running away. Not trying to fake it. Not burying it all deep down. Not any of those avoiding tactics. I am happy to sit and face everything bad, sad, and ugly and just make my peace with it. Truly, genuinely let it go. I think this will be cathartic and I want to do it.
The other portion of this for me is about the future or maybe even the now. I want to feel free to do anything my heart desires. For example, I really want to learn to draw but I have a lot of voices in my head that tell me I can't. I am not good at it. I am a computer person not an artistic one. Etc. etc. Same for exercise. I am not in shape. I can't run. I can't draw. I can't can't can't. I have a lot of ideas of what I can and cannot do. What's right and what's wrong. I want to be free of all of that and feel free to do or be anything. I want to feel all that weight lift off.
I want to be free of worry. I want to let go and see that the world doesn't stop turning and see that the people who love me still love me. I want to show myself that I can draw. I can run. I can. I can. I can.
So there you go. That's my goal for 2011.
Since this word is so important to me, I've done a millon things to keep myself in this space mentally. I surrounded myself with reminders. I've decided birds and butterflies and angels are my symbols for free. And I've put them everywhere. Starting with my blog banner. If you look carefully towards the bottom of the flower stem, you'll see the word "free."
And then I got a necklace as I seem to yearly now.
Actually my mom brought the necklace. And when she came, she was wearing these two rings with butterflies on them. I begged to have them and of course she graciously agreed. I wear one right now: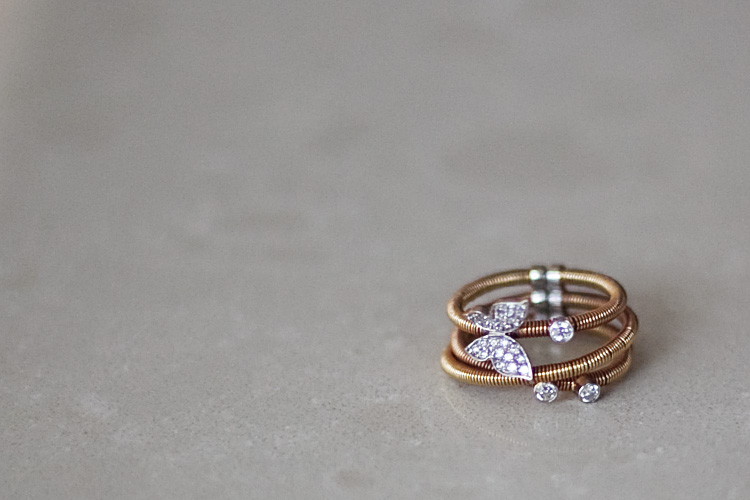 I was taking this class from Tam at that time that I was thinking about my word. During the last class, she painted this amazing angel. I fell in love with her during the sneak she posted of the picture. I hadn't even watched the video yet. And when I watched the whole thing, I felt like the angel was watching me the whole time and to my utter amazement (and joy), Tam wrote "I am free" at the bottom of the painting. I bought the print as soon as I finished watching the video and it hangs above my desk now.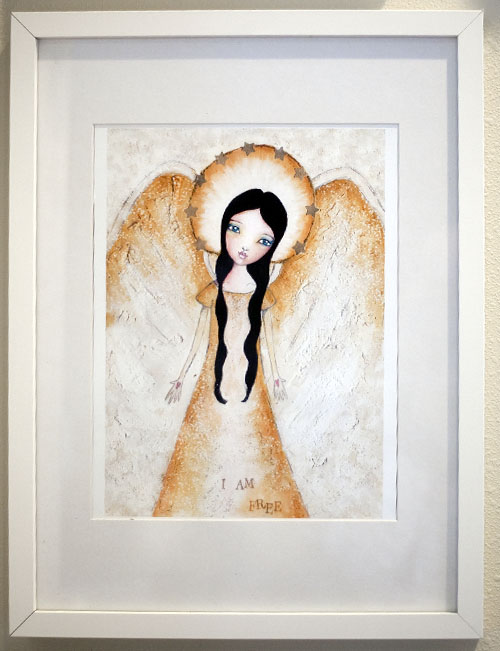 I love love love love this image. I adore it.
My mom also bought me a birdcage and a nest and bird. It sits right next to my desk and the cage is open with the bird sitting on the nest outside the cage. As in, it's free and not caged.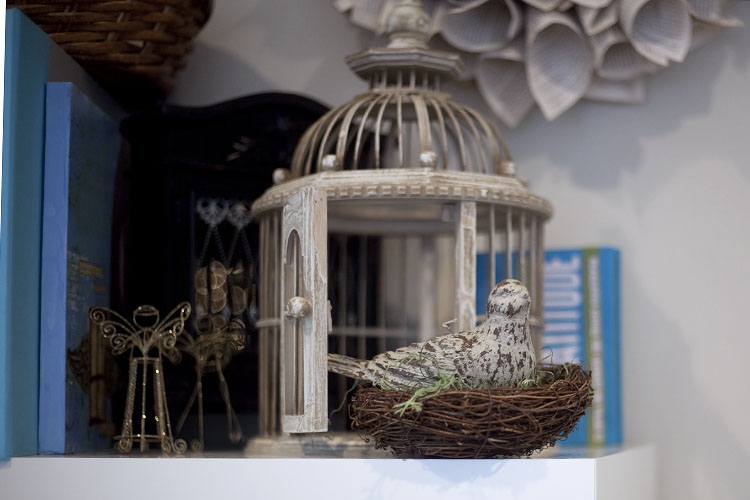 And finally I covered my art journal with a bird and cage, too. And I even put the word free on my daily planner moleskine: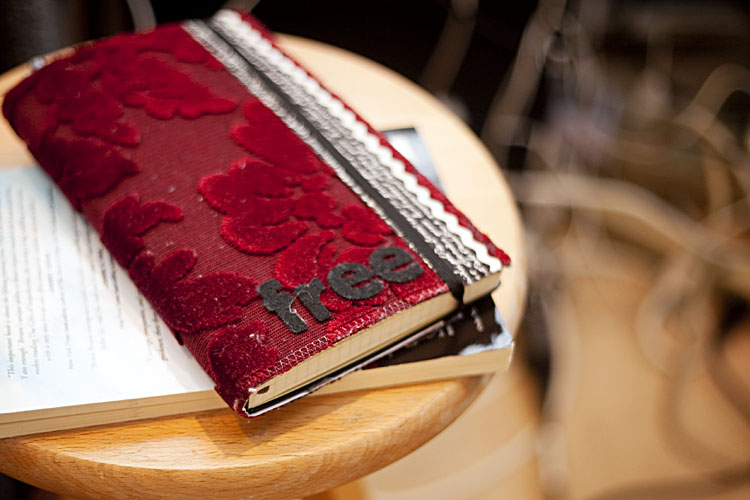 I know I went overboard but, trust me, this word matters to me. What it represents matters to me. I cannot have enough reminders. I've also signed up for Ali's Big Picture class. Depending on what they are, I plan to do the assignments in my art journal.
I also started a new tradition this year. A while back, I was listening to The Seven Habits of Highly Effective People and one of the things the author mentions is managing our time and how we spend much of it doing what's urgent instead of doing what's important. As in, we're often reacting instead of thinking ahead and calmly acting in the direction of our dreams and priorities.
So I decided it would beneficial for me to make a "Priority List". A list of goals and people I want to prioritize during 2011. This way, when an opportunity or request came my way, I could check my list and make sure it is aligned with my priorities before I accepted it. It's easy to lose sight of things and take on projects that end up eating a lot of my time and not making me fulfilled. If I had my list to look at each time, I could keep what's important at the forefront of my mind and make sure to prioritize it.
Here's my Priority List for 2011:
* Family
* Health
* Work
* Art + Photography
* Scrapbooking
* Reading
* Writing
* Learning
* Community
These are not in order. Yes, most of the time my family comes first. However, there are times when work takes higher priority because it has to for a brief time. Or sometimes I might choose to exercise even if my son wants to play at that moment. These priorities are fluid for me. They are all a part of me and I want to make sure I value them and dedicate time to each. I also want to make sure I turn down anything that doesn't line up with one of these.
I know it looks like it's all-encompassing and I spose if you wanted to, you could make everything fit into one of these categories but, in my heart, I know what these mean. And I know when something comes along that doesn't fit. Above everything, I want to stay true to my gut. I've made the mistake of doing something that will look good and make others think well of me before and it was a lot of heartache for me and so I want to listen to myself more and trust my gut and know that if I turn down something that feels wrong, other opportunities will still come my way and I will know when the right one is there. So I will have faith in myself and in the universe.
And I will prioritize the important.
Since I like visual reminders. I used a beautiful Maya Road product to remind me of my priorities for 2011. I coincidentally happened to have 9 so it was perfect: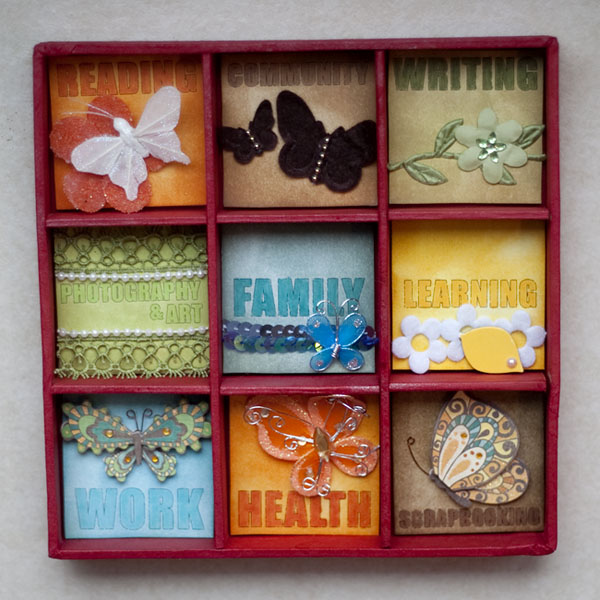 I had a lot of long words so I wrote them all on the computer, printed, cut, inked, colored with copics, and then slightly embellished with mostly butterflies.
And there we are. Here's to an amazing 2011.
The year I will finally be FREE.