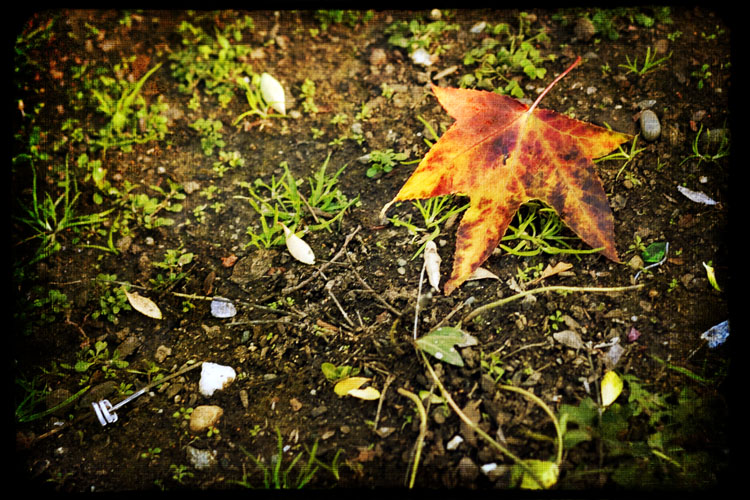 When I looked back upon 2012, one of my favorite things was all the thoughts-related posts. As I was planning out my year and creating projects, I told myself that I would come up with a way to continue those. And here we are almost at the end of the first month and I've written like two posts.
Dismal failure.
The funny thing is, I think about writing stuff all day long. But then I have no ideas. I don't know what to write about. I don't have time to write. I am too tired. I have a headache. I'd like to catch up on TV. I want to read. I have art to do. On and on it goes.
I have nothing to share, I think.
I've even sat in front of the computer and stared at it for a while a few times. No ideas came and I figured if I don't have anything interesting to say, I really shouldn't waste anyone's time, right?
Well I went back to my intentions and January was all about taking time off. Being quieter. Listening. And, in many ways, it's been a quieter time than usual. My crazy life is about to get a notch or two crazier in a week when certification process starts and work starts getting more insane and I have to be super-organized to keep it all from falling apart. So taking time off in January makes sense. (At least that's what I'm telling myself.)
But here comes February. And my intention for February is to be JOYFUL. I could use some more of that in my life. A LOT more actually. Even though my word this year is present, I've been trying to do a lot of gratitude and a lot of celebrate. I think those two things keep me in the now. So February is all about celebrating.
Here's what I wrote on my card: celebrate the joy of life. drink it up. buy a present. spread the joy. how could you celebrate more?
So that's the plan for February. Celebrate.
I want to remember that, like all things, writing comes with practice. Ideas come with practice. The more I write these posts, the more ideas come to me. And I love having a place to write down what I'm thinking. What's important in my life right now. What are some of my struggles, my successes, my learnings. This is my little place to celebrate my life. To celebrate my every day.
To celebrate me.
So here's a good-bye to the quiet January and a welcome to the joyful February. My hope is that even as my life kicks up a notch in its hectic-ness, I will still find a way to show up here and celebrate my life.
If you read this today, I hope you can come by the blog for one minute and tell me something you're celebrating. Or something you want to celebrate more. I've come to believe celebrations are super-important and will write all about that sometime soon, I promise.
I'll start: I am celebrating starting my certification process even though I am quite scared of it. I am celebrating selling a little art, getting published, and making a lot of art. I am celebrating getting to hug my kids in the morning and at night. Getting to take them to school and getting to pick them up. I am celebrating all my clients and their wanting to take their life to the next level. I am celebrating my quiet-er time at work. I am celebrating my husband and his pursuing his dream. I am celebrating teaching Nathaniel how to read and teaching David a little programming. I am celebrating how much David loves reading. I am celebrating all of our good health. I am celebrating the miracle of getting to go to bed early and getting a full night of sleep.
I can go on, but I will stop. I have to say just writing that all down made me smile. So I hope you'll take a few moments and share yours with me, too, however small or huge. I will read each one of them, cheer with you and smile that much wider. I would love to celebrate with you.
Here's to a February full of celebration!