It's been a long day here and I'm quite tired and still have more commitments for the evening so I decided I'll share my One Little Word for February with you instead. I'll add some thoughts along with it so it's more meaningful.
This month's assignment was to create a vision board. I made one of these in 2011 for Karen's class. I'm not a vision-board kind of person. Not sure why and not sure what that even means. But I just know that I don't do them each year. So when I first watched the assignment I was all blah about it.
But I am a good student and I wanted to do my homework anyway. I knew from my experience before that I would do it digitally and have it available to add to my moleskines as well as my OLW binder.
So I opened up Pinterest and typed "present moment" into the search. I found a ton of boards, went through a whole bunch of them, tagged photos I liked, and then opened all of them in photoshop and just dragged and dropped, and moved and shuffled until I was happy with what I got. I tried to fit in as much as I could. I ended up with this:
I will admit that I love it. It has so much of what resonates with me right now. Last time, I'd deliberately added some images that were important to me, but this time I just pulled whatever spoke to me without any rhyme or reason.
My favorite part is the pooh conversation.
But I really love all of it. I love the peace, serenity, love, joy I see in it. It has so much of what's meaningful for me and I know I could have spent another 50 hours on it but I love it just as it is.
and here it is in my olw binder: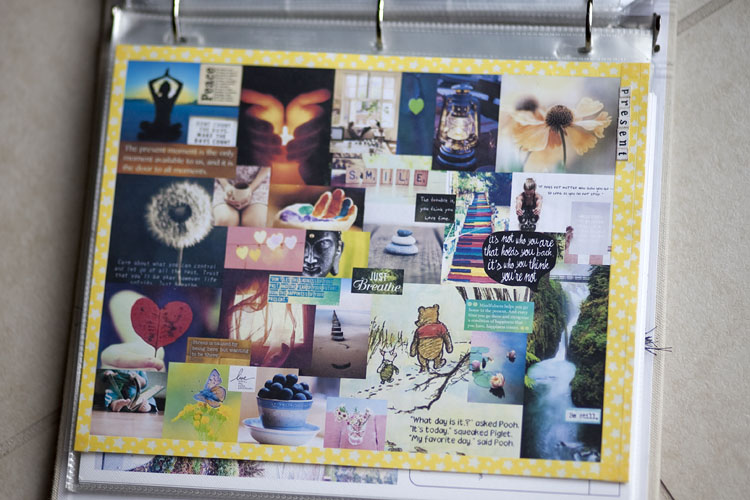 If you did this, too, I'd love to see yours!