This is my Mix and Match page for My Mind's Eye in April.
As I continue on my journey of two-6×12 page layouts, I've been thinking about this new style and pondering how I feel about it. I've received some thoughts and questions about this style and wanted to share some of what I think with you.
1. I love having the room to write longer journaling. When I switched to creating layouts with hand-journaling a few years ago, one of the things I missed was the ability to tell much longer stories. I know that, for me, handwriting my journaling means writing more randomly and naturally. But not always going as deep. I seem to be able to collect my thoughts better on the computer. So I love having this mechanism for telling my longer stories. Making deeper connections on my layout.
2. I've been asked a few times, why I like the 2 6×12 over the 12×12. On a purely mechanical level, I don't have a large-sized printer and would not be able to print my journaling if I did a 12×12 page. But, even more significantly, with this system when I sit to scrap, I am still designing a 6×12 page. I always put the two blank pages side by side but, with the exception of the photos, I don't think of any overlap until I've fully designed the right side. So my brain is thinking of a narrow rectangle (6×12) and not of a square (12×12) and different ideas come to me that wouldn't if I started with a square. This month's layout is a perfect example. I'd never have put an arrow in the middle of a square page, but with the split design, the arrow that splits across the pages makes it visually interesting.
3. More than anything, I like the process of doing something different than I usually would. Doing the same thing over and over again can get you into a rut. It might put you on auto-pilot and fewer creative ideas bubble up. Changing your perspective, changing your fundamentals (like the size and shape of the paper you design on) can really shake things up and help you see new possibilities.
So if you've been doing the same thing for a while, I encourage you to try something new this month. You never know what surprises you might get.
With that, here's my page for April: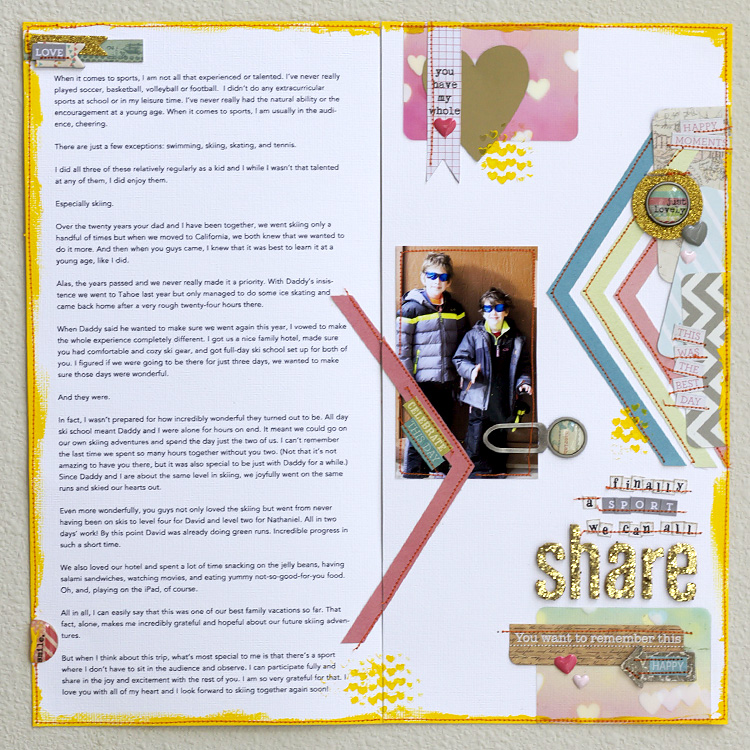 Here's the long journaling:
My sweet boys,
When it comes to sports, I am not all that experienced or talented. I've never really played soccer, basketball, volleyball or football. I didn't do any extracurricular sports at school or in my leisure time. I've never really had the natural ability or the encouragement at a young age. When it comes to sports, I am usually in the audience, cheering.
There are just a few exceptions: swimming, skiing, skating, and tennis.
I did all three of these relatively regularly as a kid and I while I wasn't that talented at any of them, I did enjoy them.
Especially skiing.
Over the twenty years your dad and I have been together, we went skiing only a handful of times but when we moved to California, we both knew that we wanted to do it more. And then when you guys came, I knew that it was best to learn it at a young age, like I did.
Alas, the years passed and we never really made it a priority. With Daddy's insistence we went to Tahoe last year but only managed to do some ice skating and came back home after a very rough twenty-four hours there.
When Daddy said he wanted to make sure we went again this year, I vowed to make the whole experience completely different. I got us a nice family hotel, made sure you had comfortable and cozy ski gear, and got full-day ski school set up for both of you. I figured if we were going to be there for just three days, we wanted to make sure those days were wonderful.
And they were.
In fact, I wasn't prepared for how incredibly wonderful they turned out to be. All day ski school meant Daddy and I were alone for hours on end. It meant we could go on our own skiing adventures and spend the day just the two of us. I can't remember the last time we spent so many hours together without you two. (Not that it's not amazing to have you there, but it was also special to be just with Daddy for a while.) Since Daddy and I are about the same level in skiing, we joyfully went on the same runs and skied our hearts out.
Even more wonderfully, you guys not only loved the skiing but went from never having been on skis to level four for David and level two for Nathaniel. All in two days' work! By this point David was already doing green runs. Incredible progress in such a short time.
We also loved our hotel and spent a lot of time snacking on the jelly beans, having salami sandwiches, watching movies, and eating yummy not-so-good-for-you food. Oh, and, playing on the iPad, of course.
All in all, I can easily say that this was one of our best family vacations so far. That fact, alone, makes me incredibly grateful and hopeful about our future skiing adventures.
But when I think about this trip, what's most special to me is that there's a sport where I don't have to sit in the audience and observe. I can participate fully and share in the joy and excitement with the rest of you. I am so very grateful for that. I love you with all of my heart and I look forward to skiing together again soon!
and finally some closeups: