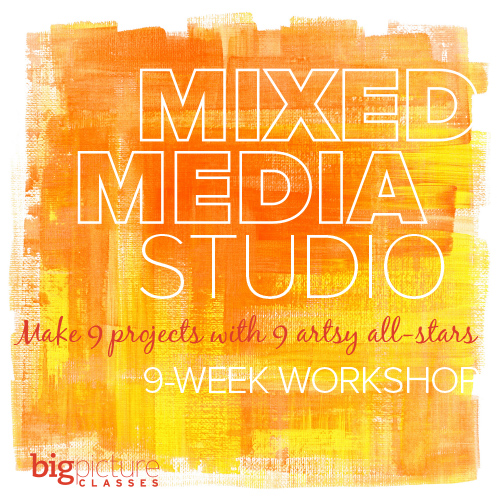 I know I am due an update from last week's posts. I will tell you just a few quick updates and then get down to the giveaway and I promise a longer update later this week:
I am still staying on top of the Whole Life Challenge. Thirty days down, 25 more to go.
I had my meeting, it went well and I stressed for nothing.
Life's a collection of waiting moments right now. I do not do well with waiting.
I am really excited about my class starting soon.
On that great segue, I have one spot to give away in the class.
This class is taught by some of my favorite artists: Carolyn Peeler, CD Muckosky, Céline Navarro, Christy Tomlinson, Donna Downey, Frank Garcia, Rebecca Sower, Susan Weckesser, and me. 
Here's a bit more about the class:
Got paint? Get inspired! Nine mixed-media experts will help you experiment with a diverse array of artistic techniques in this 9-week online workshop.
Mixed Media Studio is like nine different classes in one! Each week, a different artsy all-star will share an exclusive project, a video that walks you through a featured technique, and step-by-step instructions to help you complete the project. Plus, you'll get to interact directly with the artists via our private classroom message board and gallery.
Would you like to find your groove in the mixed-media world? Try your hand at nine different art styles, all collected into one affordable workshop.
If you know for sure that you're interested, you can register by clicking here. I confirmed that if you win and you've already registered, they will reimburse you.
If you'd like to win a spot in this class, please leave a comment and tell me what kind of classes you'd like me to teach.
I will post a winner on Monday, October 20, right here.
I really hope to see you in class.
ps: All the links are affiliate links as it's a big part of how I get paid for the class so I would be really grateful if you signed up by clicking through on one of my links 🙂