This year I am planning to do something different than last year. Around last September, I stopped taking a lot of daily photos which then meant I also stopped scrapbooking. I have several of the Story Kit's piled up. So I decided to switch gears a bit and see if I can use Ali's prompts to tell my stories. I might (or might not) also turn them into scrapbook pages. In the meantime, I will just enjoy telling my stories.
Prompt: Breathe – 01 | Think about the last time you experienced something that took your breath away. Tell that story.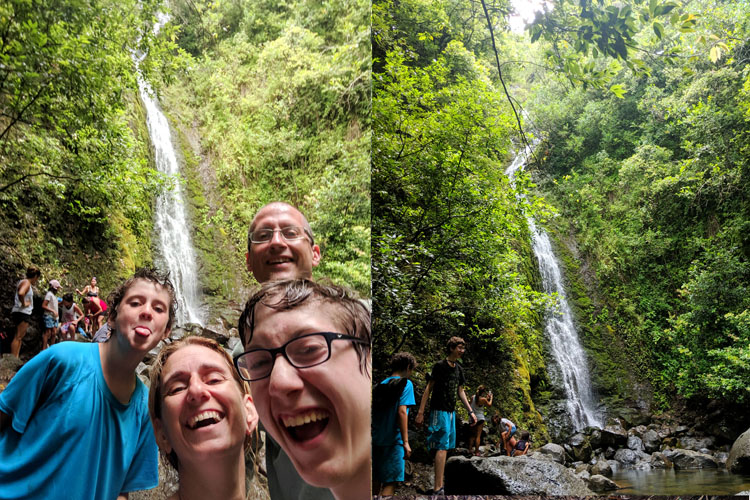 During the summer of 2019, we took a family trip to Oahu, Hawaii. It was my first time on any Hawaii island and while I loved the beautiful beaches and the blue sea, I was disappointed by how crowded Waikiki was and how large and impersonal our hotel felt. I had hoped to have a quiet vacation, sitting by the pool and reading my book but it didn't look like that was going to be possible. 
The week we spent there was still magical, full of beautiful beaches, delicious sandwiches, lots of reading time and family time. But the best part came at the very end. 
On our last day there, we looked for one final adventure together. I had read about a hard-to-find hike in this hidden forest near the highway. We decided we had nothing to lose so we went in search of this path. 
It was a bit confusing, but we managed to find it and started walking down the bamboo forest that turned into a lushly covered pathway. We got lost a handful of times as we walked up the hill, through the muddy terrain. We thought of giving up but the few people we saw on the way told us to keep going.
So we did. 
And it was the best decision ever. At the end of the long path, we came upon an amazing waterfall and a small lake. We were soaking wet from sweat and even though the water was freezing, I couldn't wait to jump in. We walked up to the waterfall and stood under it as the water fell all over us. It was one of the most magical moments of my life and even now thinking about it takes my breath away. 
It reminded me of what a gift nature is and how water heals everything for me.
---
Stories from 2020 is a year-long project for 2019. You can read more about my projects for 2020 here. The prompts are from Ali's Story Kits unless mentioned otherwise. I have started an instagram account for these, we'll see if I keep it up.