I bought a new pair of jeans this week. I'd like to have waited for a little more weight loss but my older ones were way too big and it was starting to look a bit terrible. In fairness, they are super-stretchy but still what I bought is 5 sizes smaller than what I went into the store with. So even if the stretch adds 1-2 sizes, I am certainly moving in the right direction. So that makes me happy.
So this week's weigh-in was a bit off. The Wii Fit broke and then worked again the next day so I am not sure how much to trust the results and I am not relying on them. I finally bought a digital scale so I will use that from now on when it comes. It does appear that I am not losing weight as much. Which is ok except that I am struggling with the snacks. My meals are ok but the snacks are hard for me. I eat peanuts and fruit at the moment. And I need a wider variety.
I plan to focus on that for the next few weeks and also integrate chicken back into my diet too. It disappeared in the last few weeks and I think I need more protein in general. So there we are; another week of moving things forward.
and here's this week's card: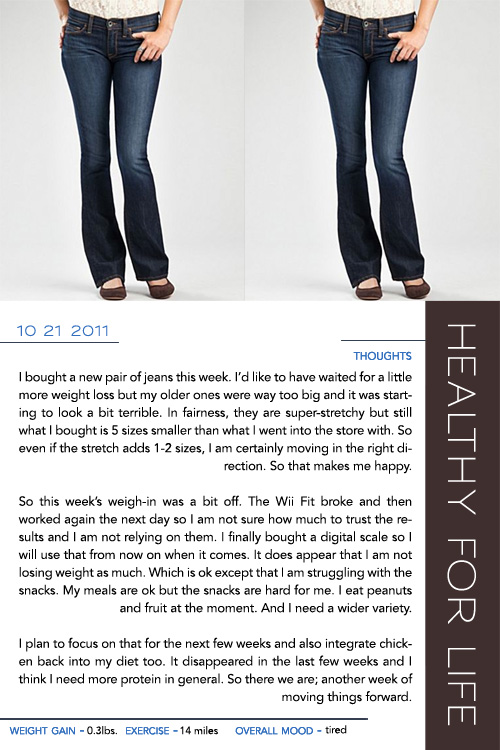 ---
Healthy for Life is a weekly project for 2011. You can read more about it here.