This layout is for Write.Click.Scrapbook's June Gallery. The theme is to scrap Weddings.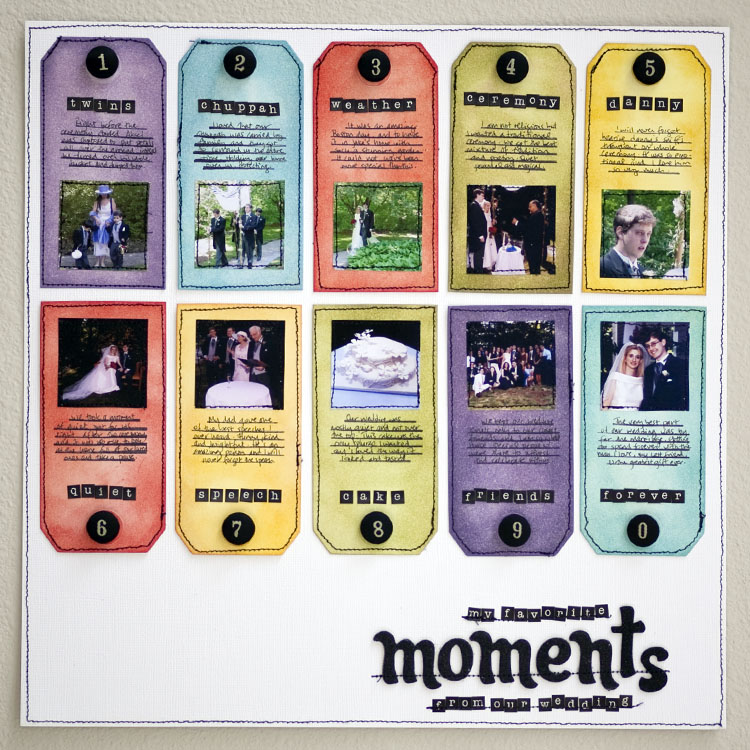 Journaling Reads:
twins. right before the ceremony started Aksel was supposed to put petals all over the ground. Instead he turned over his whole bucket and dumped them.
chuppah. I loved that our chuppah was carried by family and they got to surround us the entire time. Holding our home over us. Protecting.
weather. It was an amazing Boston day and to have it in Jake's home with such a stunning garden…it could not have been more special than this.
ceremony. i am not religious but i wanted a traditional ceremony. we got the best mixture of tradition and poetry. Quiet, personal, and magical.
danny. I will never forget hearing danny's sniffs throughout our whole ceremony. He was so emotional and I love him so very much.
Quiet. We took a moment of quiet just for us right after the ceremony and it was so nice to look at the house full of our loved ones and take a pause.
Speech. My dad gave one of the best speeches I ever heard. Funny, kind, and insightful. He's an amazing person and I will never forget the speech.
Cake. Our wedding was mostly quiet and not over the top, This cake was the only splurge I wanted and I loved the way it looked and tasted.
Friends. We kept our wedding small. Only our closest friends and I am so glad those special people were there to witness and celebrate with us.
forever. The very best part of our wedding was by far the marriage. Getting to spend forever with the man I love, my best friend, is the greatest gift ever.
Details: