My very first class for Big Picture was one on journaling. My style, supplies and even taste has changed over the years but my love of journaling never has. I still believe that journaling gives your layouts that extra bit of depth and meaning and is the best way to add your individual voice to each of your pages.
When I was teaching that course (and a few others) I got a lot of comments around people not knowing which stories to tell, or how to make sure there was enough room on the layout, or how to remember each story. That's when I decided to write Book of Stories.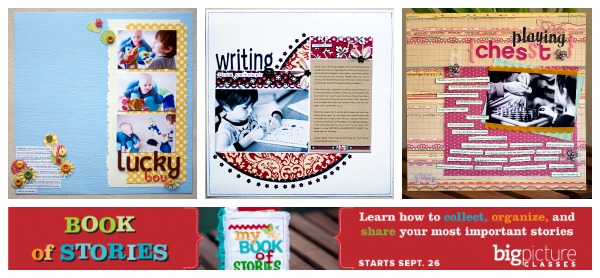 This class is designed to help you generate, write, collect, and organize your stories so that when you sit down to scrapbook, your stories are already there waiting for you. It's a class that is unique to each of you individually. I don't tell you what to do, but how to find what works for you. How to customize it for your own needs and preferences.
My classes are always full of student participation because they are meant to be organic and customizable. So if you like process classes and if you want to get better about your storytelling journey, I hope you'll join me in the class!

Click here for a lot more info.
If you'd like a spot in my class, just leave me a comment below. Like last time either tell me a class you'd like me to teach, or something joyful from your day or just say hi.
I will leave comments open for a week for this one because my class starts next Thursday.
If you have any questions don't hesitate to ask in comments and I hope to see you in class!