I finally structured my week in the life and thought I might as well share it with you in case you like it, too.
I am still sticking to just digital for now. This is all photos and words and it's strongly inspired by Ali, Wilna, and Cathy. I know Ali's templates are for sale and I highly urge you to buy them as I am confident they are much more professionally done. Ali's beautiful handwriting alone is worth it. I also am inspired by and adore Ali and love that she shares so much so freely so I hope you buy from her to support her.
Here is what my four-page spread looks like. I tried to make it 3 but then if I ever wanted to print it, it wouldn't work, so four it is: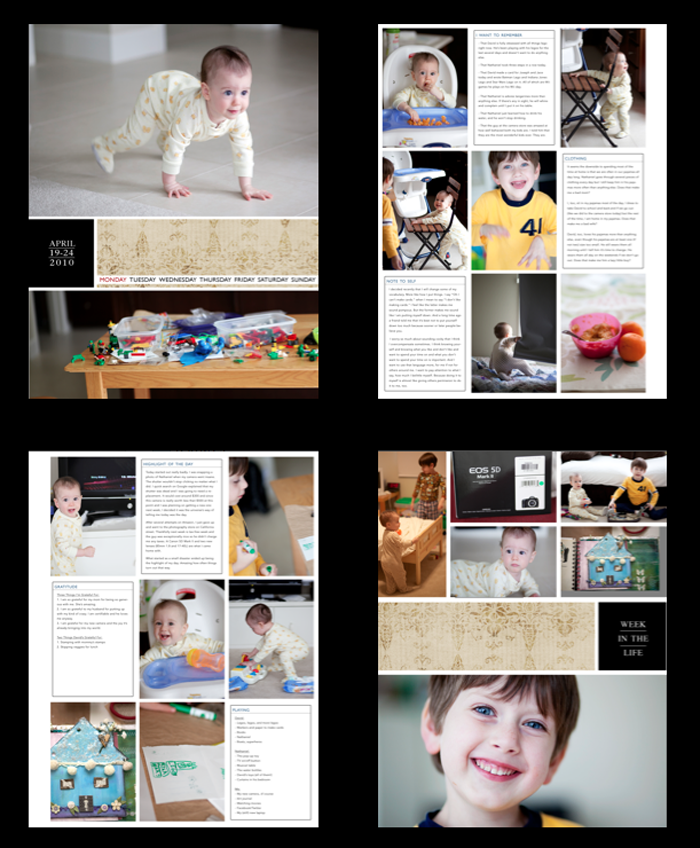 So in the download, you get all four pages as individual templates and then the journaling cards separately. I take a lot of landscape photos so I wanted to make space for them in my layout which is why there's room for four extra on the back page.
You can download it here: My Week in Life templates.
You are welcome to play with these as much as you want and use them anywhere you'd like. You are NOT allowed to sell them ever. You don't have to but I'd appreciate a link back if you do use them.
---
This is part of a weekly digital download series. They are posted every Thursday. You can find all of the ones that were posted here. If you like my downloads, please click here and give me ideas/requests for 2010. I would like to continue this feature but I am not sure I can come up with enough ideas on my own.
---