Here's today's mantra: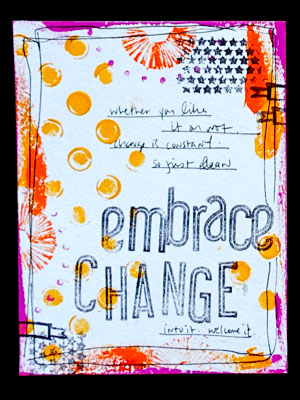 Here's what I learned: change is the one constant. I have kids, husband, friends, family, a house, and a job. Something is always changing in my life. A new school. A new project. A new friend. Someone moving close, someone moving away. Something breaks in the house. Things happen all the time. Life never stays exactly the same.
And I have so very little power over most of this change. I don't get to decide it or stop it or change it. I just have to embrace it. I have to let it be, and have faith that things will work out as they always do. I have to have faith that I will learn to adjust. I will grow, I will be ok. I have to not only stop rejecting but actively choose to lean into the change. To welcome it.
This is how I learn. It's always easier to swim with the current.
I have a lot of change coming in my life. Hopefully all will be for the good. In the meantime my mantra will be to embrace the change.
---
Daily Mantras is a Monthly Project for June 2016. You can read more about my projects for 2016 here.