One of the new projects I'm adding this year is to read a book a week with David. Since I love reading so much and since he's just learning to read I thought it would be a wonderful way for us to spend time together. The idea is to pick books that would take 2-4 hours to read out loud. And I will likely read all of the book to him. I might ask him to read sections. I haven't decided yet if it will be two-three days a week or a little each day. At the end of the book, we will create a little book log with his favorite quote from the book and some of his thoughts.
To capture all of our books, I've created a simple template to fill each week: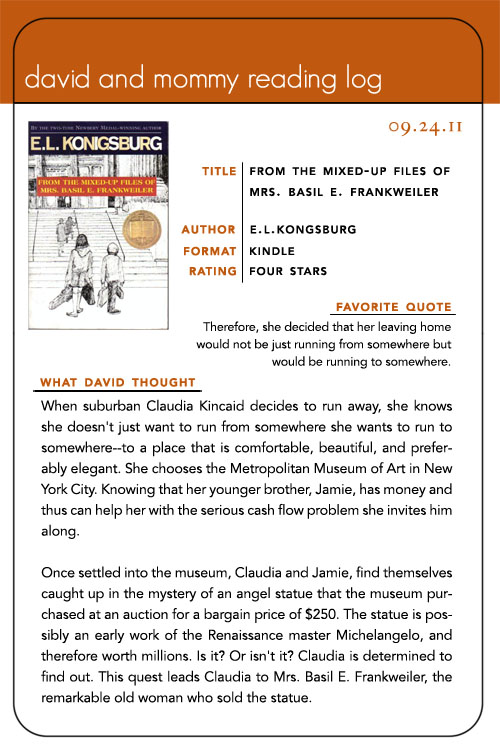 Just in case any of you are interested in doing something similar or using the template for yourself, here it is: download me.
My plan is to print these 4×6 cards regularly and put them in an album similar to what I used for my Weekly Gratitude project. I love these colorful albums from Target and they are less than four bucks.
The idea is to make sure we don't just read but that David spends time reflecting on the book and tells me a little about what he took away from it.
Since I didn't grow up in the United States and didn't learn English until my teenage years, I haven't read most of these books either, so it will be extra-fun for me. I've asked my awesome friend Kathy to send me a list (she's a teacher) of books she'd recommend.
Here's what I have so far:
Alvin's Swap Shop series – Clifford B Hicks
Because of winn-dixie
Black Beauty
Bridge to Terabithia
Charlie and the Chocolate Factory
Charlotte's Web
Chasing Vermeer – Blue Balliet
Cricket in Times Square – George Selden
Danny Champion of the World
Everything on a Waffle – Polly Horvath
Fantastic Mr. Fox
Freckle Juice – Judy Blume
Frindle – Andrew Clements
From the Mixed-up Files of Mrs. Basil E Frankweiler – E.L. Konigsburg
Hank the Cowdog series – John Erickson
Harriet the Spy – Louise Fitzhugh
Holes
Homer Price – Robert McCloskey
How to Eat Fried Worms – Thomas Rockwell
James and the Giant Peach
Last of the Really Great Wangdoodles – Julie Edwards
Lemony Snicket series
Lion witch wardrobe – CS Lewis
Little House in the Big Woods
Mad Scientists' Club series – Bertrand Brinley
Magic Treehouse series – Mary Pope Osborne
Maniac Magee – Jerry Spinelli
Mouse and the Motorcycle (or most of Beverly Cleary – some are girl-oriented, but i think that's fine)
Mr. Popper's Penguins – Richard Atwater
Mrs. Frisby and the Rats of NIMH – Robert O'Brien
Mrs. Piggle-Wiggle series – Betty Macdonald
Pippi Longstocking series – Astrid Lindgren
Silverwings series- Kenneth Oppel
Stuart Little
the BFG
The Borrowers series – Mary Norton
the cricket in times square
The Golden Compass
The Secret Garden
The Tale of Despeatoux
The Twenty-one Balloons – William DuBois
The Westing Game – Ellen Raskin
Top Secret – John Gardiner
Tornado – (or most of Betsy Byars)
Trumpet of Swan
Tuck Everlasting
Wimpy Kid series – Jeff Kinney
Winnie the Pooh
It will be a great way us to spend time together.
As you can tell, I don't have 52 books here so if you have any suggestions, books you loved as a child, I would love to know about them (pretty please?) and I will add them to this list so everyone else can benefit too. Just remember that my son is six years old and while I will read it, it still needs to be relatively age-appropriate.
Yey, can't wait to start reading!