Finally. It looks like after a few weeks of bad or no news,I 've managed to lose some weight. The funny thing is, I got mixed up and weighed myself a day early this week. But once I saw the good news, I didn't want to jinx it and didn't even get on the Wii once more. I'm sure I'll find out if it was a fluke next week.
I still need to take photos of me wearing them but here's another of the three items I bought for January. It's a long, summer skirt with lace. It's really pretty and versatile. And though Jake has reservations about it, I love it and can't wait until the weather is nicer so I can wear it.
I've been doing better with the food. I've switched to eating just veggies for lunch (instead of veggies and potatoes) and I'll be honest that it's almost equally filling and this way I have a few extra points to play with during the day. I've also stopped snacking on peanut butter. I try to be conscious of everything I am eating and make sure it's fresh or whole. With the exception of coffee and graham crackers, I am doing pretty well actually. And I am up to 2.8 on the treadmill. So far so good. Let's see how things look next week..
and here's this week's card: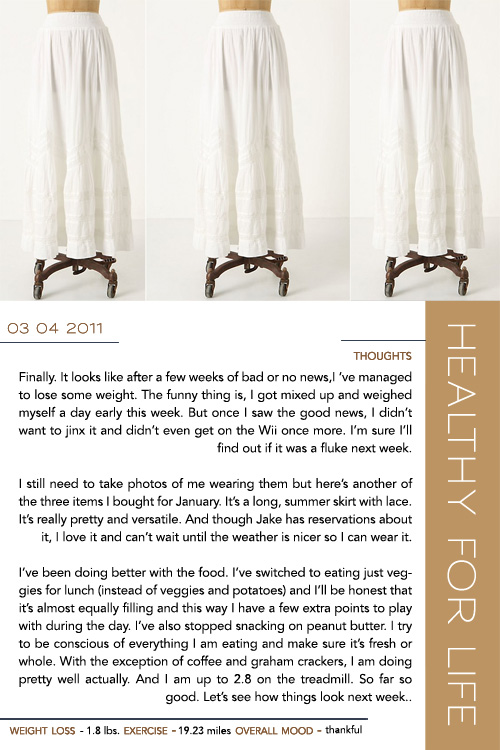 ---
Healthy for Life is a weekly project for 2011. You can read more about it here.