Edited to ADD: I changed this project around a bit since this post. You can see my actual 2012 plan here.
During the month of December, I tend to focus on choosing projects for the next year. I've been doing this for a few years and it's been helpful in keeping me focused and centered throughout the year. Throughout the next few weeks, I will share those projects with you and once 2012 starts, I will be tracking them on the blog regularly.
I'm not tied to these projects and over the years, I've wandered away from some of them and finished others. I don't beat myself up if I don't end up doing them for the full year. They are meant to be guides. Last year, I gave up on the six portraits a week project after a few weeks but then picked up two new projects which were the weeklong art journals and the daily sketching. So all in all, I ended up doing a lot more art than the one project I dropped.
As you will see, many of my projects this year are ones I've had last year or even the year before. If something is working (and working well) I like to keep doing it until I've either mastered it or I'm bored of it. I do, however, have a few new projects this year. One of them is what I am calling The Savor Project (in honor of my one little word for 2012.)
One of the things I like to do is to test out my projects before I commit to them for a whole year. My first hope was to do a Remains of the Day journal for the full year. After doing one for December, I decided it was too painful. I also originally meant for this project to be collage-related. But, as I started working on it, it morphed into something else and I am very happy with it. I might end up doing a completely separate collage project, too, but The Savor Project is not that.
So here's what it is. I bought a Moleskine Sketchbook and altered the cover.
I want to take the time for a side-note here. I actually did this a few weeks after I started using the book. It's always a challenge for me to cover these for some reason and what I ended up with was after quite a few other layers. I got frustrated and dismayed quite a few times. Then I reminded myself that this would likely end up being one of four (or even more) books I would have for this project in 2012 and this particular one's cover wasn't nearly as big a deal as I was making it. To be honest, none of the covers matter. Sure, it's nice to have a pretty cover but, as with most things, it's what's inside that counts. So I just gave up fighting with it and let it go.
With that, here's what I ended up creating: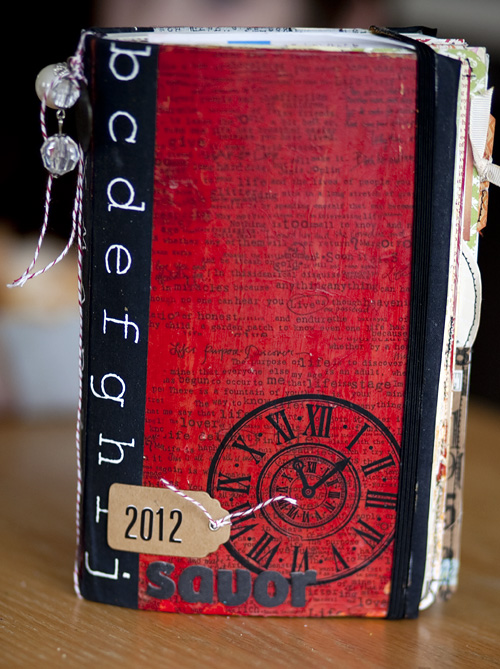 I used the image of a clock because savoring is all about savoring my time. Reminding me that time is precious and should be spent on what's most valuable for me. On the side, I dangled a few crystals and a word from Tim Holtz. Reminding myself to Breathe. I could use that reminder more often.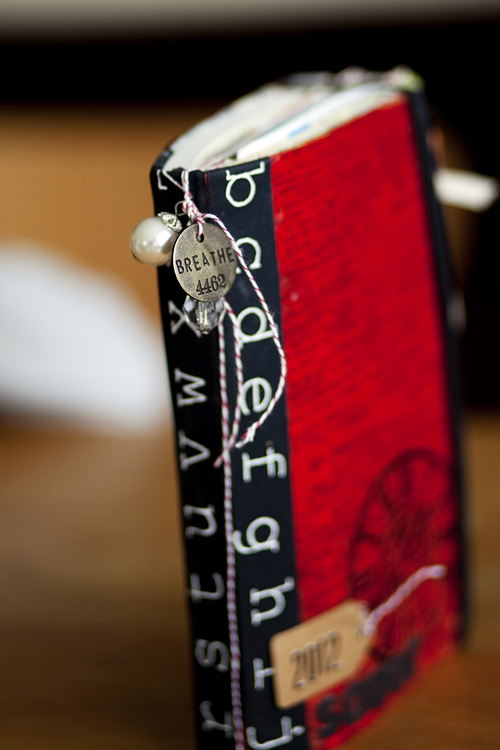 And here's the back: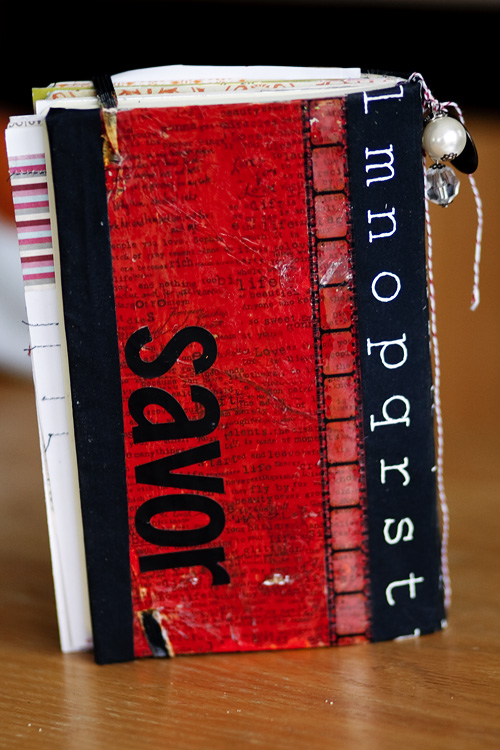 Not my favorite, but we're letting that go.
So let's talk about what goes inside. The idea is to create something that's sort of an amalgamation of Project Life and December Daily. I did Project Life a few years ago and really struggled to keep up with it. Because I already process and post photos here weekly, it felt uneventful and like a chore to have to print them all out and do it again each week for my book. However, I liked the idea of keeping the odds and ends of ephemera that come into our life. I wanted something more creative and the setup I use for December Daily seemed ideal to me. My plan is to create a minimum of four pages a week with photos, stories, ephemera from that week. If I do more, great. But there's no pressure. For now I am using my Polaroid Printer for all the photos. It's crappy but quick and convenient. And quality is not my number one concern for this book.
Here are a few sample pages I made in November to illustrate:
Here's a simple spread from November four. The goal is to tell stories: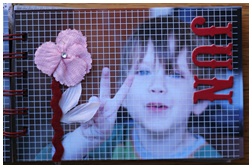 That page of journaling comes out and you can read more: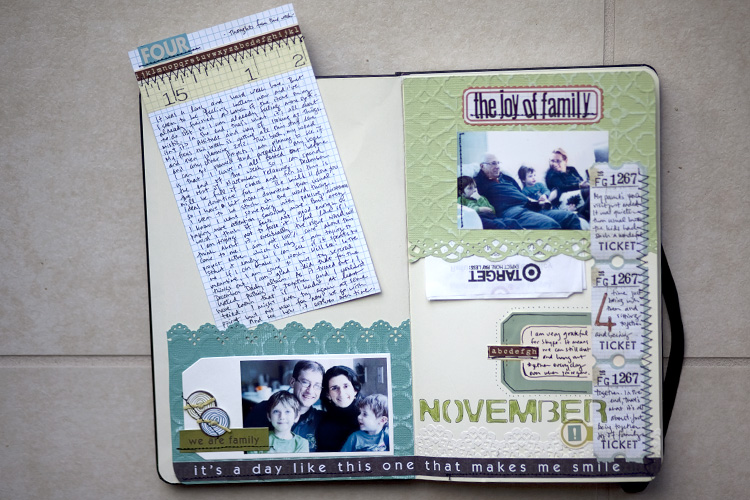 Here's one from November 7: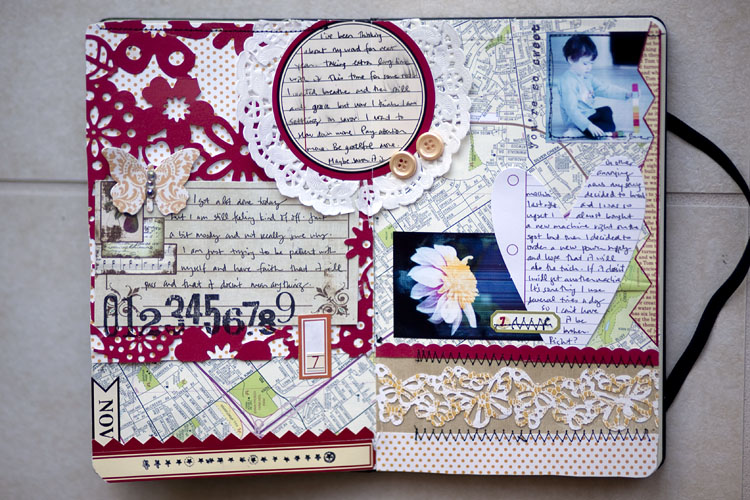 And here's one from November 8: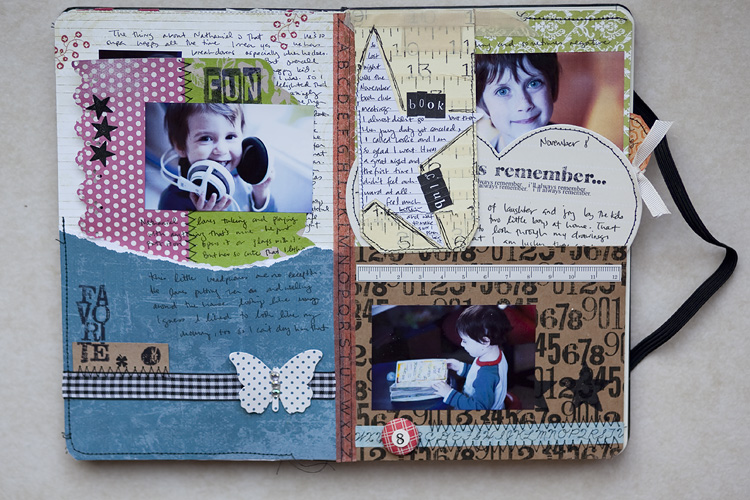 This one is quite involved as the left page flaps down to tell one more story: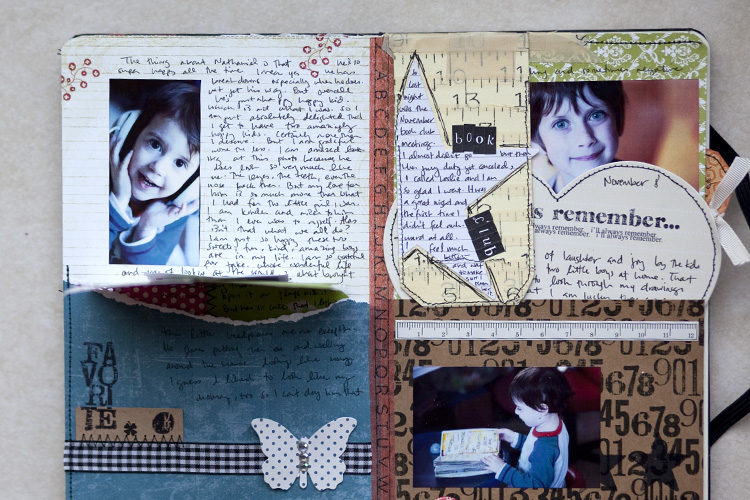 And the right side has a top flap and a tag that comes out from the side and the heart is a journaling tag that also comes out: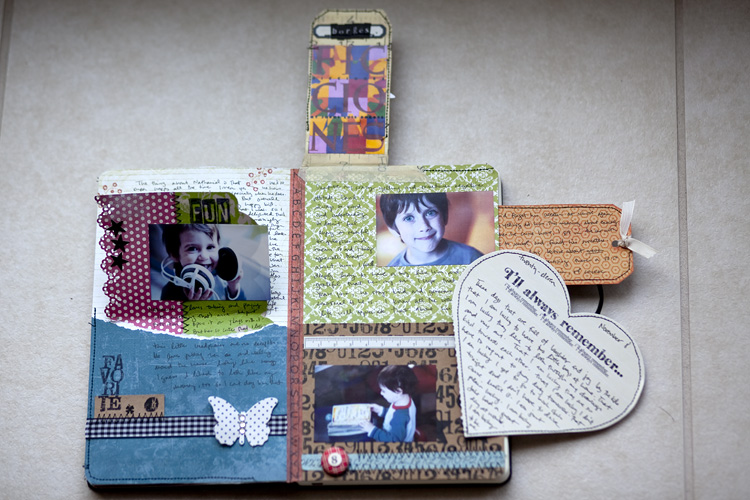 this is an extreme example and most of my pages are simpler but it does show how far a spread can be taken: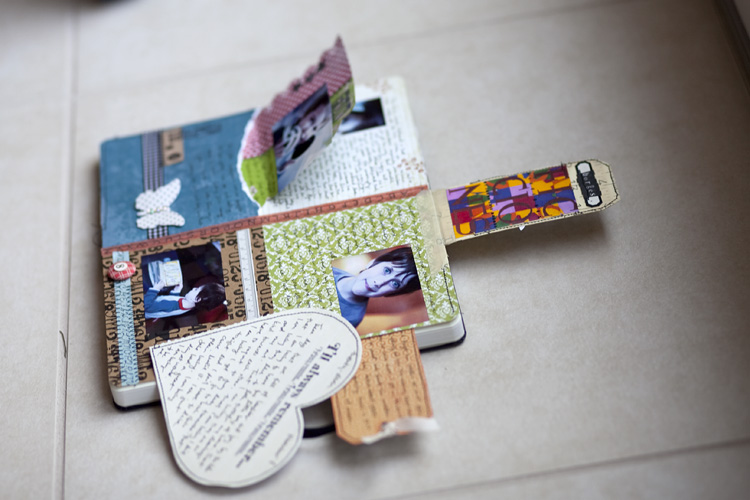 and here's an example with ephemera. My jury duty papers: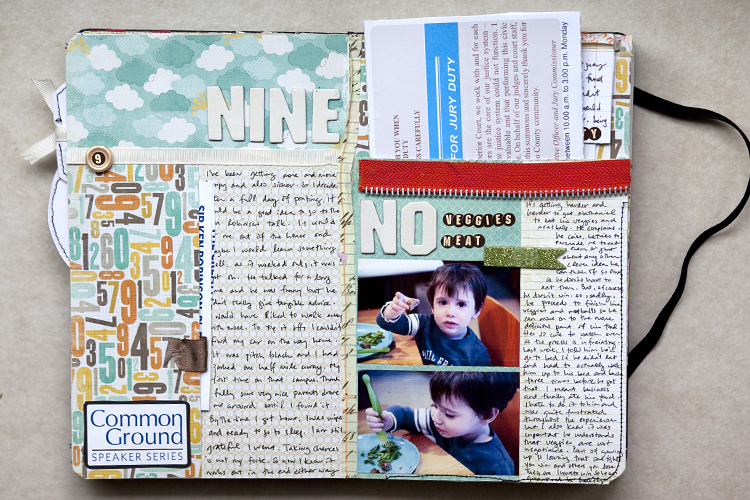 and our safeway (grocery) receipt from that week: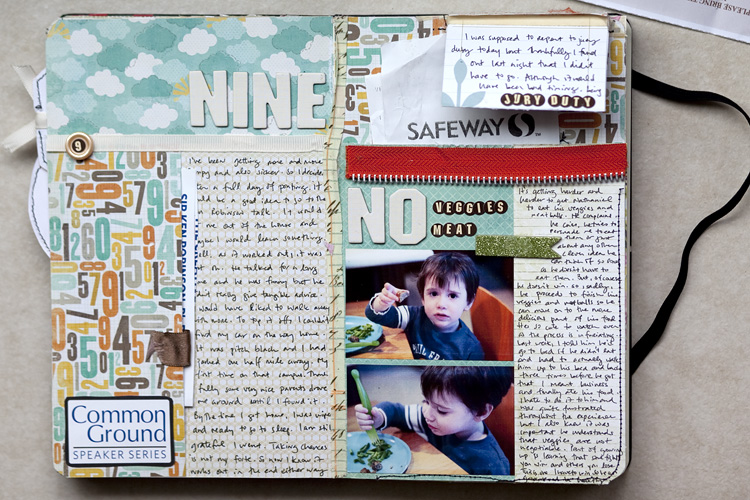 Those are just some of the pages I've done in November. I am guessing that I will take a break during December since I will be doing the December Daily and then resume again in January. So I will share the rest of my November pages with you then and continue to share throughout the year.
This project looks a lot more involved than it is. What I do is sit and prep a bunch of empty pages once a week. Usually takes me about an hour or so. And then I print photos throughout the week when I know I want to tell the stories behind them. Here are some sample prep pages I made and photos I printed: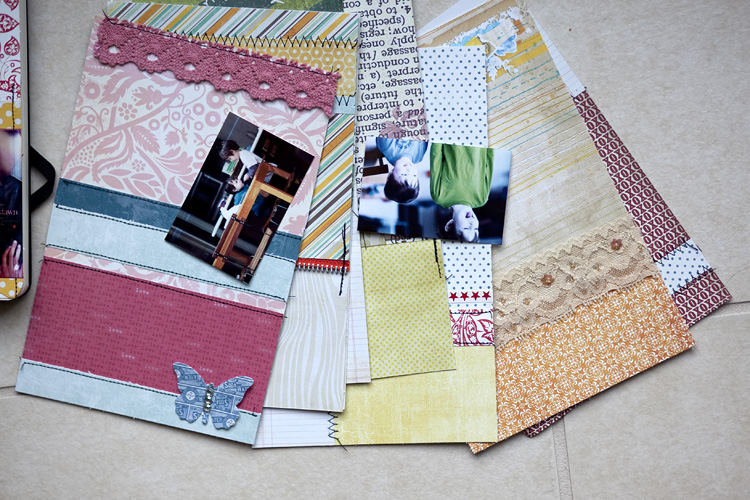 Then, once a week or so, I sit and match the photos with the pages and write down the stories. I generally add the date and maybe a title. That's it. If I am really inspired I might add an embellishment. But I don't mind if it's super-simple. I then tape the finished page to the Moleskine and I am done! Doing a week's worth of photos takes me about an hour. (Sometimes two if I get carried away and have too much fun.)
One side note, I generally pick the smaller moments to put in this book. If it's a big moment or some trend, I save those for my scrap pages. I imagine there will be a few occasions where a story goes here and in a layout but I don't envision a huge overlap.
The reason this is called The Savor Project is because I choose to write longer stories about little moments in my day where I am filled with gratitude. I think savoring life is all about paying attention to those moments more and more. The greatest thing about this project is that I appreciate my daily life, my simple moments, the "ordinariness" of my life that much more. I cherish these moments more. I am more thankful and aware of everything I have. I get to appreciate my kids, our life, right now. It's like getting to look back up on the "good old days" while they are still happening. It increases awareness, gratitude, and joy.
Since I process my photos daily, I get to savor the moments as they happen, once again as I process the photos and then a third time when I am putting them in my book. That's a lot of gratitude!