One of the reasons I start my yearly projects early is to get a chance to test them out and make sure I have the process part down and make sure that I am going to actually enjoy working on the project. While I always reserve the right to change my mind, alter the project throughout, or even stop it, I tend to prefer to stick with it so I like to give each of them a test run before the year starts.
Such was the case with The Savor Project. I talked about it at length on this post and talked about my plans. I made pages all throughout November and then took a break for December since I was doing the December Daily album then.
When I came back to it to finish my last two November pages, my book looked like this: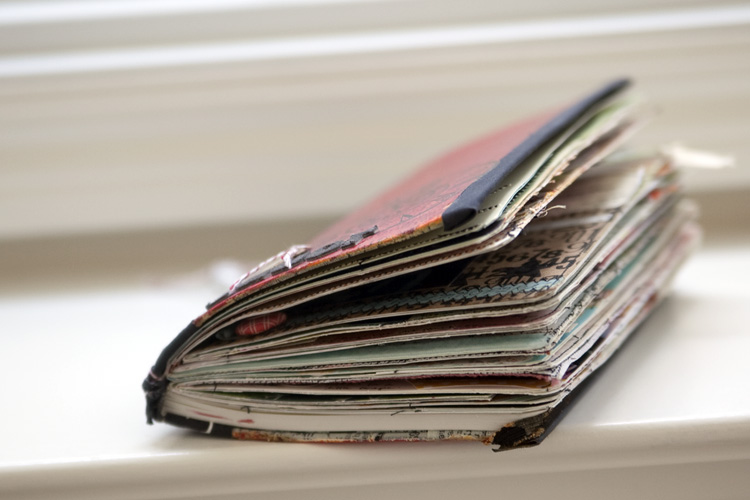 It didn't take long for me to realize that this system wasn't going to scale. If my book was already this fat in one month, how would I fit 12 more months in it? How many books was I going to need? As much as I liked the idea of having this book and this specific format, I knew it wasn't going to work for me. So for a few days I completely obsessed over it. And finally found a new format that was a little less ideal than I'd like but will scale to hold the whole year. I will do another post to talk about that project in my next post on Wednesday. For today I wanted to show you the full November album. I changed the cover slightly to reflect the changes and decided to declare this album the Savor November Album. And there we go.
So here's the new cover: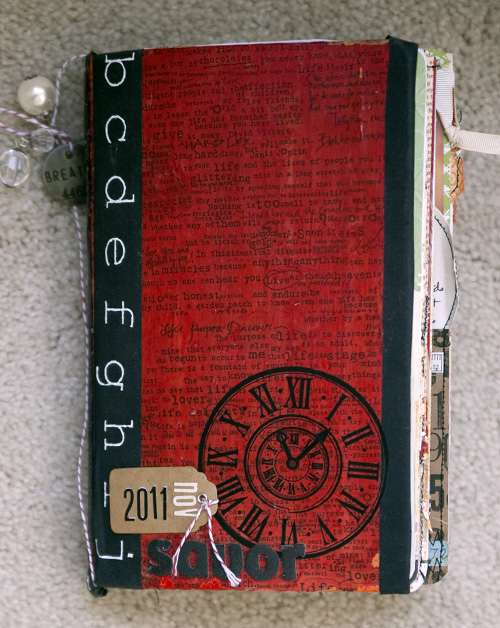 I just changed the year to 2011 and added a little "nov" and that was done.
Here's a quick look at the first pages I'd already shared with you with the text explaining them: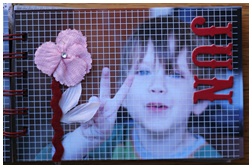 That page of journaling comes out and you can read more: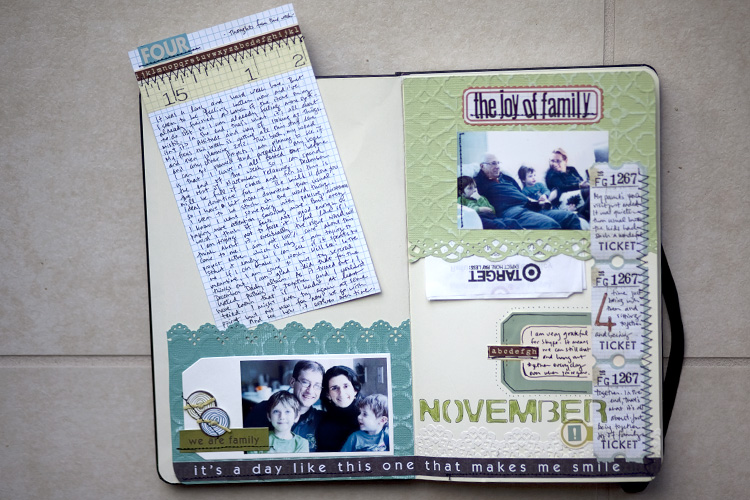 Here's one from November 7: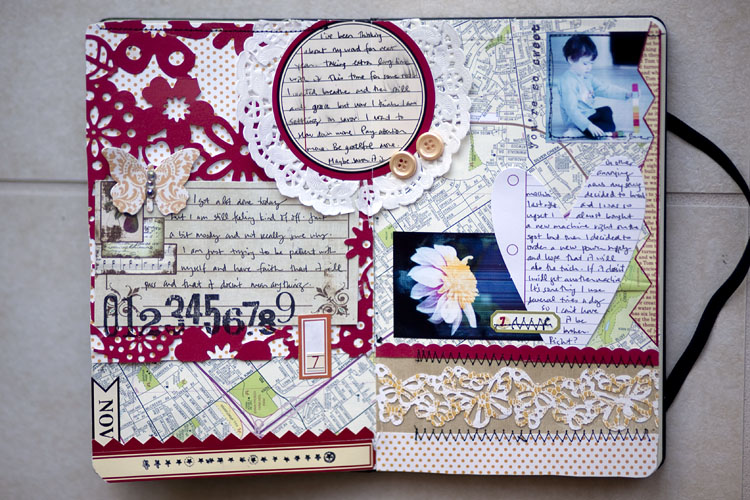 And here's one from November 8: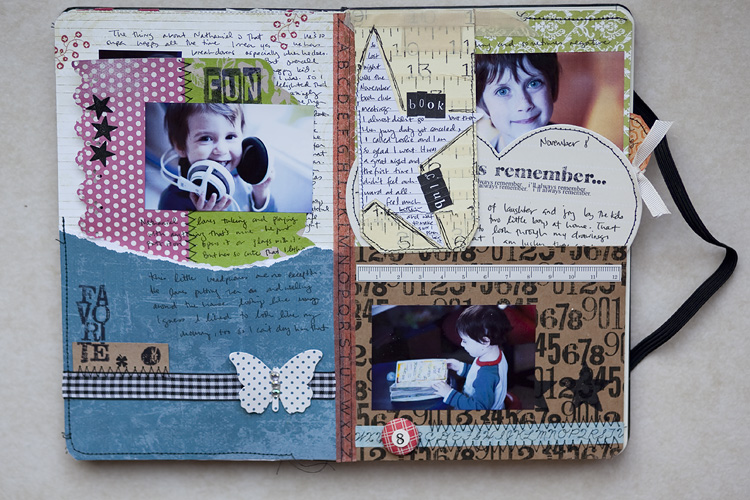 This one is quite involved as the left page flaps down to tell one more story: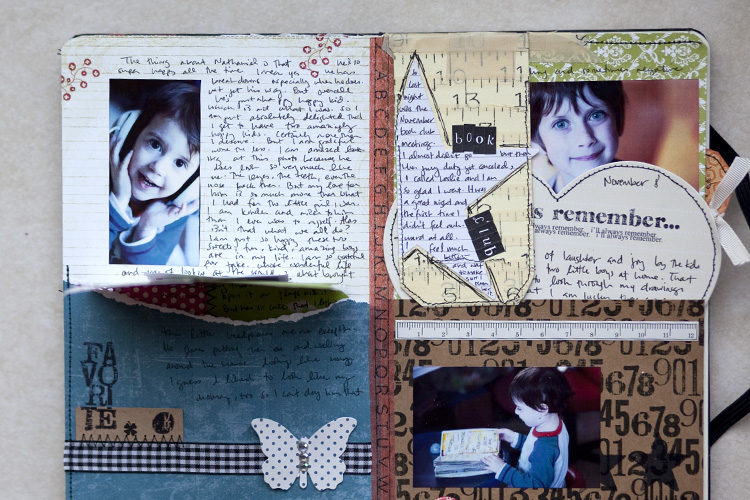 And the right side has a top flap and a tag that comes out from the side and the heart is a journaling tag that also comes out: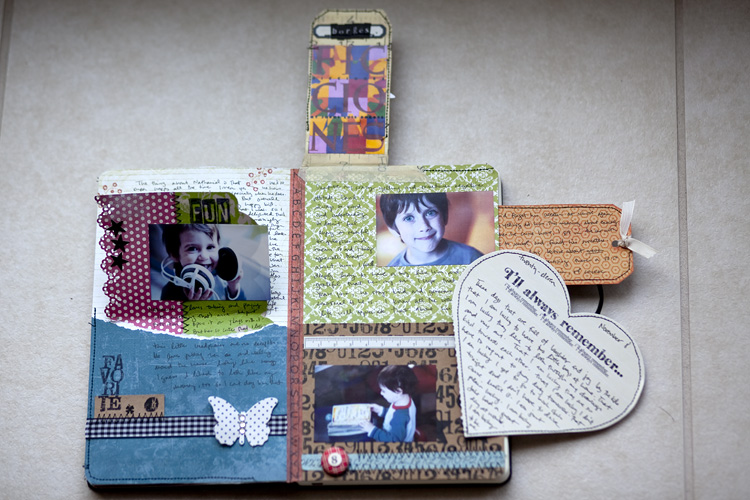 this is an extreme example and most of my pages are simpler but it does show how far a spread can be taken: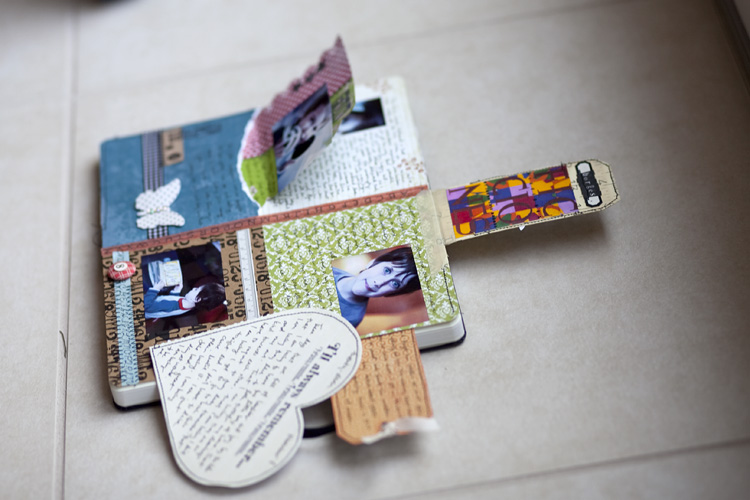 and here's an example with ephemera. My jury duty papers: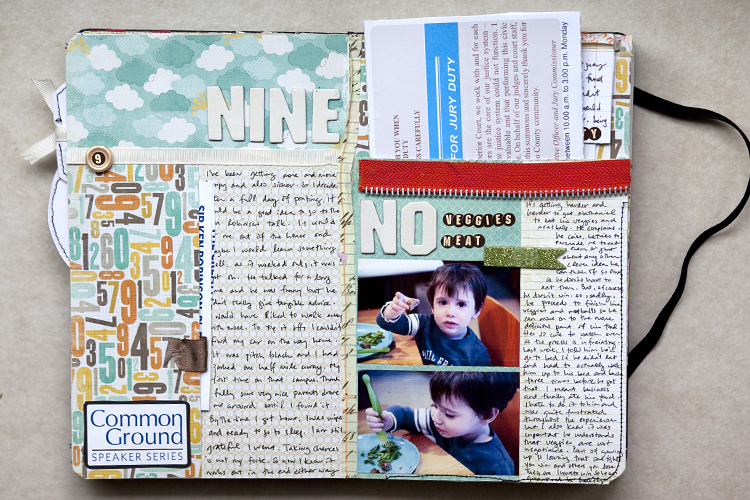 and our safeway (grocery) receipt from that week: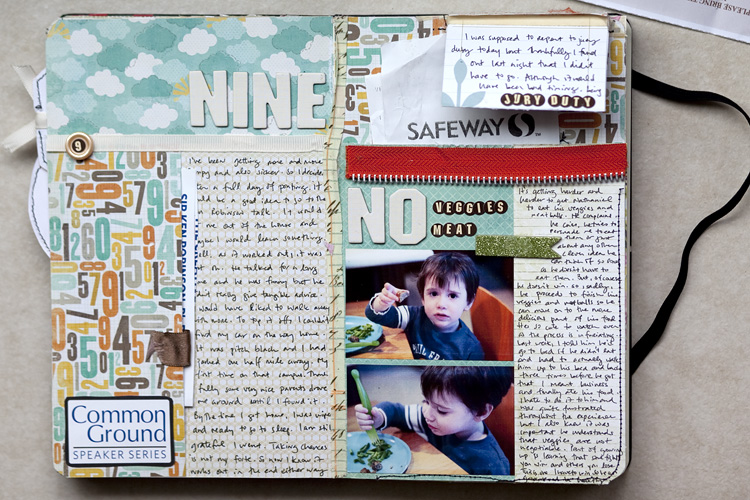 this is November 10 and 11. On the left is the kids playing together and David's new desk which we spent all night putting together and he's already lined up his legos on. I also added the box for the Robitussin because I was sick that week and absolutely hated taking this medicine.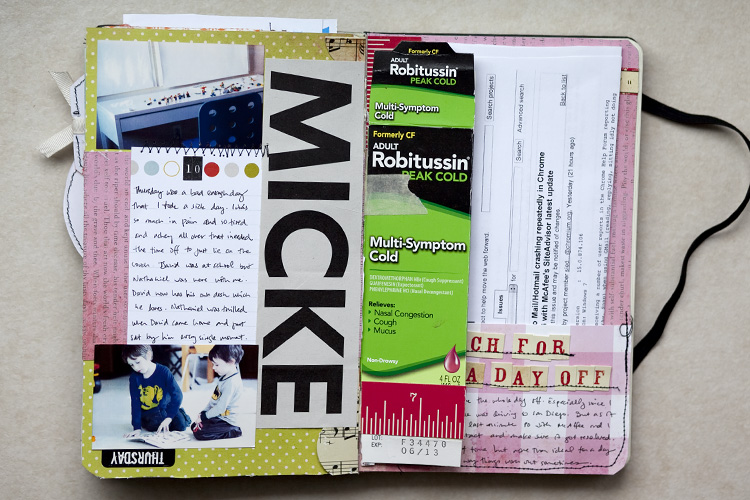 this page has the back of the medicine and then a printout of a bug that caused me to work on a day I was officially off work. I took the 11th as a vacation day but then we had a compatibility issue and I ended up chasing it down all day so it wasn't really a day off. I printed the public bug report out and put it in the pocket to remind myself.
Behind the printout, I put a photo of Nathaniel surrounded by diapers. This is to remind me that he finds ways to self-entertain when I am busy with work or being sick. And it ends up okay. It might be a mess but he's happy.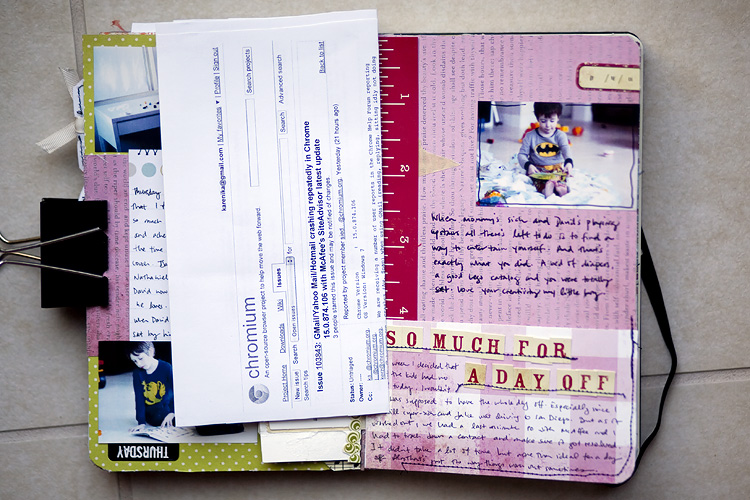 The next spread is just a photo of the kids playing on the left. I was still sick and Jake was out of town. The kids were just sweet as can be. Played quietly and happily. I just feel indescribably lucky. The right page is about when Jake gets home from his trip and the kids are so happy to see him and hang out with him.
And finally the last spread. The one on the left is my performance evaluation. Just wanted to be able to come back and look at them. The right side is both the kids writing at different times of the day and how much joy it brings me to see them at the table and how much they enjoy writing.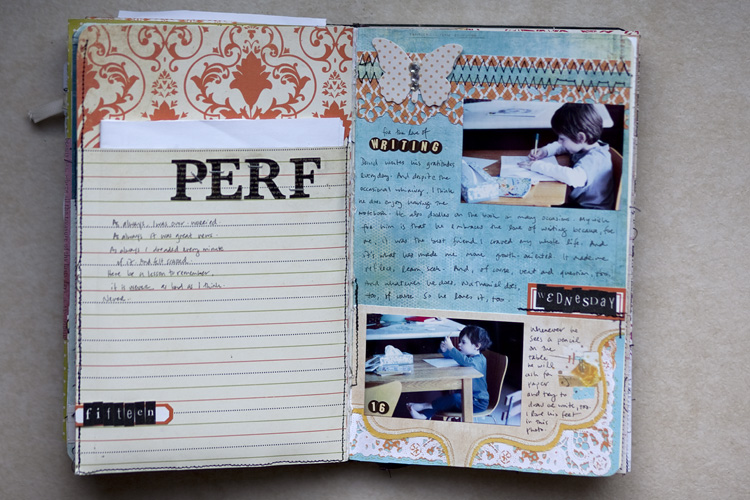 and here are the rest of November pages:
November 17. On the left it's about David and my reading project and the book we were reading then: The Westing Game. The right side talks about Nathaniel looking at all the catalogs we've been getting for the holidays and telling me all the toys he wants. And then on the bottom of that page is the first book in my new book club.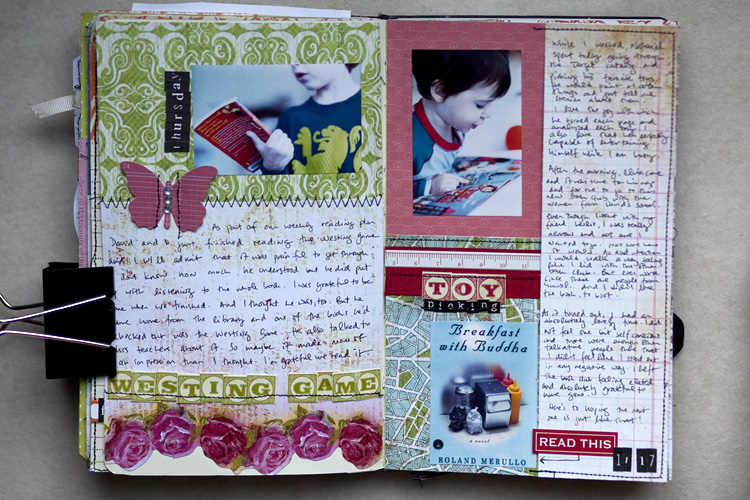 left side of this spread is Nathaniel's sharing day at his school and how fun it was to watch him. The right side is about going to see the fourth Twilight movie with the same friends I've seen the last three.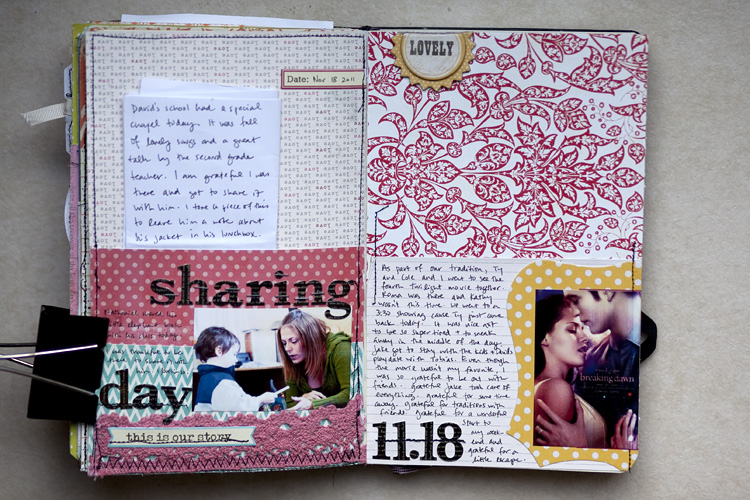 And this page is November 20 – 22. Left side is David feeding Nathaniel and how much I love seeing them help each other. And the right side is about how silly they like to be together and how they always make me laugh.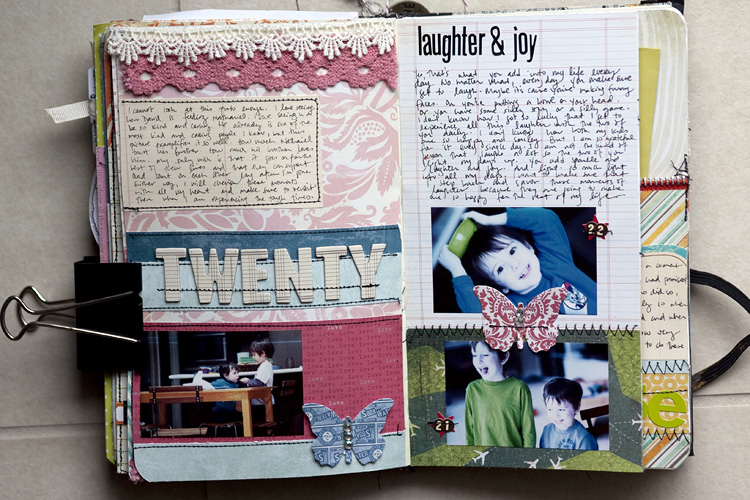 November 23. I love how Nathaniel loves to go through my notebooks and look at my sketches and my art. So I have a photo of him doing that and some words on how it makes me feel. The right side is a surprise I got in the mail. Even though I had sent an email to Christine, I'd completely forgotten about it so I was very surprised when I got her card in the mail.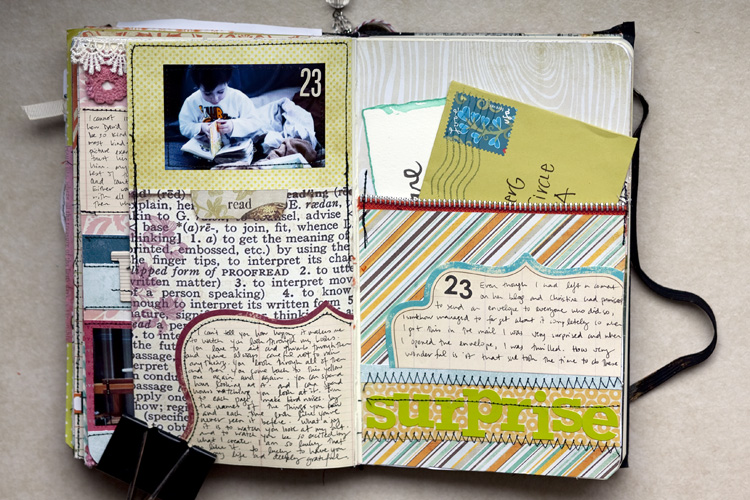 so I put the card in a pocket on the right side with the envelope it came in. I love the whole thing. Thank you, Christine.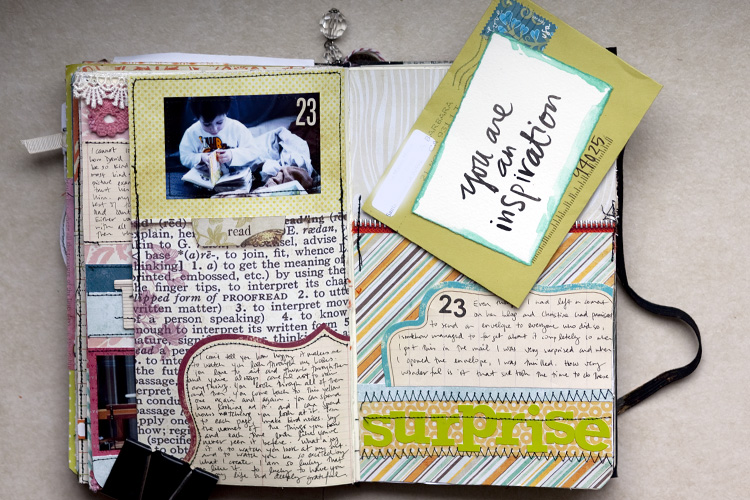 The next spread is on Thanksgiving Day. On the left is actual Thanksgiving dinner and then on the right it's all about setting up our tree and getting ready for Christmas.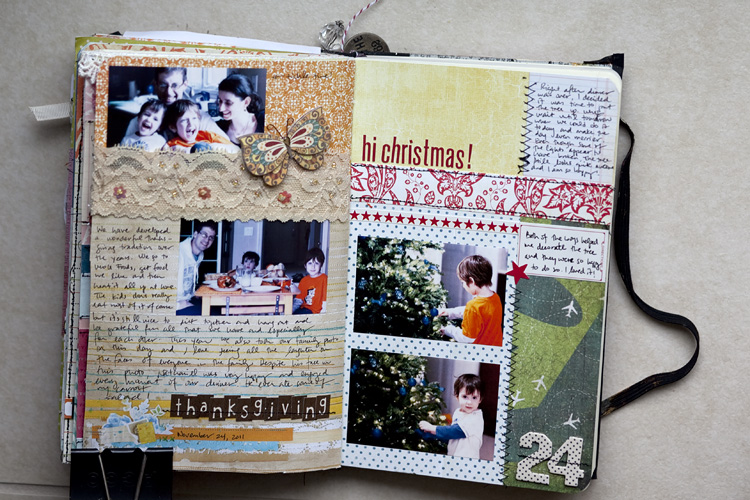 And here's the last spread of the month. On the left side is some of the happy mail I got that wasn't actually Christmas related. A pair of heels from my mom all the way from Turkey and some wonderful prints I'd bought from Kal Barteski. And the right side is photos from the day of art and fun and rest we had during our Thanksgiving weekend.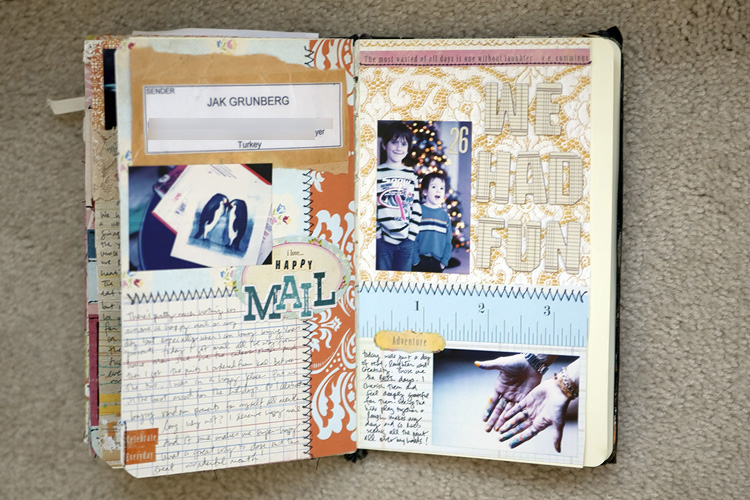 And that's the end of this little book. I still have some empty pages in there which I will likely take out and use for other art projects. I love how this little book turned out. I loved working on it and I am very grateful for it. Here's to hoping my new setup makes me just as happy.
More on Wednesday.
---
The Savor Project is a weekly project for 2012. I tested it out for November of 2011 and this is the result of my test. You can read more about this particular book here.