This year, I decided that I wanted to focus strongly on gratitude. I did a lot of gratitude-focused work in 2010 and 2011 but I feel like it sort of declined in 2012, so my plan is to bring it back front and center this year. I've created a few projects around it. The first one is Gratitude PostCards.
When I was looking for a project for David and me for 2013, I ran across these watercolor postcards and decided they would be fun to do art on and send out to people with notes of gratitude. After I talked to David, he liked the idea, too. Then I decided that I also wanted to make my own cards and send them out to people for whom I am grateful. People who make my life so much better.
And thus the Gratitude PostCard project was born.
The watercolor paper quality in the postcards isn't perfect (at least not to my personal liking) and I am still learning how to use it. But the goal here is not to create perfect art. It's just to couple something I love to do (art) with something that will give me joy (gratitude) and hopefully show someone how much they mean to me.
I will share the art part of the cards here with you so you can see what I've done. Since I am not selling these cards, this will be my opportunity to use mediums I haven't tried, create similar art to what I might want to learn from, use my templates, and just have fun.
Some will be great, some not so much. That's just how things go. My goal is to keep them simple.
With that here's the first card I created: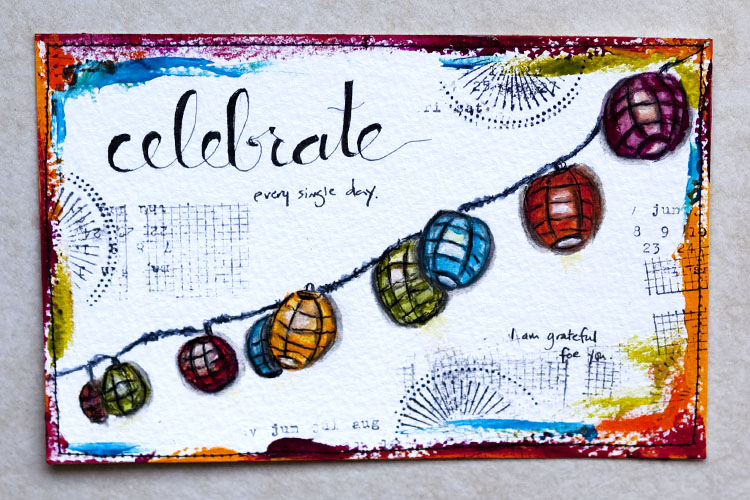 it says: celebrate every single day.
not my favorite one, but it's the first one I created.
Here's to celebrating gratitude in 2013.