Here's a layout I made for My Mind's Eye for September.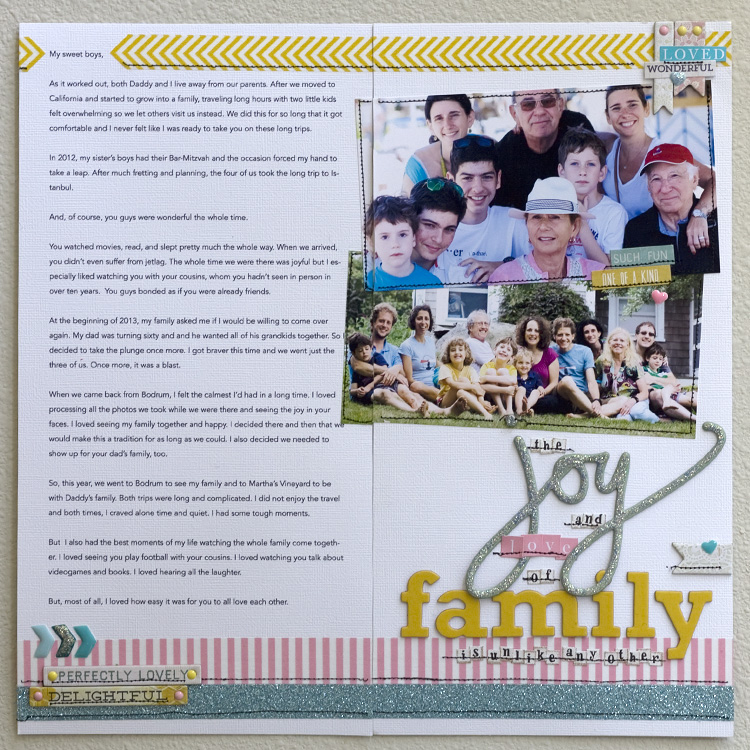 Journaling reads:
My sweet boys,
As it worked out, both Daddy and I live away from our parents. After we moved to California and started to grow into a family, traveling long hours with two little kids felt overwhelming so we let others visit us instead. We did this for so long that it got comfortable and I never felt like I was ready to take you on these long trips.
In 2012, my sister's boys had their Bar-Mitzvah and the occasion forced my hand to take a leap. After much fretting and planning, the four of us took the long trip to Istanbul.
And, of course, you guys were wonderful the whole time.
You watched movies, read, and slept pretty much the whole way. When we arrived, you didn't even suffer from jetlag. The whole time we were there was joyful but I especially liked watching you with your cousins, whom you hadn't seen in person in over ten years. You guys bonded as if you were already friends.
At the beginning of 2013, my family asked me if I would be willing to come over again. My dad was turning sixty and and he wanted all of his grandkids together. So I decided to take the plunge once more. I got braver this time and we went just the three of us. Once more, it was a blast.
When we came back from Bodrum, I felt the calmest I'd had in a long time. I loved processing all the photos we took while we were there and seeing the joy in your faces. I loved seeing my family together and happy. I decided there and then that we would make this a tradition for as long as we could. I also decided we needed to show up for your dad's family, too.
So, this year, we went to Bodrum to see my family and to Martha's Vineyard to be with Daddy's family. Both trips were long and complicated. I did not enjoy the travel and both times, I craved alone time and quiet. I had some tough moments.
But I also had the best moments of my life watching the whole family come together. I loved seeing you play football with your cousins. I loved watching you talk about videogames and books. I loved hearing all the laughter.
But, most of all, I loved how easy it was for you to all love each other.