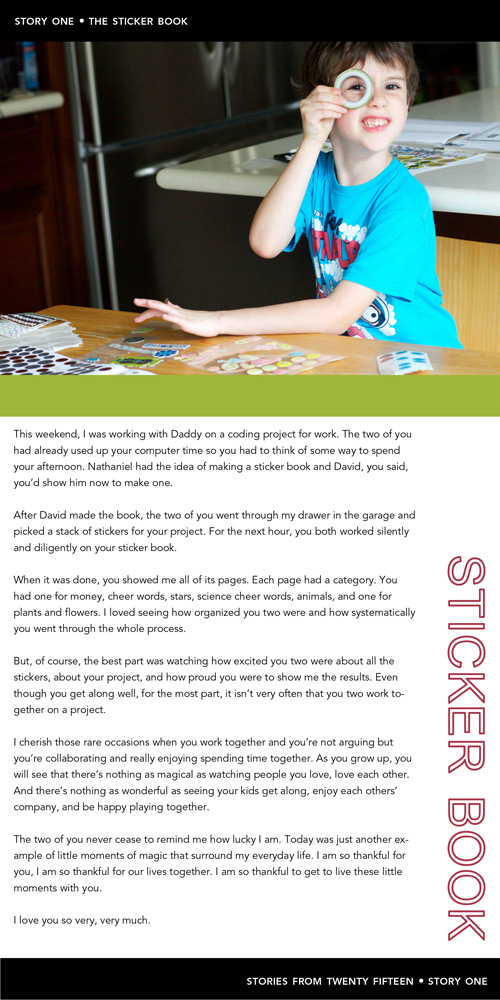 I've done The Savor Project for the last few years and I've changed it up slightly each year to see if I can make it work for me. And year after year, I felt like I didn't like the system I ended up with. It felt more burdensome than fun. Also, I feel like it always disintegrated to a photo project. A lot of photos from the year but not enough stories.
So for 2015, I decided to do something different. Instead of going for breadth, I am going to go for depth. I will be picking a photo and a story from each week and telling the longer stories.
I am using a 6×12 format. I designed these using the templates Ali Edwards had created for the 31 Stories class a few years ago. Hers was a 12×12 with two 6x12s next to each other but I want to just do a 6×12. I bought 6×12 page protectors and created templates and that's all I need to get going.
Here's the first story for this year. It's actually from the end of last year, I always try out my ideas first so my first few pages are always from the previous year.
Title: The Sticker Book
Story:
This weekend, I was working with Daddy on a coding project for work. The two of you had already used up your computer time so you had to think of some way to spend your afternoon. Nathaniel had the idea of making a sticker book and David, you said, you'd show him now to make one.
After David made the book, the two of you went through my drawer in the garage and picked a stack of stickers for your project. For the next hour, you both worked silently and diligently on your sticker book.
When it was done, you showed me all of its pages. Each page had a category. You had one for money, cheer words, stars, science cheer words, animals, and one fo plants and flowers. I loved seeing how organized you two were and how systematically you went through the whole process.
But, of course, the best part was watching how excited you two were about all the stickers, about your project, and how proud you were to show me the results. Even though you get along well, for the most part, it isn't very often that you two work together on a project.
I cherish those rare occasions when you work together and you're not arguing but you're collaborating and really enjoying spending time together. As you grow up, you will see that there's nothing as magical as watching people you love, love each other. And there's nothing as wonderful as seeing your kids get along, enjoy each others' company, and be happy playing together.
The two of you never cease to remind me how lucky I am. Today was just another example of little moments of magic that surround my everyday life. I am so thankful for you, I am so thankful for our lives together. I am so thankful to get to live these little moments with you.
I love you so very, very much.
Here's to a year of storytelling!