Back in 2012, Ali offered a 31 Things class through Big Picture Scrapbooking. It was one of my favorite classes and I remember looking forward to the prompts every single day. So when I saw that she offered 31 More Things, I knew I really wanted to take it. After about a week of debating with myself on whether I could do it or not, I just took the plunge and did it even though I knew September would be pretty hectic. I just love this class too much.
So here's my day one – passion.
(journaling below)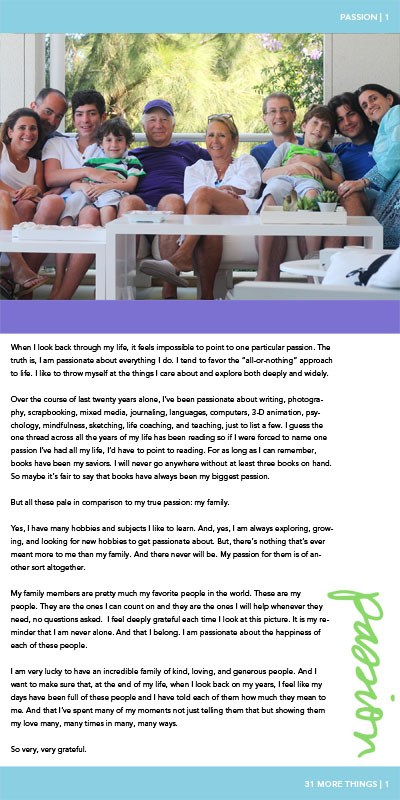 Journaling:
When I look back through my life, it feels impossible to point to one particular passion. The truth is, I am passionate about everything I do. I tend to favor the "all-or-nothing" approach to life. I like to throw myself at the things I care about and explore both deeply and widely.
Over the course of last twenty years alone, I've been passionate about writing, photography, scrapbooking, mixed media, journaling, languages, computers, 3-D animation, psychology, mindfulness, sketching, life coaching, and teaching, just to list a few. I guess the one thread across all the years of my life has been reading so if I were forced to name one passion I've had all my life, I'd have to point to reading. For as long as I can remember, books have been my saviors. I will never go anywhere without at least three books on hand. So maybe it's fair to say that books have always been my biggest passion.
But all these pale in comparison to my true passion: my family.
Yes, I have many hobbies and subjects I like to learn. And, yes, I am always exploring, growing, and looking for new hobbies to get passionate about. But, there's nothing that's ever meant more to me than my family. And there never will be. My passion for them is of another sort altogether.
My family members are pretty much my favorite people in the world. These are my people. They are the ones I can count on and they are the ones I will help whenever they need, no questions asked.  I feel deeply grateful each time I look at this picture. It is my reminder that I am never alone. And that I belong. I am passionate about the happiness of each of these people.
I am very lucky to have an incredible family of kind, loving, and generous people. And I want to make sure that, at the end of my life, when I look back on my years, I feel like my days have been full of these people and I have told each of them how much they mean to me. And that I've spent many of my moments not just telling them that but showing them my love many, many times in many, many ways.
So very, very grateful.