These are from Ali's 31 More Things class. More context here.
So here's my day twenty-two – heart.
(journaling below)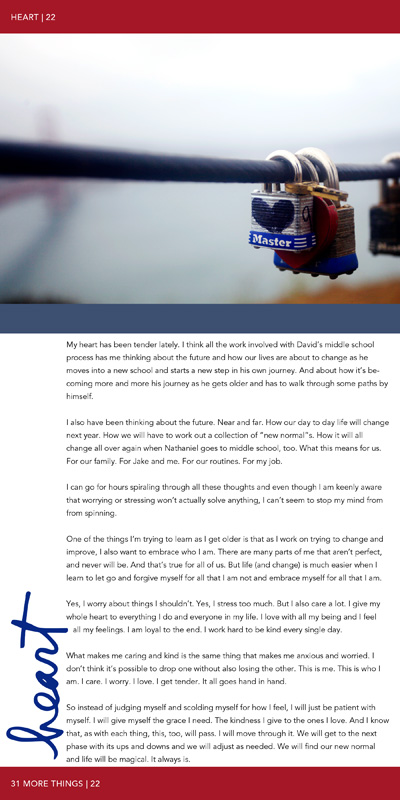 Journaling:
My heart has been tender lately. I think all the work involved with David's middle school process has me thinking about the future and how our lives are about to change as he moves into a new school and starts a new step in his own journey. And about how it's becoming more and more his journey as he gets older and has to walk through some paths by himself.
I also have been thinking about the future. Near and far. How our day to day life will change next year. How we will have to work out a collection of "new normal"s. How it will all change all over again when Nathaniel goes to middle school, too. What this means for us. For our family. For Jake and me. For our routines. For my job.
I can go for hours spiraling through all these thoughts and even though I am keenly aware that worrying or stressing won't actually solve anything, I can't seem to stop my mind from from spinning.
One of the things I'm trying to learn as I get older is that as I work on trying to change and improve, I also want to embrace who I am. There are many parts of me that aren't perfect, and never will be. And that's true for all of us. But life (and change) is much easier when I learn to let go and forgive myself for all that I am not and embrace myself for all that I am.
Yes, I worry about things I shouldn't. Yes, I stress too much. But I also care a lot. I give my whole heart to everything I do and everyone in my life. I love with all my being and I feel all my feelings. I am loyal to the end. I work hard to be kind every single day.
What makes me caring and kind is the same thing that makes me anxious and worried. I don't think it's possible to drop one without also losing the other. This is me. This is who I am. I care. I worry. I love. I get tender. It all goes hand in hand.
So instead of judging myself and scolding myself for how I feel, I will just be patient with myself. I will give myself the grace I need. The kindness I give to the ones I love. And I know that, as with each thing, this, too, will pass. I will move through it. We will get to the next phase with its ups and downs and we will adjust as needed. We will find our new normal and life will be magical. It always is.