These are from Ali's 31 More Things class. More context here.
So here's my day twenty-three – hair.
(journaling below)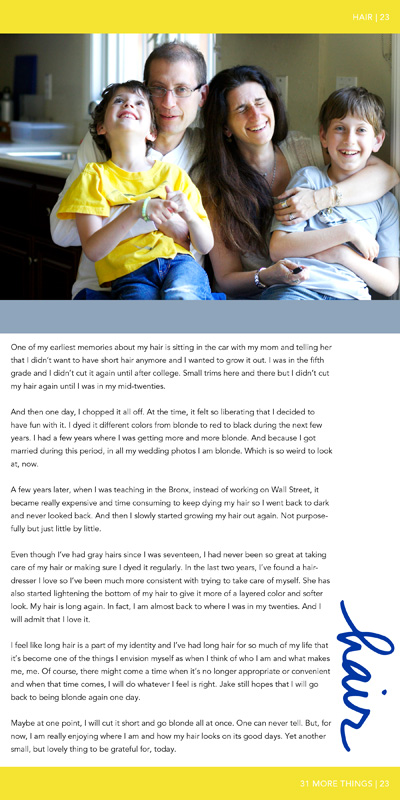 Journaling:
One of my earliest memories about my hair is sitting in the car with my mom and telling her that I didn't want to have short hair anymore and I wanted to grow it out. I was in the fifth grade and I didn't cut it again until after college. Small trims here and there but I didn't cut my hair again until I was in my mid-twenties.
And then one day, I chopped it all off. At the time, it felt so liberating that I decided to have fun with it. I dyed it different colors from blonde to red to black during the next few years. I had a few years where I was getting more and more blonde. And because I got married during this period, in all my wedding photos I am blonde. Which is so weird to look at, now.
A few years later, when I was teaching in the Bronx, instead of working on Wall Street, it became really expensive and time consuming to keep dying my hair so I went back to dark and never looked back. And then I slowly started growing my hair out again. Not purposefully but just little by little.
Even though I've had gray hairs since I was seventeen, I had never been so great at taking care of my hair or making sure I dyed it regularly. In the last two years, I've found a hairdresser I love so I've been much more consistent with trying to take care of myself. She has also started lightening the bottom of my hair to give it more of a layered color and softer look. My hair is long again. In fact, I am almost back to where I was in my twenties. And I will admit that I love it.
I feel like long hair is a part of my identity and I've had long hair for so much of my life that it's become one of the things I envision myself as when I think of who I am and what makes me, me. Of course, there might come a time when it's no longer appropriate or convenient and when that time comes, I will do whatever I feel is right. Jake still hopes that I will go back to being blonde again one day.
Maybe at one point, I will cut it short and go blonde all at once. One can never tell. But, for now, I am really enjoying where I am and how my hair looks on its good days. Yet another small, but lovely thing to be grateful for, today.