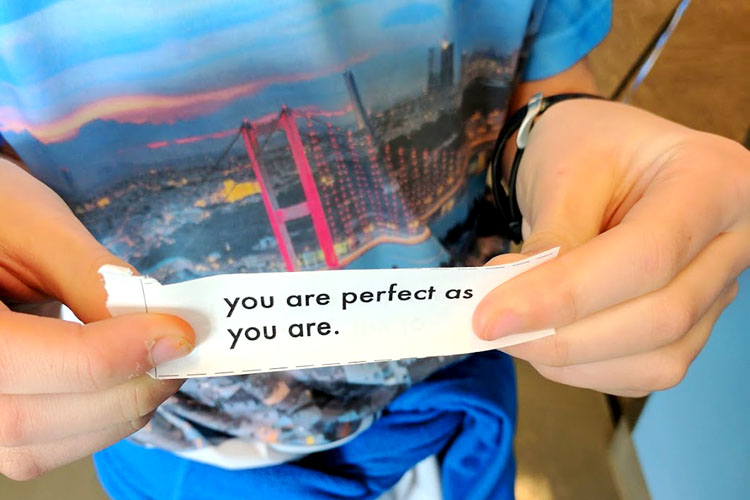 Weekly Intention: This little paper was at David's school's high school campus. Isn't that a reminder we all need?
This week is hectic. It will involve three trips to work, two to David's school (both campuses), a client call and a lot of meetings as always. Monday and Wednesday evenings are filled with meetings till 10pm or later. Which is not ideal for me since it cuts into sleep time. I think there are a few things I'd like to do this week:
One is to make sure I sleep as much as possible.
Two is to get organized enough to feel like I know all that needs to get done and don't feel like things are chaotic.
Three is to follow through with whatever the doctor says to do and to make the few other appointments I will need to make for regular checkups that I know I am behind on.
Four is to either book or do all the steps to get ready to book our summer trip.
Five is to be done with the taxes, at least on our side.
Six is to keep smiling, keep looking for the good, and keep enjoying myself just the way I am.
This month's intention is: Rain or Shine: March is a tough month. You often feel like giving up in March. It feels too long. But it's not. Keep going, You're doing great. Remember that the trick is to just show up. Keep showing up. Lots of showing up this week. Connecting with a lot of different people from work. From Seattle, Sydney, Zurich and my mentees. Client calls. Volunteering at the kids' school several times. Showing up at the benefit party for David's school. Showing up at the doctor's. And also trying to squeeze in a Book Club meeting in there. Let's see how much of it all I can pull off.
Ways to Shine this week:
One: Bold: A few planned bold moves at work this week. A few for the kids' school and next year.
Two: Open: Open to receiving this week. Opportunities, attention, kindness.
Three: Heal/Nourish: Going to both the doctor and hair appointment.
I am looking forward to: seeing a few friends tomorrow. fleshing out the details for the summer. being done with the taxes. being organized?! 🙂
This week's challenges: Just a lot of back and forth this week. A very long Monday and Wednesday. Not a lot of rest on Friday. But I am ready to take it all on!
Top Goals:
Work: finalizing q2 goals. stepping back and up a bit.
Personal: sleeping. getting my todo list clarified.
Family: maybe a nice walk/hike with the kids this weekend?
I will focus on my core desires (bold, mindful, nourish, love) by: continuing my experiment. i will show up as my best self everywhere i go. i will be positive and kind and pay attention. let's see if that moves the needle.
This week, I will say yes to: getting a bit more rest even if it means missing meetings.
This week, I will say no to: negativity. even in my head.
I am worried that: i will not book summer trip. i will not finish our taxes. i will have a terrible time at the benefit. i will flop. i will be exhausted. my knees won't stop hurting. i will drop the ball on something important.
This week, I want to remember: all of this is transient. life passes really quickly and i want to be present for mine.