Here's this week's item:
58. Do a Layout a Day for a Month.
As opposed to many others on the list, this project started very spontaneously. I was reading the A Million Memories message boards and suddenly something prompted me to post that I was doing a layout a day project and would anyone care to join me. It was April 29. There was one more day before the new month was to start and I had zero planning. Normally, when I start a project, I tend to think about it a lot in advance. I make sure I am ready for the undertaking and I write down notes, etc. etc. This is usually my process because I am a big believer in keeping my commitments. Even silly ones that I made to myself. But it wasn't the case with this one. It came to me out of nowhere and I remember thinking I wasn't likely to actually go through with this one. I told myself I would take it one day at a time and see how long I could keep it up. Secretly, though, I thought I wouldn't last more than a week.
Once I decided I was doing this, I did a few things to prepare:
1. I went through my drawers and picked out items that I'd bought recently or a long time ago that I'd meant to use but hadn't. Papers and embellishments.
2. I went through my daily photos from the last few months and picked a bunch that told stories I knew I wanted to capture and pulled them all into a directory on my computer. I opened up a few and created different sized photos just to have more variety. I then printed about ten days' worth of photos.
3. I went through several of the galleries I like to look at and saved layouts that spoke to me. It might be just a small detail or the entire layout.
4. I also made a small list of techniques I'd like to try. (the list was: chipboard, paint, tattered angels mists, spray paint(?), stitching, drawing, stamps) all of these were things I had at hand.
that's all I did in advance.
Come day one, I just got up, picked one of my photos and picked a layout that inspired me and created something that was similar in my own way. Here's the inspiration and may layout for day one: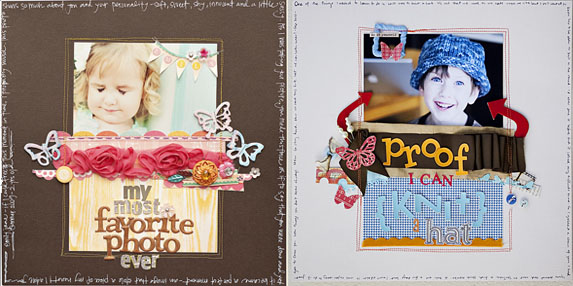 The one on the left is by Maggie Holmes and as you can see, I copied the design pretty much straight on. I told myself that I wasn't going to worry about having to come up with my own designs and the goal here was to scrap memories and use product I loved. Since this wasn't for the design team, it was ok if the designs weren't unique to me. So for the first few days I just picked layouts I loved and created my own versions of them.
But even as early as day one, some patterns started to emerge:
1. I discovered that I loved using colorful and long titles. Something I hadn't really done before.
2. I remembered how much I loved using cardstock for my background.
3. I fell in love with color. Bold, bright, happy colors.
After a day or two of lifting, I did start liking to do my own thing so I'd do layouts my own way until I found myself stuck on uninspired at which point, I'd go back to my folder of inspiration.
About halfway through, I realized that I now had a completely different scrapping style. I am not sure how it evolved but I do know that getting up and scrapping every single day allowed me the freedom to explore new ideas and slowly find my own way.
Around day twenty or so, I made this list of things I loved and regularly used on my pages:
1. border, heart, and butterfly punches
2. bright colors
3. long titles with different stickers
4. hand journaling
5. paint or stitching
6. white cardstock backgrounds
One of the things I missed was journaling more and I knew I didn't have enough time to write long computer-journaling and print and align like I usually did so I wanted an easier and more practical solution. I had a few journaling stamps but each came with a set of complications I didn't like. I wanted something subtle and easy to manipulate. Just a few lines for me to be able to write straight.
Then I found this stamp:
and while the lines were perfect, I didn't want that border on all my pages. Since it's acrylic, I just carefully cut out the inside and mounted it on my clear mount and now I had six lines to stamp on my pages. If you look at my pages, you'll see these little clusters of journaling all over. That's thanks to this stamp.
Here's a closeup: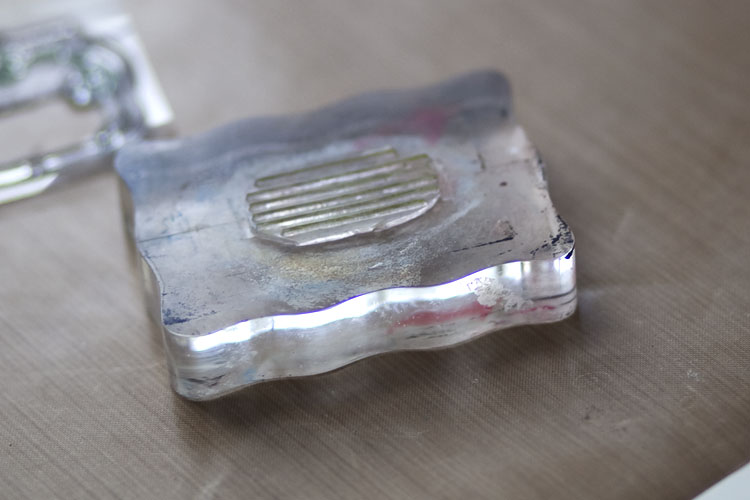 So now I had my journaling solution, too and I was unstoppable. The most amazing thing that happened in this month is that I finally fell into my own scrappy style. And the reason I know this is because I can now sit and scrap pretty easily. It still takes me a while to put a page together but that' cause I take too long initially picking papers etc. Once I have my little stash, things fall into place pretty quickly and naturally. And I love my pages most of the time and they feel like me.
I think 31 days of getting up and sitting down to scrap can have a profound effect in your scrapping. (at a minimum you get to scrap 31 memories, who can be sad about that?) Here they all are on my living room floor: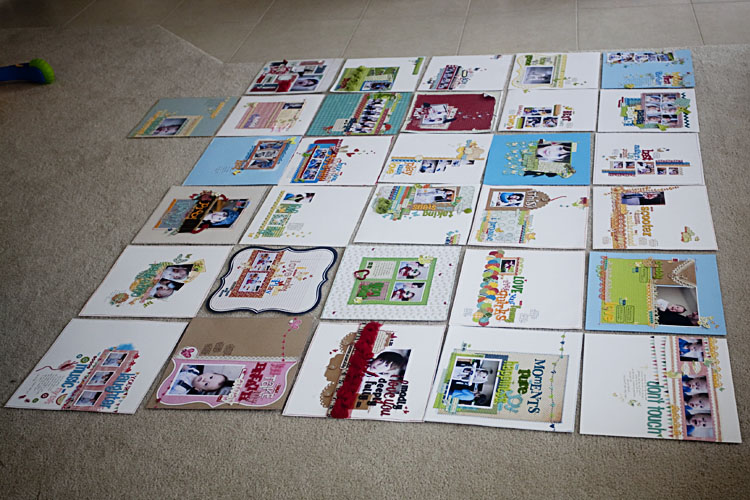 So, now that I've done this, here are a few pointers for those of you who might be interested in doing it, too.
1. Put together a stash. my stash came in very handy and I rarely went looking for other things.
2. Get all your photos and stories ready. And print the photos out and cut them.
3. Make an inspiration folder or pick a bunch of sketches to get you started. Have enough for the whole month so you don't have to stress that you'll run out.
4. Pick a time of day and do it then every day. I did mine first thing in the morning. I would nurse my son and then get to work.
5. Try to have a deadline by which to be done. I told myself I'd like to have my layout finished, photographed and posted by 8:30 am. Most days I did stick to it. I think first thing in the morning works better than at night. Even though I am a night person and I get more uninterrupted time at night, there was something magical about accomplishing something big and fun and artsy in the very beginning of your day that infused the rest of the day with more joy.
6. Post your layouts and tell people you're doing LOAD. The encouragement and kind comments I got at on my blog, at AMM, 2peas, and Facebook kept me going. It was wonderful to hear all of them and gave me the strength to get up and scrap on the days I didn't feel like it.
7. Don't let yourself whine and don't wait for inspiration. Just get up and sit at your desk and put the photos on the paper. You'll be amazed at how quickly it comes together.
8. Decide quickly and just go with it. I often just glued a few things down and then built my layout around them. I could easily change my mind 100 times so it was best to just make one decision and then one more and then just go with it.
9. If you find that you'd like and could use some encouragement and help, try doing it with Lain. She runs layout a day several times a year (I think February, May and September) and many people who've done it love it. She emails you, there's a Flickr group etc. etc. and the small amount of money you have to pay may help encourage you to see it all the way through.
And so here we are. 31 layouts: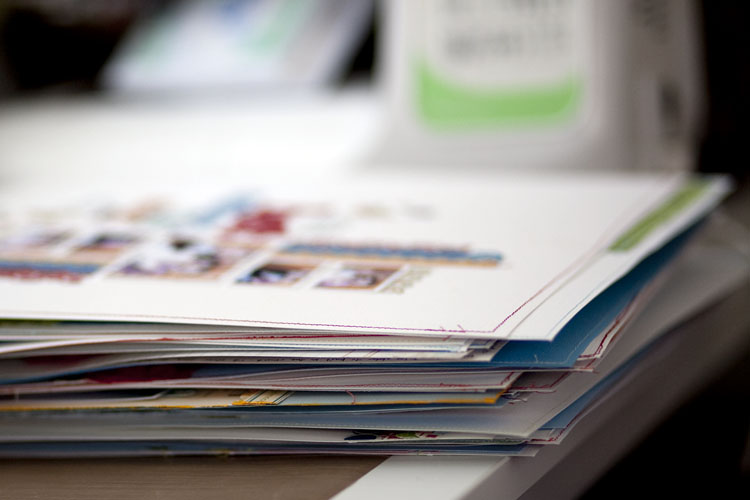 I did immediately put them in albums once I was done photographing all of them.
This was a great exercise with profound benefits to me. I am really really glad I did it and I cannot recommend it enough. And in case you think I am sick of scrapbooking, I have since made one minibook and two layouts and I have at least 20 more I am planning to do this month. This project didn't burn me out; it actually helped me fall in love with scrapbooking all over again.
ETA: I also wanted to add that I didn't do more than one layout on any day. I didn't queue them up, I didn't catch up. (With the exception of one single day where I was gone all day so I did my layout the night before.) I liked the idea of doing one and having more to do for the next day. The idea wasn't to get 31 layouts done but to do one every single day. If you do this project and fall behind, my personal recommendation would be to just pick up the next day and start again and not try to catch up. Just my 2 cents.