I cannot tell you how many times I've tried to do an art journal and for how long. Three-four years? I've done so many versions. All of which are half done. Just like a written journal,this is something I can't seem to make a habit of. A month or so ago, I was in a really bummed mood and I said something about it on Facebook and the amazing Caroline of Maya Road sent me some Maya Road goodies in the mail to cheer me up (and cheer me up they did!) and just a few weeks ago my awesome friend Katie had also sent me a few things. So I dug into my stash of other MR stuff and since Caroline had sent me two awesome books with canvas and I religiously watch Donna's amazing inspiration wednesdays, I decided this was all a sign to tackle this task again:
56. Create an art journal and fill all the pages
I took the binder and pockets from this album and the canvas pages from this one. Since I love color lately and I am trying to choose joy I decided to focus my album on happiness and went hunting for quotes around happiness.
I printed a bunch of them, painted my album and the pages in colorful colors and just had fun.
For the cover, I painted it with teal fluid Golden acrylics. Then I put it back on. I attached a prima flower I've had for a long time and painted the letters with magenta and then covered them with stickles. A little tag with the year and it was done.
I removed the rest of this cause this minibook is being published. Will bring it back in January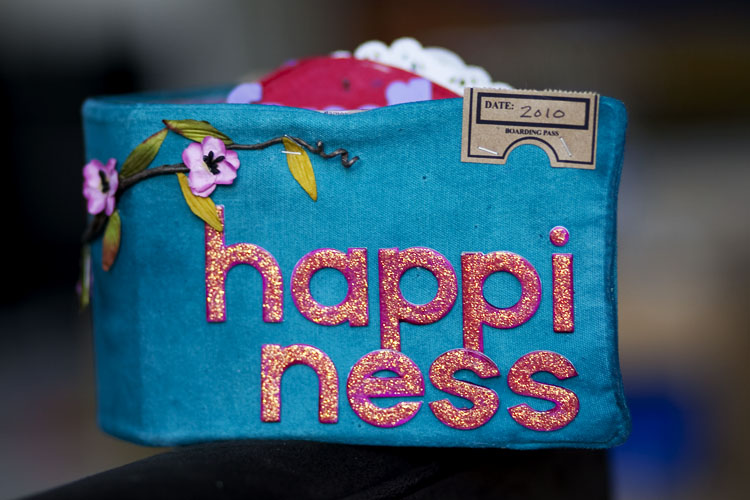 On the back, I put a reminder that I get to "choose" my days and to choose joy. And a little part of a doily.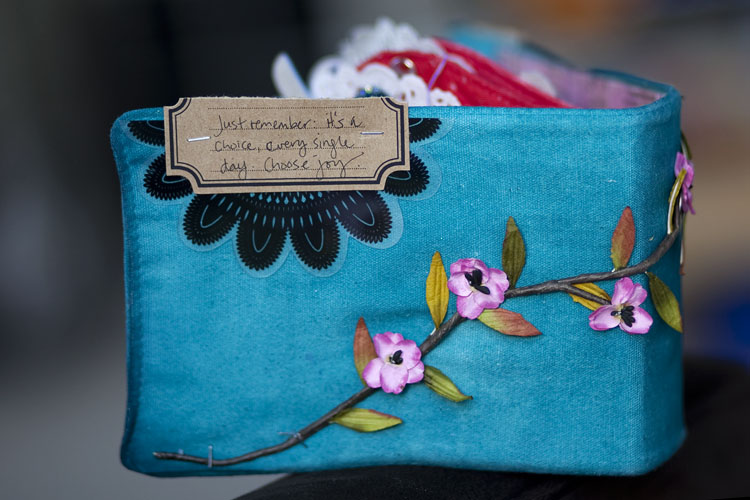 I like the way the branch goes across my cover.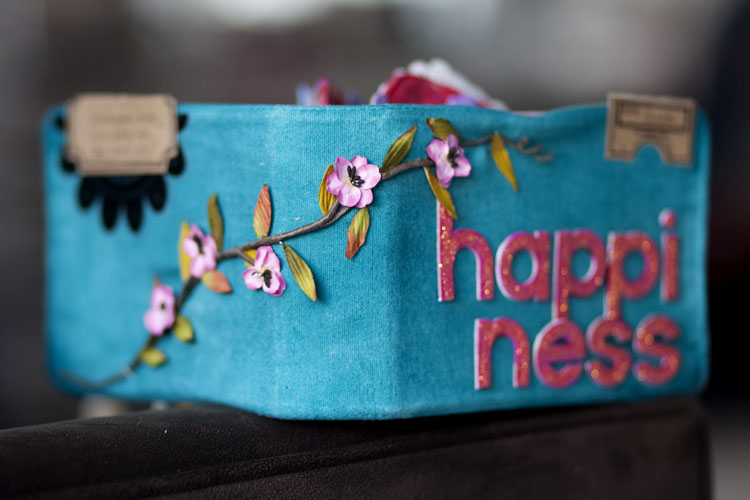 I originally painted the inside magenta. But then it felt too loud so I covered it with offwhite, seethrough cute tape I had so now it looks magenta but also a bit more interesting.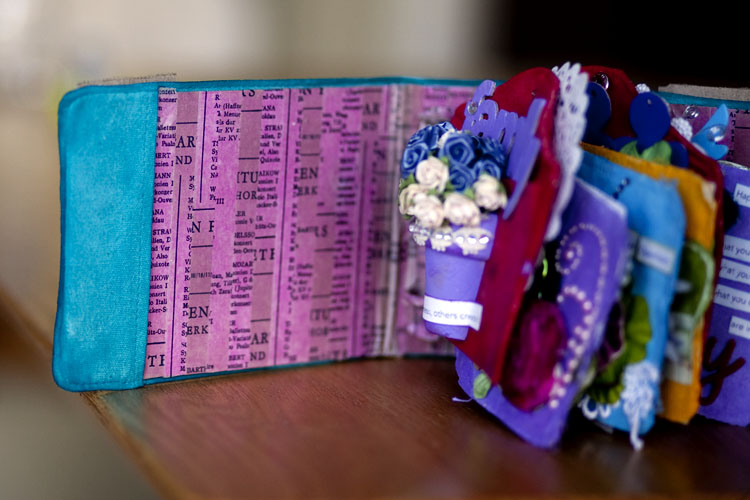 I painted the pages with Claudine's paints, which I love. This quote says: "Some pursue happiness, others create it."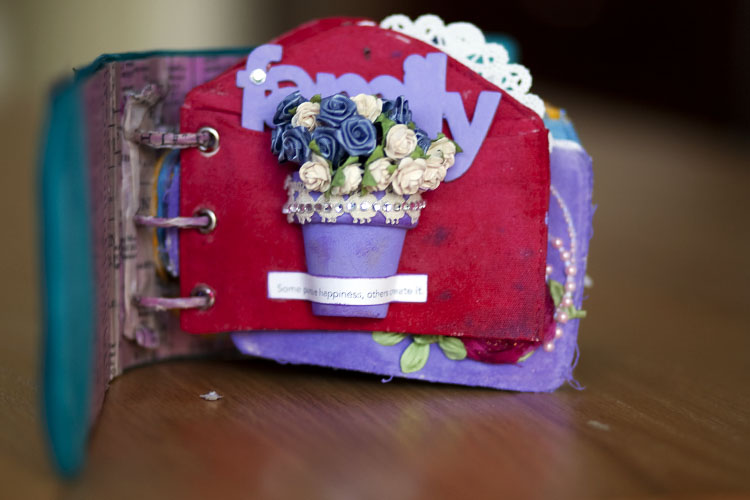 "Enjoy the little things, for one day you may look back and realize they were the big things.  ~Robert Brault"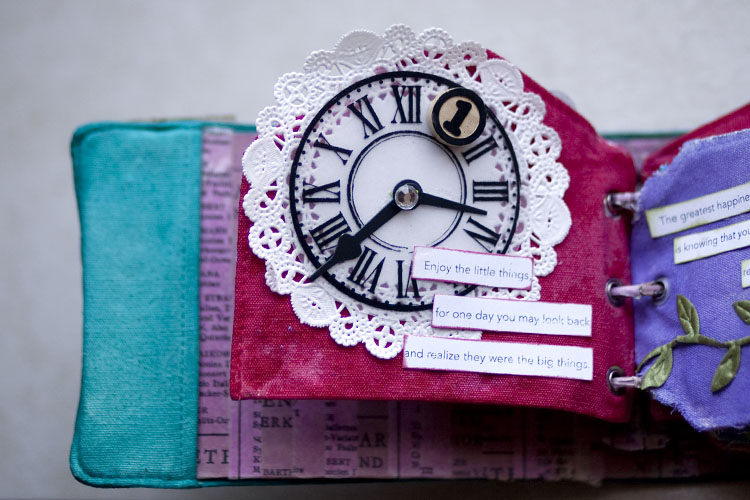 "The greatest happiness you can have is knowing that you do not necessarily require happiness.  ~William Saroyan"
"But what is happiness except the simple harmony between a man and the life he leads?  ~Albert Camus"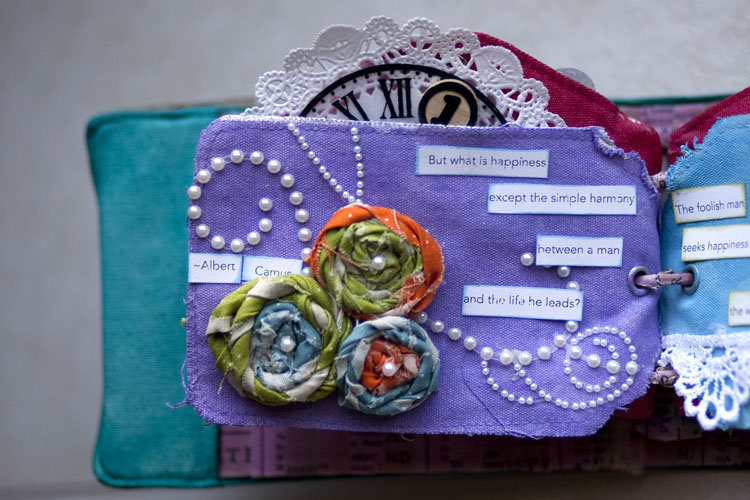 "The foolish man seeks happiness in the distance; the wise grows it under his feet.  ~James Openheim"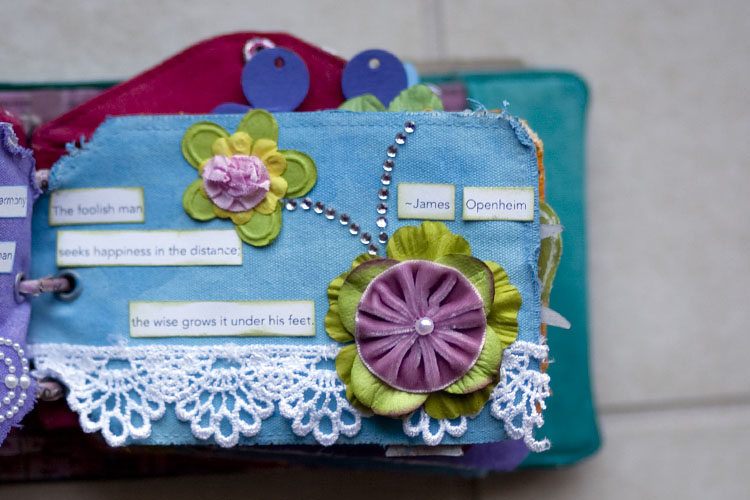 "For happiness one needs security, but joy can spring like a flower even from the cliffs of despair.  – Anne Morrow Lindbergh"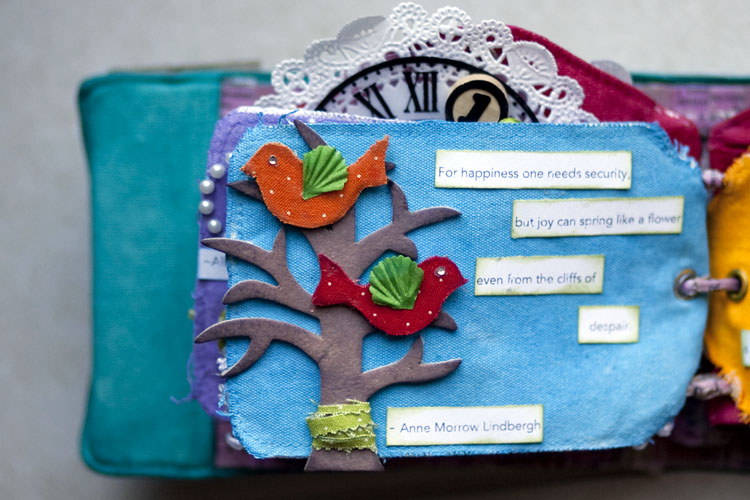 "The fact is always obvious much too late, but the most singular difference between happiness and joy is that happiness is a solid and joy a liquid.  ~J.D. Salinger"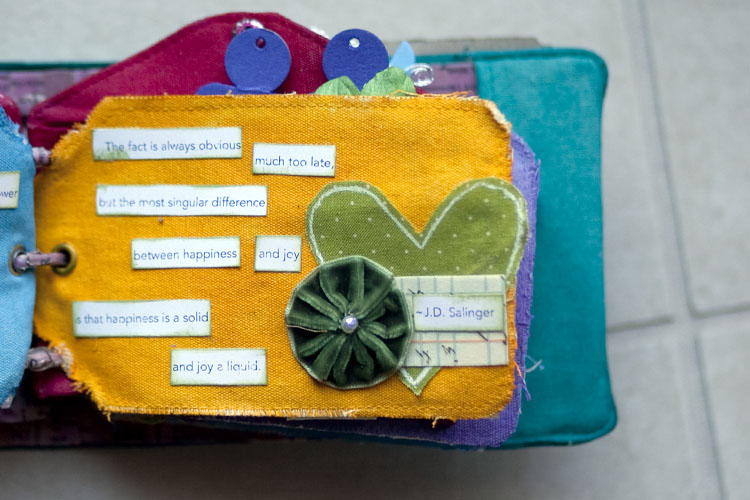 "You need to learn to be happy by nature, because you'll seldom have the chance to be happy by circumstance.  ~Lavetta Sue Wegman"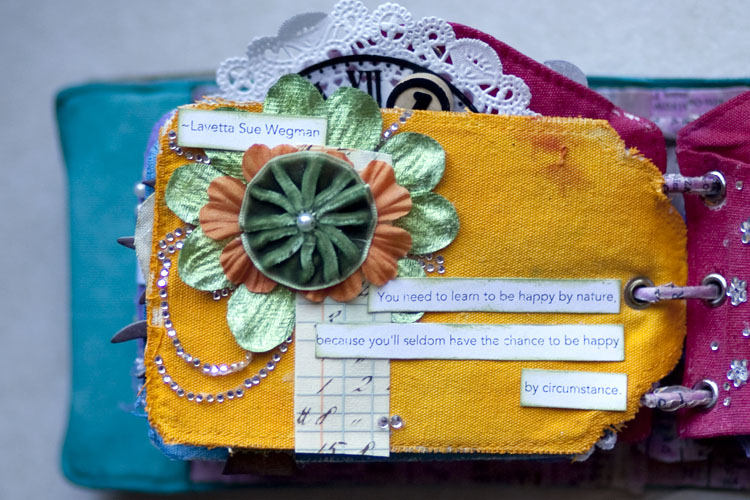 this one was for fun. i wanted it to look like two people were lying down, holding hands, looking up at the stars.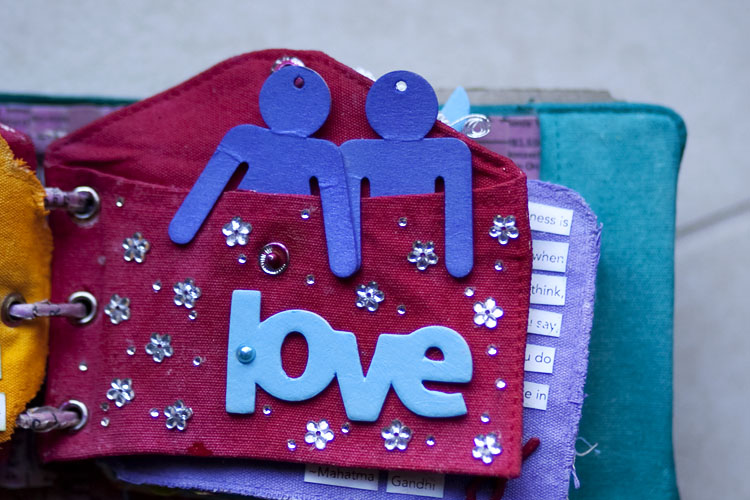 another just fun page with no quote.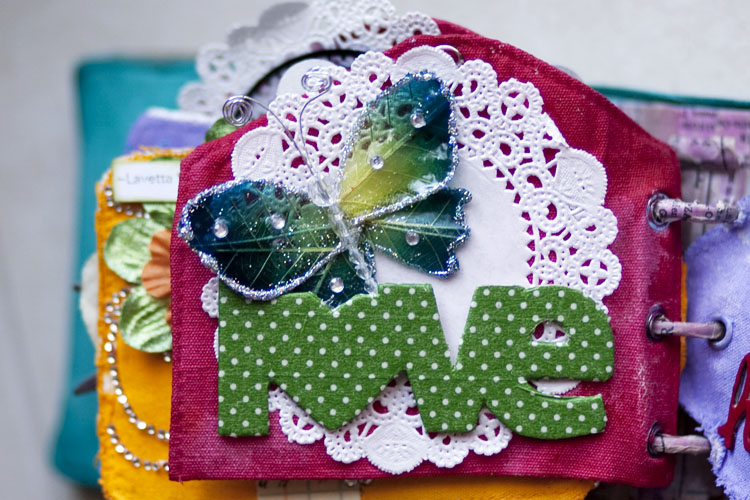 "Happiness is when what you think, what you say, and what you do are in harmony.  ~Mahatma Gandhi"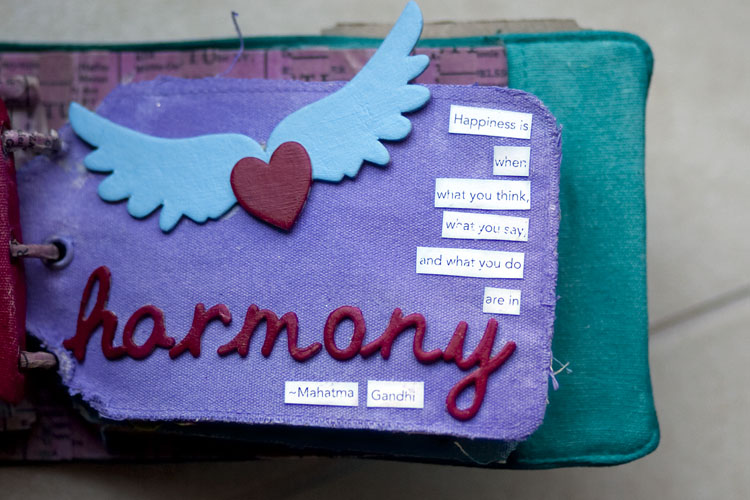 "A sure way to lose happiness, I found, is to want it at the expense of everything else.  – Bette Davis"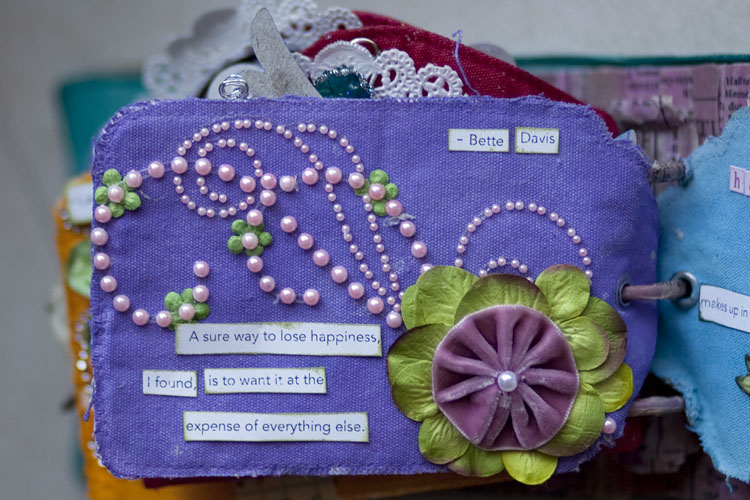 "Happiness makes up in height for what it lacks in length.  ~Robert Frost"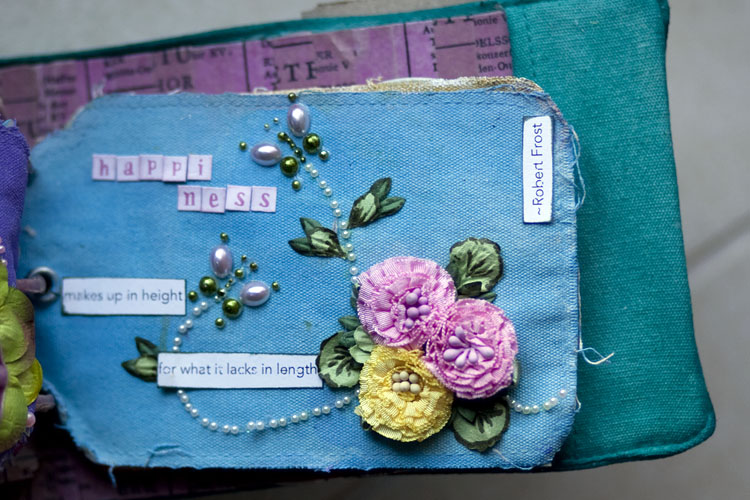 "Happiness often sneaks in through a door you didn't know you left open.  ~John Barrymore"
"Of all the things you wear, your expression is the most important.  ~Janet Lane"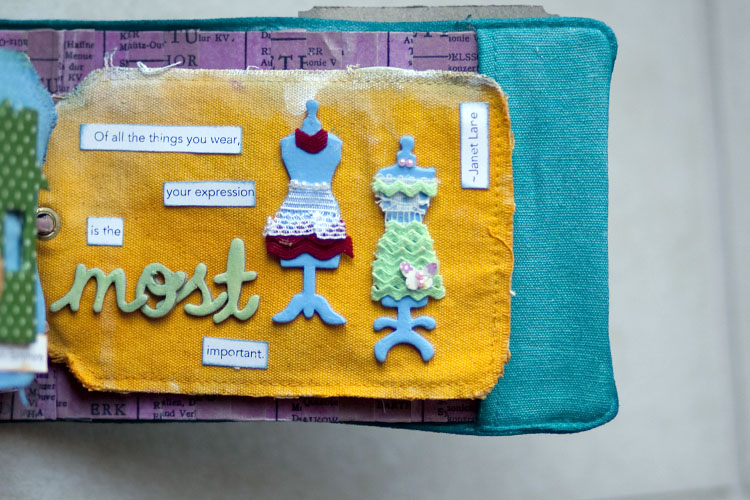 "Let us be grateful to people who make us happy, they are the charming gardeners who make our souls blossom.  ~Marcel Proust"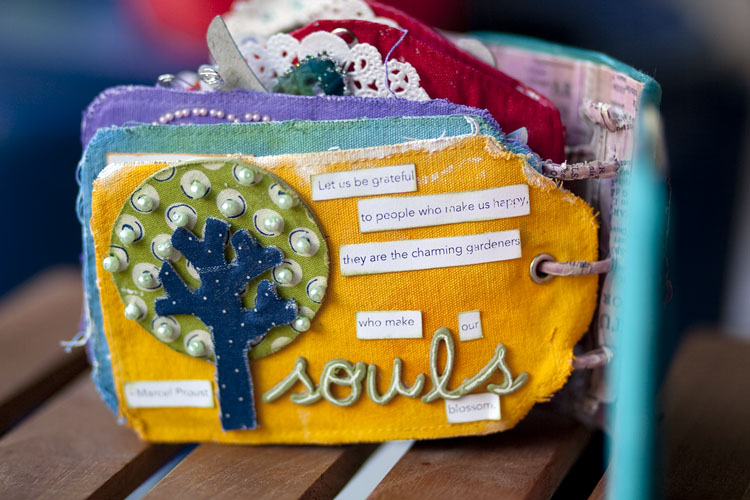 a little detail.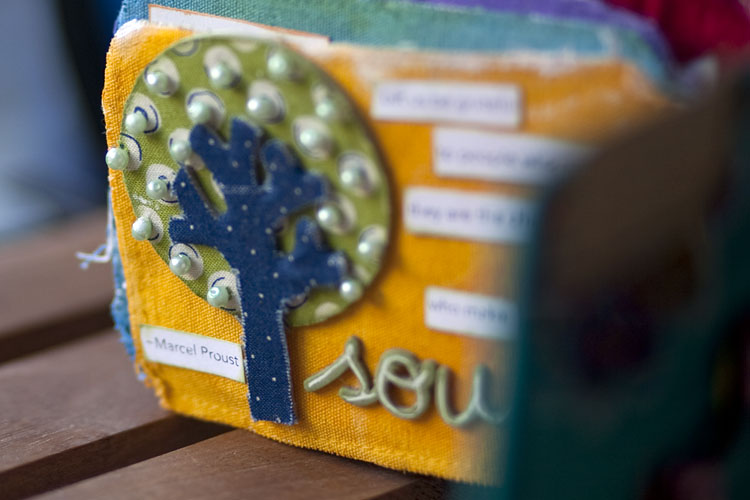 I covered the inside here with tape, too.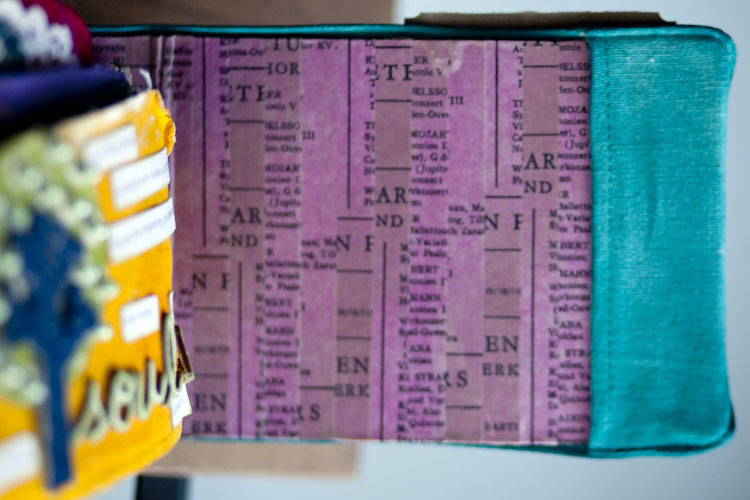 and finally a top look: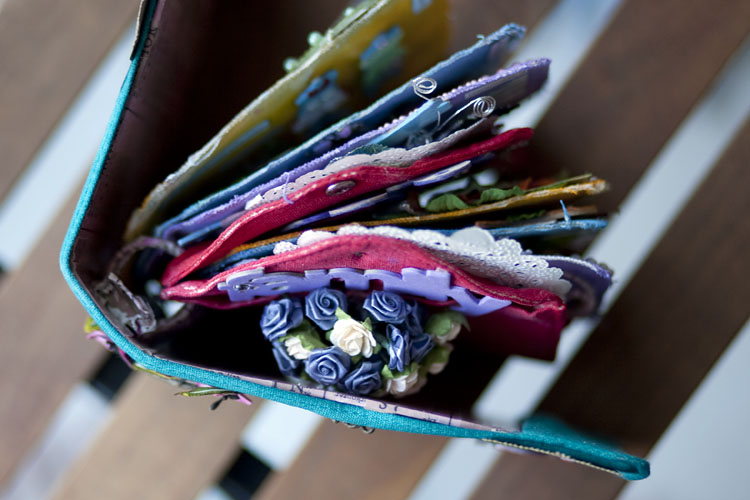 I can't believe I finally finished an art journal. Not your typical one but I love love love it and it sits on my desk and reminds me to choose joy every day! Thank you so much, Deb!