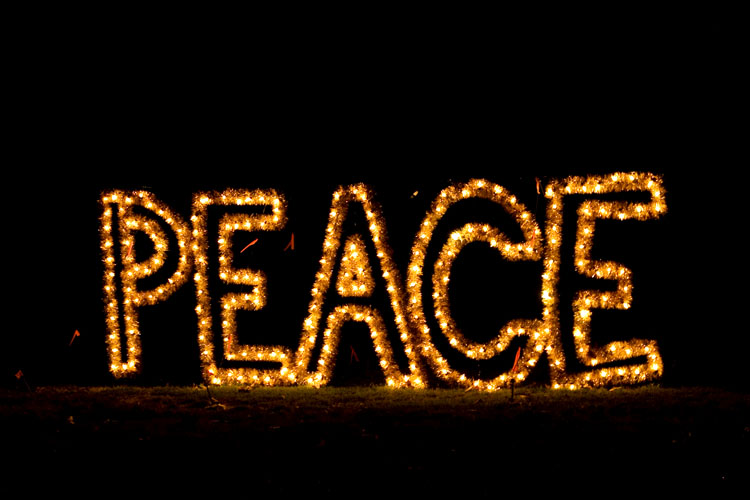 2013 was my year to be present. I feel like I started out the year with a strong focus on my work and my hopes for this year. The word really resonated with me when I took a trip back home and the boys and I stayed with my parents for ten days in Bodrum. While there, I distinctly felt the conscious decision to be present and was able to truly let go of doing, being, wanting, striving for, planning anything else. I was just present. At least more than I've ever been before. And it was wonderful. When I came back home, it lasted for quite some time. I didn't pressure myself, I sat in the backyard with the kid a lot and did my work in the sunshine.
But then things got rougher. I am not exactly sure where the turning point was but by the time I entered September, I was the opposite of present and it just went downhill from there. I just stopped wanting to do anything. I felt frustrated with my yearly projects. I abandoned a few, tried to change others, and stopped doing classwork in the classes I'd signed up for. If you've been here a while, you'll know this is very atypical of me. It was a scary feeling and a sign that I wasn't centered at all. I just felt no desire to do anything.
As the year is coming to a close, I am finally getting closer to finding the peace again and while I feel disappointed and sad about how the last few months have been, I am still deeply grateful for this word. Even though I picked a new word for 2014, this new word will require me to be present so I feel like I am going to still be hanging on to this precious word that is very core to how I want to feel in my life.
As with each year, I'd set some specific goals for 2013 and here's how they worked out:
Family
1. Teach Nathaniel how to read by using the same book I used for David. We started on this book but he was having a tough time at first, and then resisted it quite a bit but now we're back to doing it and about halfway through it. Reading is a project Nathaniel and I have for 2014 so I feel good about this one.
2. Take photo of full-family and write updates weekly (Project Weekly Diary). We did this every single week except for the week we were in Turkey without Jake where we just took one with my family there. I absolutely adore these photos.
3. Write daily gratitudes for me and David (Project Gratitude Journal) Oh, yes, we did this one. Gratitudes are wonderful.
4. Have a family tradition where we do something together each weekend for 1-2 hours. We didn't really do this officially but i'll say that we had ten times more family trips and fun times together this year than ever before.
5. Create gratitude-focused art with Nathaniel each week (Project Nathaniel's Gratitude Pages) I did this about halfway. I am not sure why we stopped but we did. I did love all the pages we finished.
6. Create gratitude postcards with David and mail them out (Project David's Gratitude Postcards) Like Nathaniel's, we didn't finish out this project but we did a lot of cards and we mailed them all out. It was really resonant for me.
7. Volunteer in both David and Nathaniel's schools I did this. Not as much as I'd like but enough.
8. Schedule minimum bimonthly date nights with Jake We didn't do this as frequently as I'd like but we did a lot of date nights and they were lovely. Even though we lost our sitter halfway through the summer (she went to college) we did end up getting several new ones and we're back on schedule.
9. Tell our family stories (The Savor Project) The Savor project started to feel burdensome to me sometime in the summer. I changed to going digital but I'd lost my love for it. I am not sure what will happen in 2014, but I am not ready to give up on it yet.
Health
1. Continue running daily, work your way back up to 5K a dayI did exercise daily. I was running 1 mile for the longest time and recently I went back to walking fast so I could increase to 2 miles. I still hope to find my way back to running 3 miles.
2. Find a way to incorporate strength exercises weekly oh this didn't happen at all.
3. Come up with three healthy ideas for each meal and use them When i adhered to them, i did have a routine for breakfast and lunch. Dinner is always tougher.
4. Get minimum 7hours of sleep every night and 8 on the weekends I think I did good on this one.
5. Meditate every day oh no, not at all.
6. Floss dailythis one wavered a lot, too. which is weird since I love flossing.
Art
1. Sketch minimum three times a week (Project Weekly Sketching) started out strong and then faltered a little over midyear.
2. Art journal weekly incorporating hand-lettering (Project SixBySix and Project Gratitude PostCards) I did both of these.
3. Pick one of the online classes I didn't complete and do the work I didn't do this. I did some of the lessons in the I love Drawing class and a few others but not as much as I would have liked.
4. Experiment with at least three mediums depends on what you consider experimenting 🙂 not really on this one.
5. Experiment with collage/mixed media once a week (Project Gratitude Journal) i loved my gratitude journal
6. Continue to create for my design teams (Maya Road & My Mind's Eye) i stuck with both of these teams, too.
7. Create a new Savor Project for 2013 (The Savor Project) wrote about this one in the above section.
Celebrating
1. Write at least three long thought/idea oriented blog posts a week meh, this started out well. but as i felt down and tired, i just completely gave up. I hope to do better next year. i love writing these posts.
2. Make a list of 3 achievements each week for each family member and have a celebratory breakfast/lunch once a week. even though we didn't do the breakfasts all year, i did list 1 celebration for each member all year long.
3. Send one kind email to someone each week wow i totally forgot about this one.
4. Have and end-of-day ritual each night and a welcoming-the-day ritual each morning this, too, didn't happen though I still love the idea.
Reading
1. Read a book a week (Project A Book a Week) done. reading continues to be my savior.
2. Read regularly to and with David i didn't read much to David this year. He reads awesome on his own and we did read side by side a lot and read a few books at the same time so we could talk about them.
3. Teach Nathaniel to Read working on it
4. Regularly attend both book clubs attended almost all of the meetings of my three book clubs
Gratitude
1. Write down two things I am grateful for each day (Project Gratitude Journal) done
2. Write daily for David (Project Gratitude Journal)done
5. Create gratitude postcards for me and mail them out (Project Gratitude PostCards) i did these but didn't mail them out.
Learning
1. Get Coaching Certification done, woot!
2. Continue to coach clients doing so. love love love my awesome clients.
3. Take two classes locally i didn't take any classes outside of coaching this year.
4. Learn to drive on the freeway – still not giving up on this one i did more freeway driving this year than in the last 38 combined. But still not as much as I'd like. major progress here.
5. Learn to ride a bike – nor this one! not done!
Belonging (I changed this around a bit but it's still about building community)
1. Go out to breakfast/lunch once a week with a good friend (or a potential good friend). If not possible, call/email a friend to reconnect. i did some of this but really not enough
2. Invite guests over for dinner at least once a month we didn't do so well on this in the second half of the year. more of this in 2014.
3. Extend an invitation to someone new once a month i have lists and ideas but never did it.
4. Send out gratitude cards to people whom I am grateful for meh didn't even do this one
I had some focus areas too:
1. Let go of worry: this is tough for me. I had some moments of pure peace and I am grateful for those.
2. Do Less: I actually did do this for quite some time. Next year, I will do even less.
3. Do not yell: This also was much better. Still had a lot of not-so-proud moments but I am working on it.
4. Be mindful: I am doing a lot better on this. Noticing the moments, the choices.
5. Celebrate: This was a great one to choose for 2013 and I definitely did do it. It was a gift. I know I need to continue it.
6. Cultivate Belonging: I did do some of the depth I wanted here, but I want more. Much more.
7. Self-Compassion: I've been working on this actively. This doesn't come naturally to me. I am noticing it more. I am surrendering more. I am being kind instead of judgmental.
8: Be open: I've worked on this actively, too. This one can use even more attention. Especially being open to the possibility that things will be ok.
9. Gratitude: Practicing gratitude has become a way of life for me. But I want to up the ante more for 2014. Let's see if I can.
I also went home to Turkey and spent ten days with my parents, my sister and her family, and my kids and went to Martha's Vineyard for time with Jake and his siblings' families and his parents. Both of these were wonderful and I will cherish them for a long time. I taught a class through Big Picture and I sold a bunch of art and I was published in Haute Handbags.
And here we are. 2013 was a full year. As with every year, there were ups and downs, challenges and huge joys. Deep sadness and wide happiness. I loved my word and I know that no matter what these lists say or what I accomplished or did not finish, I am incredibly lucky and blessed. My life is full and I am grateful for every moment of it.
And, with that, good-bye 2013. Thank you for your lessons and gifts.