Here's today's mantra: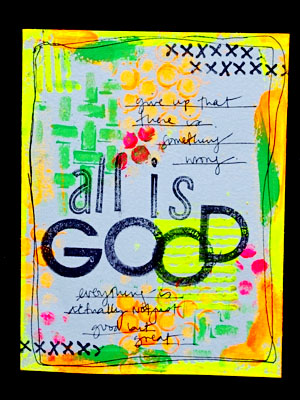 This one is thanks to my nephew Jeff. It's one of his mantras that I think I really could use.
I always worry. About everything. About small things, big things, medium things. About all of it. For a long time, when I was pregnant, I had a big sign over my door that said "give up that there's something wrong." I love what that means but somehow it sounds negative to me. I don't want to just give up that something is wrong. I want to embrace that all is good. Everything is great. Life is good. All will be ok.
I want to remind myself that good and bad are just in my head. I can choose good. I can see the good. All is good.
---
Daily Mantras is a Monthly Project for June 2016. You can read more about my projects for 2016 here.