Today's page was week five's homework for the Soul Restoration class.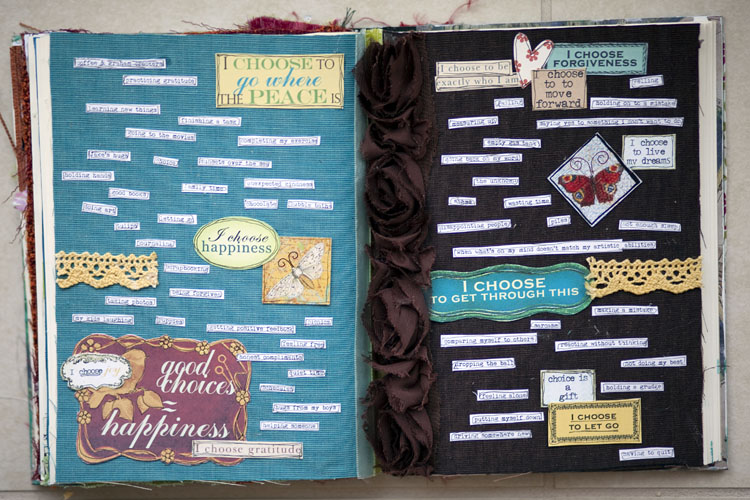 This week's theme is about knowing what your definitions for happy and sad feelings are. As usual, I don't want to go into detail since it's Melody's content but I will talk some about what came up for me. I struggled more than usual this week because there was a lot of journaling to do and I am one of those people who likes to do her homework before I do the art. I wrote for a while but then put off writing anything for many days. This was a sign to me that the way things were structured wasn't working for me so after postponing it all week, I finally changed it around. I still plan on doing the work, but I think it was too much for me to focus on at once.
So instead of focusing on each definition, I made a list of things that give me positive feelings and a list of things that give me negative feelings. Here's what's on each list:
The good
finishing a task
coffee & graham crackers
quiet time
doing art
scrapbooking
family time
hugs from my boys
Jake's hugs
practicing gratitude
completing my exercise
helping someone
getting positive feedback
schedules
good books
learning new things
journaling
honest compliments
choice
holding hands
going to the movies
bubble baths
tulips
puppies
taking photos
sunsets over the sea
picnics
my kids laughing
feeling free
being forgiven
letting go
unexpected kindness
chocolate
The not-so-good
saying yes to something i don't want to do
disappointing people
not enough sleep
yelling
the unknown
failing
having to quit
going back on my word
comparing myself to others
not being able to measure up
sarcasm
not doing my best
wasting time
when what's on my mind doesn't match my artistic abilities
lack of planning
dropping the ball
piles
empty gas tank
driving somewhere new
putting myself down
feeling alone
holding on to a mistake
holding a grudge
shame
reacting without thinking
making a mistake
Each list can easily be 10 times longer. But I just wrote in five minutes and told myself it was ok for now. I then printed the words and made this two-page spread. Blue for the happy and brown for the not-so-much. This is a guide for me to remember what makes me sad, upset, disappointed, etc. It's also a reminder of things that make me feel good so that I can do more of them, especially when I am feeling blue.
Here are some other observations from this week:
1. One of the things I noticed was that "completing a task" came up in several of my lists. This is not very surprising considering how much I like getting things done. But it did make me realize that I can change the way I start and end my days so that I wake up and get something done immediately. Which will start my day with a great positive feeling. I can also end my day with a completed task or at least set it up for the next morning's task completion. Help myself since I know the joy this accomplishment brings into my life.
2. If I can start each day with the task to complete and then do exercise and art, I am already in a good mood. Then when I start work, I can do the same. Instead of reading mail, I can just complete a task first. Then the good mood from that will help me go through my mailbox more quickly and efficiently.
3. I need the take the time to hug my kids daily. I do this a lot already but I need to do it more. I need to slow down and smell them and hug them and laugh with them. The joy this gives me is unparalleled and I need to make sure to do it each day.
4. I would like to plan my meals and the kids' meals more. I've been saying this for months but not actually doing it. Let's set it as a goal for getting organized on this before February is over so I can have a plan in place for March. (if not sooner.)
5. I need to journal more. What a gift it's been to rediscover journaling this year. I am so thankful to Stephanie and Misty and Melody. They reminded me how amazing, anchoring, soul-lifting journaling is for me. I need to make the time to do it daily. It feeds my soul like nothing else.
6. Overall I need to look at these lists each day. And make sure to do at least 5 of the "good" items and focus hard on not doing the yucky ones. To make myself more aware daily. Start the day and end the day with a review of my lists. So they are always forefront on my mind.
There we go. I am so sorry that this Tuesday will be the last class for Soul Restoration. I can't remember the last time I took such a powerful class (and online!). I have simultaneously been working on other art journaling pages too so if you're sick of these, there are different ones coming I promise.
Another look at each page: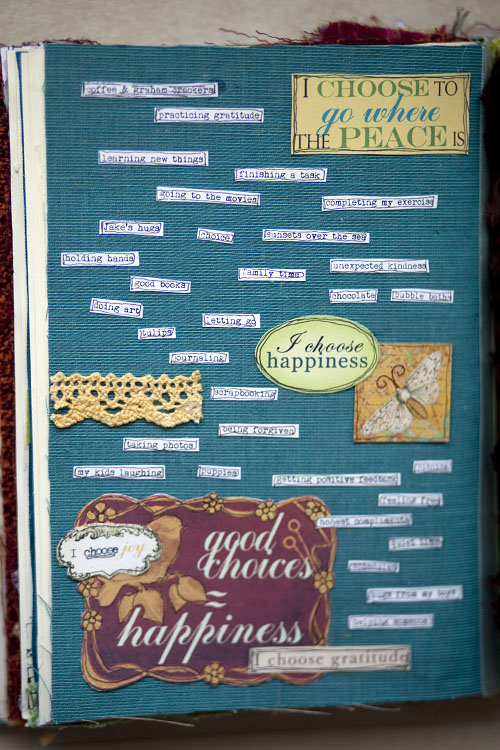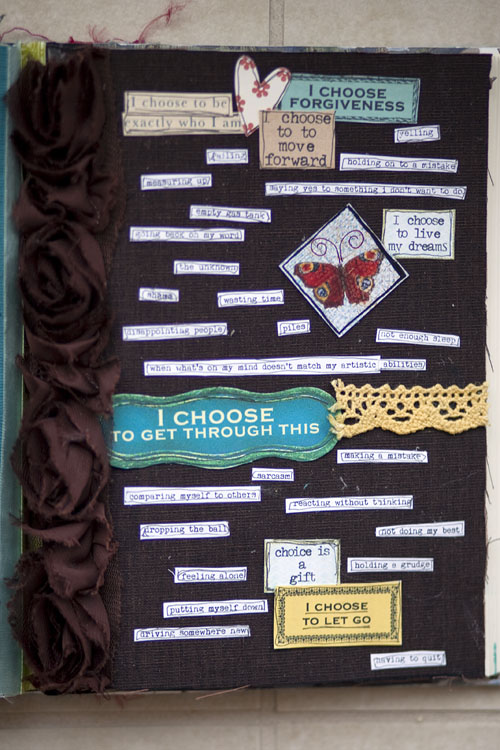 ---
Weekly Art Journal is a weekly project for 2011. You can read more about it here.