Today's page was week six's part 1 homework for the Soul Restoration class. I thought of doing them all together as one post but then I decided if I did each separately, I would take more time to focus on each so I decided to do that. Here's the first one: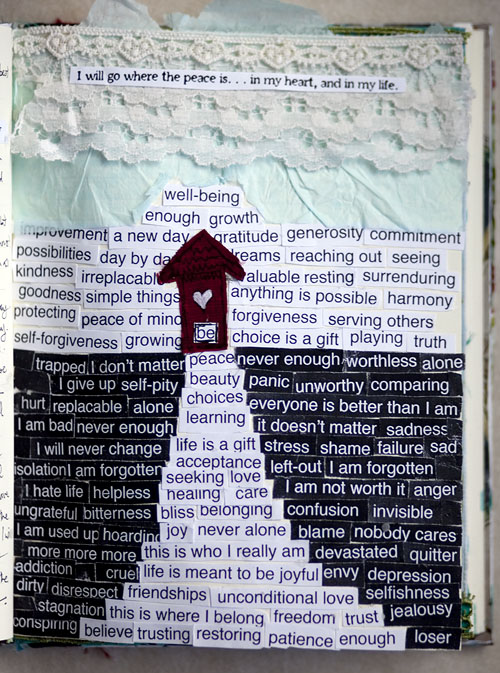 When I saw this exercise, I thought it was powerful-looking and that it would be easy. I didn't think as much about how it might make me feel. I didn't think it would be that strong because it was more of a "cut the words out and glue them on this photo" kind of assignment.
But, alas, I was wrong.
This exercise, as with the others, proved to be very very powerful. Just the act of cutting each word up and glueing them down one by one left me more impacted than I imagined. Glueing each of the "black" words made me sadder and sadder. I felt heavier and it took forever to finish the sections. I could almost feel each word taking its toll on me.
Then I did the white words and it went so much faster. I felt happier, lighter, and like a weight was lifted off of me.
I know it sounds corny but I really felt it. After I'd glued all my words down, I was left with a few words and a lot of space. The leftover words didn't speak to me and I knew they wouldn't fill the space anyway so I decided, instead, to put the blue tissue paper to make it seem more like the sky. And then I added my house which was red because I wanted it to stand out. I put the word "be" on it to remind myself to just be who I am. And a heart to remind myself that I am loved and that I need to love myself just the way I am.
Then to keep the feeling of light that the white words brought, I added the line "I will go where the peace is…in my heart and in my life." I think this is the biggest lesson for me. The peaceful and happy words make me feel light and happy and I need to make a point to focus on them more. To remember to go where the good is. Where the peace is. Where all these wonderfully happy words take me. Where I feel unburdened, light, happy and at peace.
Because, there, I can be my best. I can be kind and loving to others and kind and loving to myself.
---
Weekly Art Journal is a weekly project for 2011. You can read more about it here.