When Julie asked me if I would be willing to participate in her Spring 2012 Stencil Hop, my reply was a resounding yes. I am a huge fan of both Julie and The Crafter's Workshop stencils. I am an even bigger fan of Julie's The Crafter's Workshop stencils!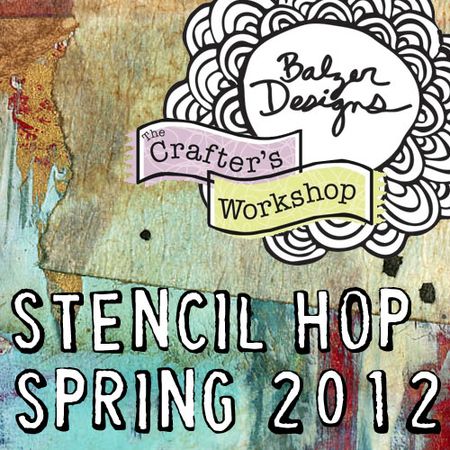 I was the lucky participant of the Stars and Circles stencil which looks like this: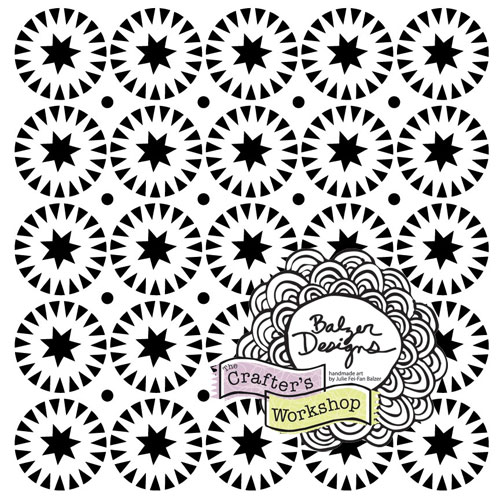 As soon as I got my stencil, the first thing I did was to create a collage page. But you'll have to wait until tomorrow to see that one. Right after I was done, I couldn't stop so I created two art journaling pages so I am here to share those with you.
Here they are: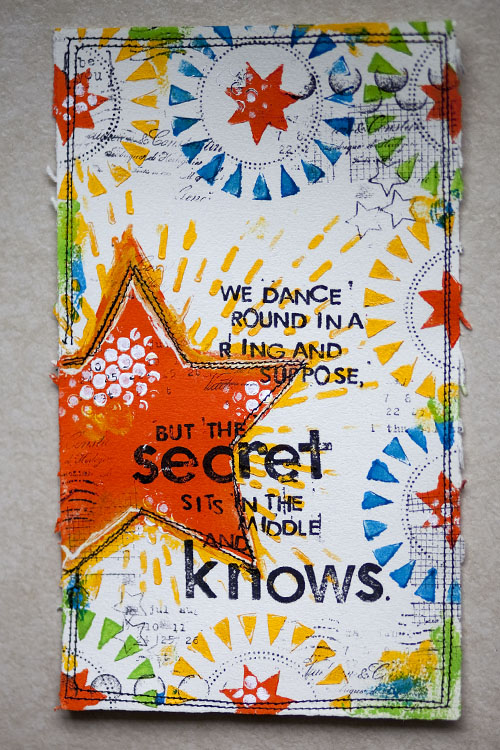 I used the circles template as a background for this one but it's pretty loud and still a main part of my page. I think it supports the main star and the quote really well so I wanted to make sure it was a significant part of the page. The other stencil I used here for the big star is also by Julie and it's called Layered Stars.
The quote is actually a Robert Frost poem that I've always loved. It says: We dance round in a ring and suppose but the secret sits in the middle and knows.
I liked how the circles represented people dancing around in a ring and the star was the secret that sat in the middle.
Then, I completely changed course and created this one: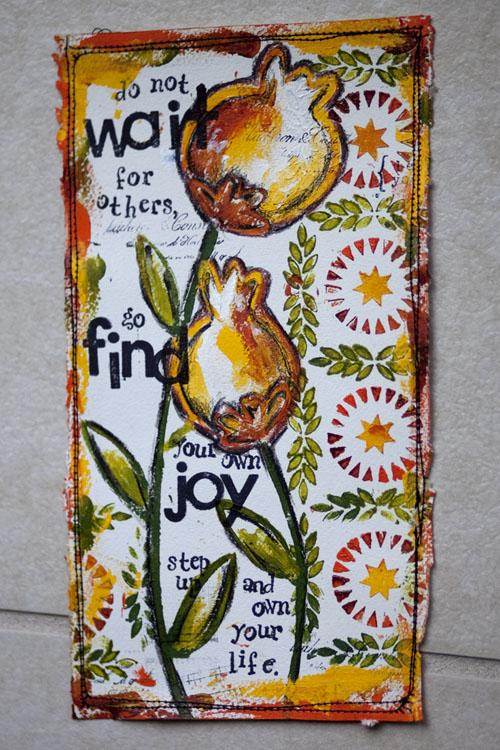 In this one I used the Stars and Circles template more like a background. I like that it adds color and interest to my page but doesn't take away from the flowers in the foreground. I also loved that the circles fit perfectly in the middle of the Leaf Grid template, which is also by Julie and so are the flowers, which is the Poppies template.
The quote on this one reads: Do not wait for others, go find your own joy. Step up and own your life.
That's it for today.  Thank you so much for visiting me and make sure visit everyone else on the hop:
And then go back to Julie's blog and leave her a comment for a chance to win this awesome template!
Oh, and come back tomorrow for my collage post which will also use this very template!