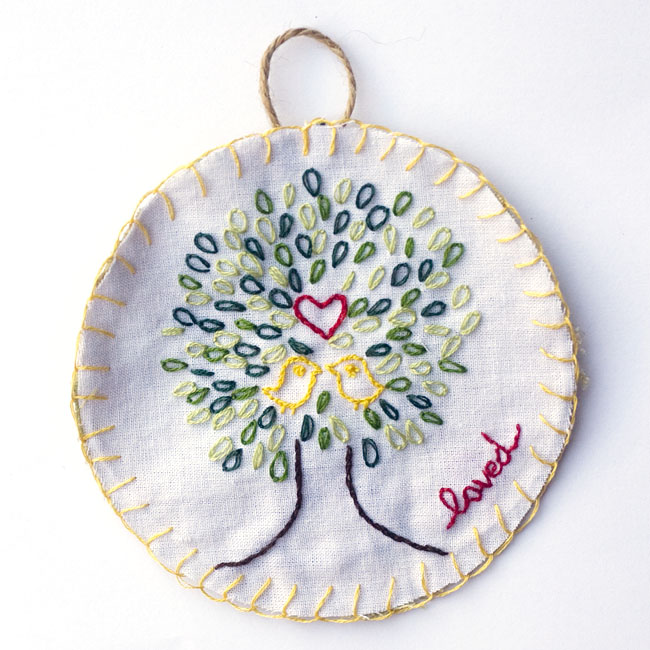 When I originally thought of the projects I might like to do for 2014, I picked several art ones, of course. And when I started the Soul Comfort class and they had videos on creating little stitched patches, I wasn't interested. I'm not sure why I was resisting it.
Even more surprisingly, a few weeks later I decided that not only would I stop resisting it but I could make stitching little patches a project for 2014.
Clearly I was confused about this whole stitching thing.
Once the idea began taking form, I couldn't stop it. I spent a few days trying to decide between hoop sizes. I had a 4 inch one and a 8 inch one. One seemed to small and the other, too big. I tried to envision what a 6″ one would look like and was pretty sure 5 or 6″ would be the right size. I ordered some and then got bored waiting for them to come so I decided to give my 4″ one a try.
And it was just right.
The circle was big enough to draw something nice but small enough to get my project done in a week.
So 4″ hoop it was.
As with all my projects, I went on pinterest and created a board for the project and filled it with ideas.
The goal is that each circle will have an image and a word. This one is a little tree with birds and the word loved.
I will be using muslin for most of my circles. I like the fabric and love the white and already have a bunch on hand. I have the 4″ hoop and a blue dissolving marker. I bought a lightbox. I stitch my circles on the hoop each week and then when I am done, I take them off and cut them. On the back, I am using another fabric I had on hand, something slightly gold. I then do a blanket stitch to join the two. I suck at the blanket stitch and can never do it even, nice or consistent. But this is not meant to be perfect so i am just trying to enjoy it.
here's a peek at the back: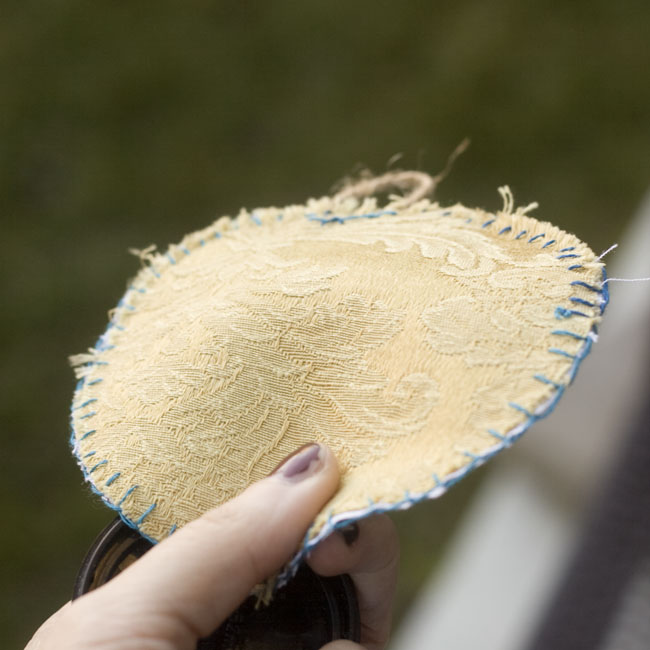 My current plan is to make these little circles and then combine them all into a little book or something. I don't have a grand idea here. The reason I picked stitching is because I like the idea of learning a few little stitches, creating something small each week, and most importantly, stitching is something that really makes me serene and I can do it while I listen to a book or watch TV or sit with my family.
Here's to a year of stitching little circles.