This is a layout I made for My Mind's Eye.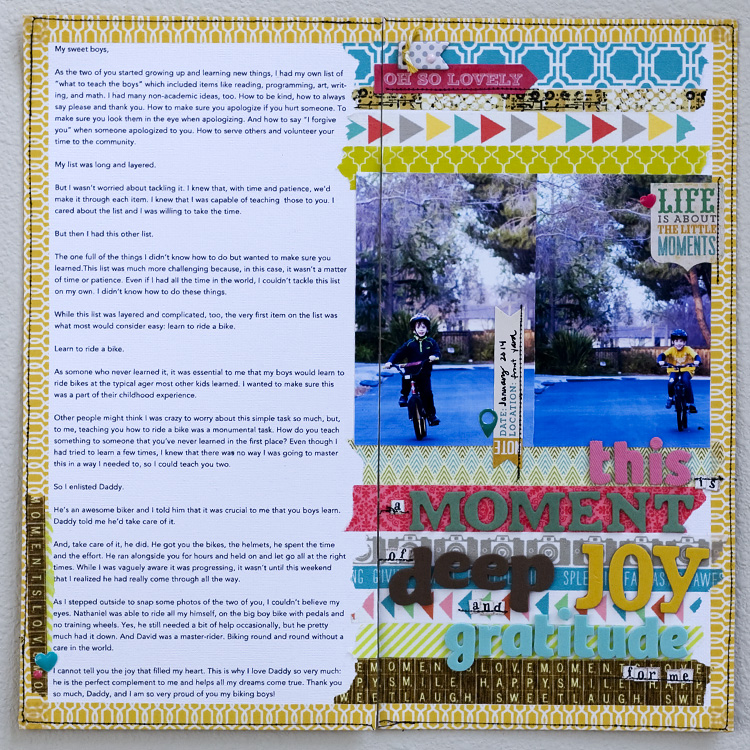 I've been experimenting with making pages that are 2 6x12s where one side is all journaling. Here's the journaling on this one:
My sweet boys,
As the two of you started growing up and learning new things, I had my own list of "what to teach the boys" which included items like reading, programming, art, writing, and math. I had many non-academic ideas, too. How to be kind, how to always say please and thank you. How to make sure you apologize if you hurt someone. To make sure you look them in the eye when apologizing. And how to say "I forgive you" when someone apologized to you. How to serve others and volunteer your time to the community.
My list was long and layered.
But I wasn't worried about tackling it. I knew that, with time and patience, we'd make it through each item. I knew that I was capable of teaching those to you. I cared about the list and I was willing to take the time.
But then I had this other list.
The one full of the things I didn't know how to do but wanted to make sure you learned.This list was much more challenging because, in this case, it wasn't a matter of time or patience. Even if I had all the time in the world, I couldn't tackle this list on my own. I didn't know how to do these things.
While this list was layered and complicated, too, the very first item on the list was what most would consider easy: learn to ride a bike.
Learn to ride a bike.
As someone who never learned it, it was essential to me that my boys would learn to ride bikes at the typical ager most other kids learned. I wanted to make sure this was a part of their childhood experience.
Other people might think I was crazy to worry about this simple task so much, but, to me, teaching you how to ride a bike was a monumental task. How do you teach something to someone that you've never learned in the first place? Even though I had tried to learn a few times, I knew that there was no way I was going to master this in a way I needed to, so I could teach you two.
So I enlisted Daddy.
He's an awesome biker and I told him that it was crucial to me that you boys learn. Daddy told me he'd take care of it.
And, take care of it, he did. He got you the bikes, the helmets, he spent the time and the effort. He ran alongside you for hours and held on and let go all at the right times. While I was vaguely aware it was progressing, it wasn't until this weekend that I realized he had really come through all the way.
As I stepped outside to snap some photos of the two of you, I couldn't believe my eyes. Nathaniel was able to ride all my himself, on the big boy bike with pedals and no training wheels. Yes, he still needed a bit of help occasionally, but he pretty much had it down. And David was a master-rider. Biking round and round without a care in the world.
I cannot tell you the joy that filled my heart. This is why I love Daddy so very much: he is the perfect complement to me and helps all my dreams come true. Thank you so much, Daddy, and I am so very proud of you my biking boys!