This is a layout I made for My Mind's Eye.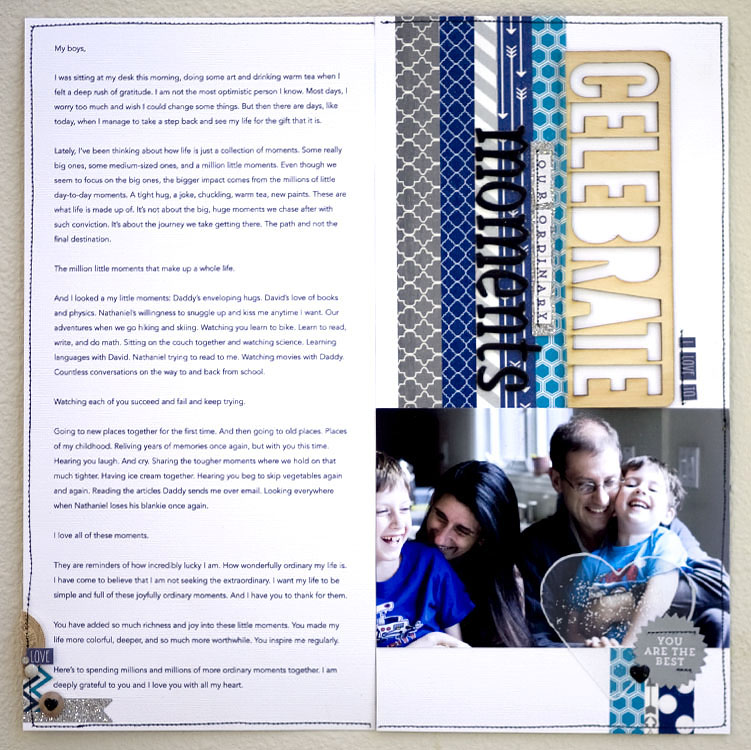 Here's the journaling on this one:
My boys,
I was sitting at my desk this morning, doing some art and drinking warm tea when I felt a deep rush of gratitude. I am not the most optimistic person I know. Most days, I worry too much and wish I could change some things. But then there are days, like today, when I manage to take a step back and see my life for the gift that it is.
Lately, I've been thinking about how life is just a collection of moments. Some really big ones, some medium-sized ones, and a million little moments. Even though we seem to focus on the big ones, the bigger impact comes from the millions of little day-to-day moments. A warm hug, a joke, chuckling, warm tea, new paints. These are what life is made up of. It's not about the big, huge moments we chase after with such conviction. It's about the journey we take getting there. The path and not the final destination.
The million little moments that make up a whole life.
And I looked a my little moments. Daddy's enveloping hugs. David's love of books and physics. Nathaniel's willingness to snuggle up and kiss me anytime I want. Our adventures when we go hiking. Watching you learn to bike. Learn to read, write and do math. Sitting on the couch together and watching science. Learning languages with David. Nathaniel trying to read to me. Watching movies with Daddy. Countless conversations on the way to and back from school.
Watching each of you succeed and fail and keep trying.
Going to new places together for the first time. And then going to old places. Places of my childhood. Reliving years of memories once again, but with you this time. Hearing you laugh. And cry. Sharing the tougher moments where we hold on that much tighter. Having ice cream together. Hearing you beg to skip vegetables again and again. Reading the articles Daddy sends me over email. Looking everywhere when Nathaniel loses his blankie once again.
I love all of these minutes.
They are reminders of how incredibly lucky I am. How wonderfully ordinary my life is. I have come to believe that I am not seeking the extraordinary. I want my life to be simple and full of these joyfully ordinary moments. And I have you to thank for them.
You have added so much richness and joy into these little moments. You made my life more colorful, deeper, and so much more worthwhile.
Here's to spending millions and millions of more ordinary moments together. I am deeply grateful to you and I love you with all my heart.