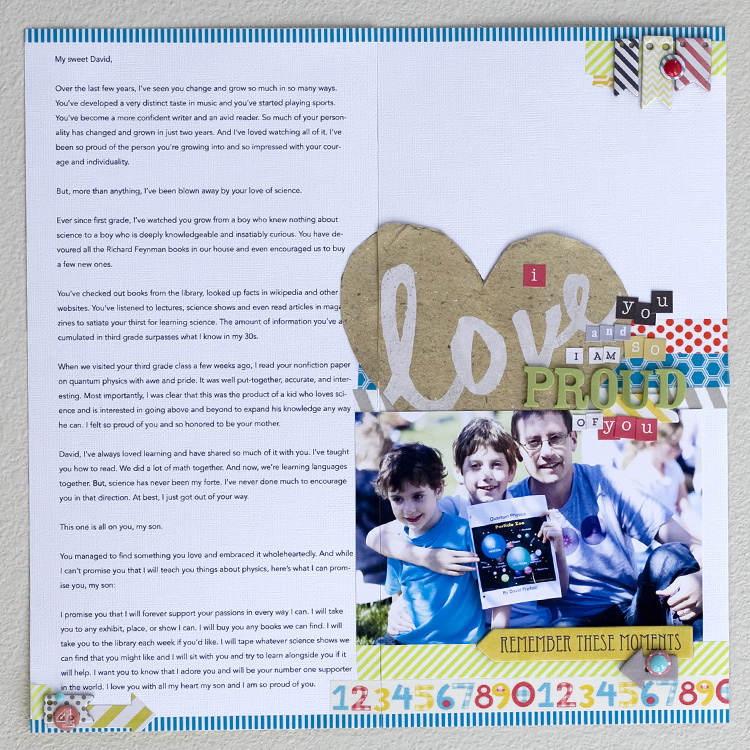 My sweet David,
Over the last few years, I've seen you change and grow so much in so many ways. You've developed a very distinct taste in music and you've started playing sports. You've become a more confident writer and an avid reader. So much of your personality has changed and grown in just two years. And I've loved watching all of it. I've been so proud of the person you're growing into and so impressed with your courage and individuality.
But, more than anything, I've been blown away by your love of science.
Ever since first grade, I've watched you grow from a boy who knew nothing about science to a boy who is deeply knowledgeable and insatiably curious. You have devoured all the Richard Feynman books in our house and even encouraged us to buy a few new ones.
You've checked out books from the library, looked up facts in wikipedia and other websites. You've listened to lectures, science shows and even read articles in magazines to satiate your thirst for learning science. The amount of information you've accumulated in third grade surpasses what I know in my 30s.
When we visited your third grade class a few weeks ago, I read your nonfiction paper on quantum physics with awe and pride. It was well put-together, accurate, and interesting. Most importantly, I was clear that this was the product of a kid who loves science and is interested in going above and beyond to expand his knowledge any way he can. I felt so proud of you and so honored to be your mother.
David, I've always loved learning and have shared so much of it with you. I've taught you how to read. We did a lot of math together. And now, we're learning languages together. But, science has never been my forte. I've never done much to encourage you in that direction. At best, I just got out of your way.
This one is all on you, my son.
You managed to find something you love and embraced it wholeheartedly. And while I can't promise you that I will teach you things about physics, here's what I can promise you, my son:
I promise you that I will forever support your passions in every way I can. I will take you to any exhibit, place, or show I can. I will buy you any books we can find. I will take you to the library each week if you'd like. I will tape whatever science shows we can find that you might like and I will sit with you and try to learn alongside you if it will help. I want you to know that I adore you and will be your number one supporter in the world. I love you with all my heart my son and I am so proud of you.