This is a January layout for My Mind's Eye: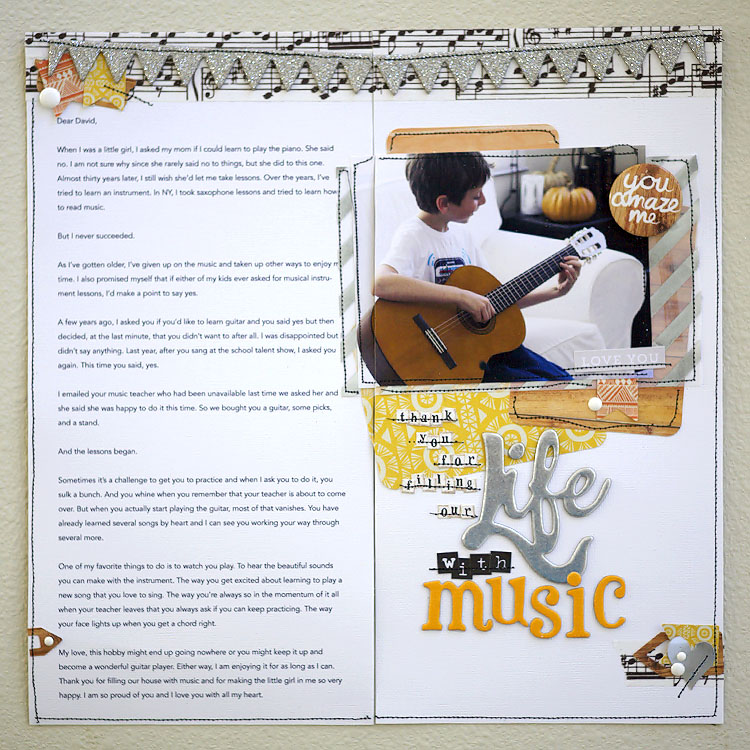 Journaling reads:
Dear David,
When I was a little girl, I asked my mom if I could learn to play the piano. She said no. I am not sure why since she rarely said no to things, but she did to this one. Almost thirty years later, I still wish she'd let me take lessons. Over the years, I've tried to learn an instrument. In NY, I took saxophone lessons and tried to learn how to read music.
But I never succeeded.
As I've gotten older, I've given up on the music and taken up other ways to enjoy my time. I also promised myself that if either of my kids ever asked for musical instrument lessons, I'd make a point to say yes.
A few years ago, I asked you if you'd like to learn guitar and you said yes but then decided, at the last minute, that you didn't want to after all. I was disappointed but I didn't say anything. Last year, after you sang at the school talent show, I asked you again. This time you said, yes.
I emailed your music teacher who had been unavailable last time we asked her and she said she was happy to do it this time. So we bought you a guitar, some picks, and a stand.
And the lessons began.
Sometimes it's a challenge to get you to practice and when I ask you to do it, you sulk a bunch. And you whine when you remember that your teacher is about to come over. But when you actually start playing the guitar, most of that vanishes. You have already learned several songs by heart and I can see you working your way through several more.
One of my favorite things to do is to watch you play. To hear the beautiful sounds you can make with the instrument. The way you get excited about learning to play a new song that you love to sing. The way you're always so in the momentum of it all when your teacher leaves that you always ask if you can keep practicing. The way your face lights up when you get a chord right.
My love, this hobby might end up going nowhere or you might keep it up and become a wonderful guitar player. Either way, I am enjoying it for as long as I can. Thank you for filling our house with music and for making the little girl in me so very happy. I am so proud of you and I love you with all my heart.