Here's this week's story: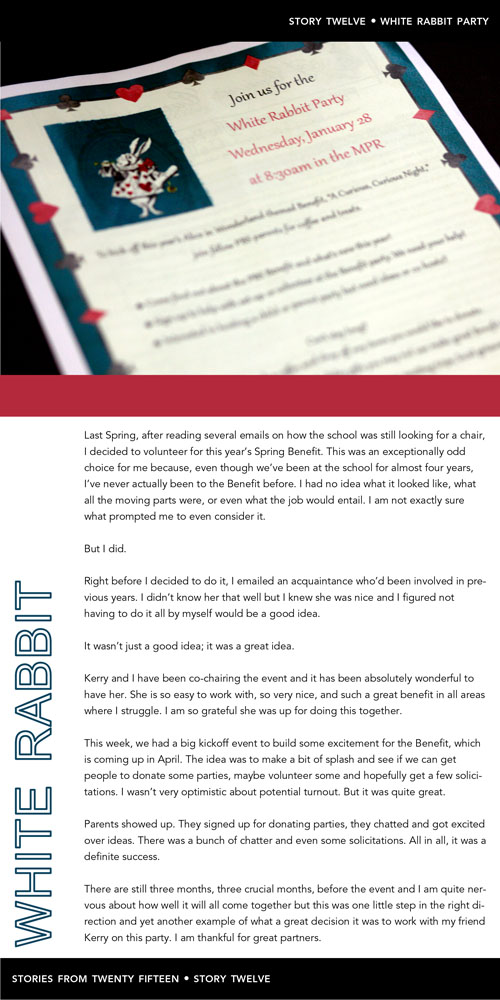 Title: White Rabbit Party
Story:
Last Spring, after reading several emails on how the school was still looking for a chair, I decided to volunteer for this year's Spring Benefit. This was an exceptionally odd choice for me because, even though we've been at the school for almost four years, I've never actually been to the Benefit before. I had no idea what it looked like, what all the moving parts were, or even what the job would entail. I am not exactly sure what prompted me to even consider it.
But I did.
Right before I decided to do it, I emailed an acquaintance who'd been involved in previous years. I didn't know her that well but I knew she was nice and I figured not having to do it all by myself would be a good idea.
It wasn't just a good idea; it was a great idea.
Kerry and I have been co-chairing the event and it has been absolutely wonderful to have her. She is so easy to work with, so very nice, and such a great benefit in all areas where I struggle. I am so grateful she was up for doing this together.
This week, we had a big kickoff event to build some excitement for the Benefit, which is coming up in April. The idea was to make a bit of splash and see if we can get people to donate some parties, maybe volunteer some and hopefully get a few solicitations. I wasn't very optimistic about potential turnout. But it was quite great.
Parents showed up. They signed up for donating parties, they chatted and got excited over ideas. There was a bunch of chatter and even some solicitations. All in all, it was a definite success.
There are still three months, three crucial months, before the event and I am quite nervous about how well it will all come together but this was one little step in the right direction and yet another example of what a great decision it was to work with my friend Kerry on this party. I am thankful for great partners.
---
Stories of Twenty Fifteen is a project for 2015. You can read more about it here.