Here's this week's story: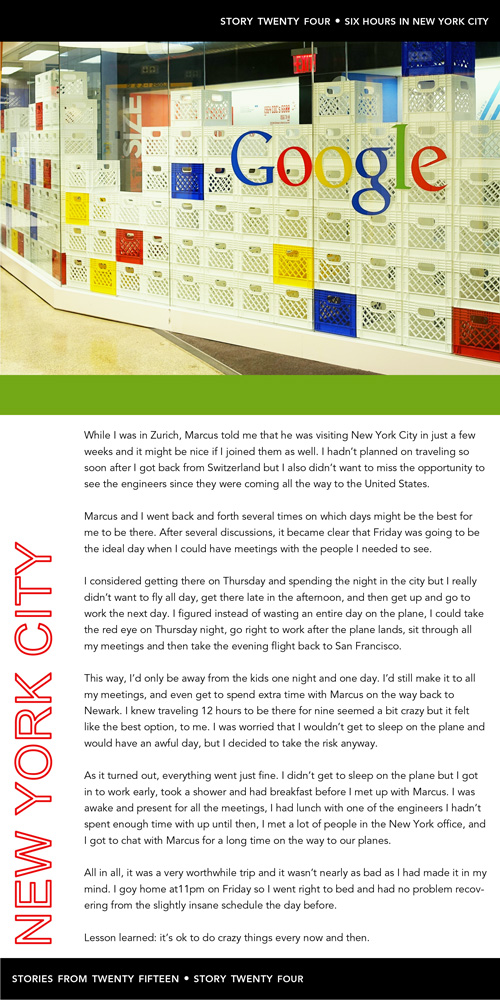 Title: Six Hours in New York City
Story:
While I was in Zurich, Marcus told me that he was visiting New York City in just a few weeks and it might be nice if I joined them as well. I hadn't planned on traveling so soon after I got back from Switzerland but I also didn't want to miss the opportunity to see the engineers since they were coming all the way to the United States.
Marcus and I went back and forth several times on which days might be the best for me to be there. After several discussions, it became clear that Friday was going to be the ideal day when I could have meetings with the people I needed to see.
I considered getting there on Thursday and spending the night in the city but I really didn't want to fly all day, get there late in the afternoon, and then get up and go to work the next day. I figured instead of wasting an entire day on the plane, I could take the red eye on Thursday night, go right to work after the plane lands, sit through all my meetings and then take the evening flight back to San Francisco.
This way, I'd only be away from the kids one night and one day. I'd still make it to all my meetings, and even get to spend extra time with Marcus on the way back to Newark. I knew traveling 12 hours to be there for nine seemed a bit crazy but it felt like the best option, to me. I was worried that I wouldn't get to sleep on the plane and would have an awful day, but I decided to take the risk anyway.
As it turned out, everything went just fine. I didn't get to sleep on the plane but I got in to work early, took a shower and had breakfast before I met up with Marcus. I was awake and present for all the meetings, I had lunch with one of the engineers I hadn't spent enough time with up until then, I met a lot of people in the New York office, and I got to chat with Marcus for a long time on the way to our planes.
All in all, it was a very worthwhile trip and it wasn't nearly as bad as I had made it in my mind. I goy home at11pm on Friday so I went right to bed and had no problem recovering from the slightly insane schedule the day before.
Lesson learned: it's ok to do crazy things every now and then.
---
Stories of Twenty Fifteen is a project for 2015. You can read more about it here.