Here's this week's story: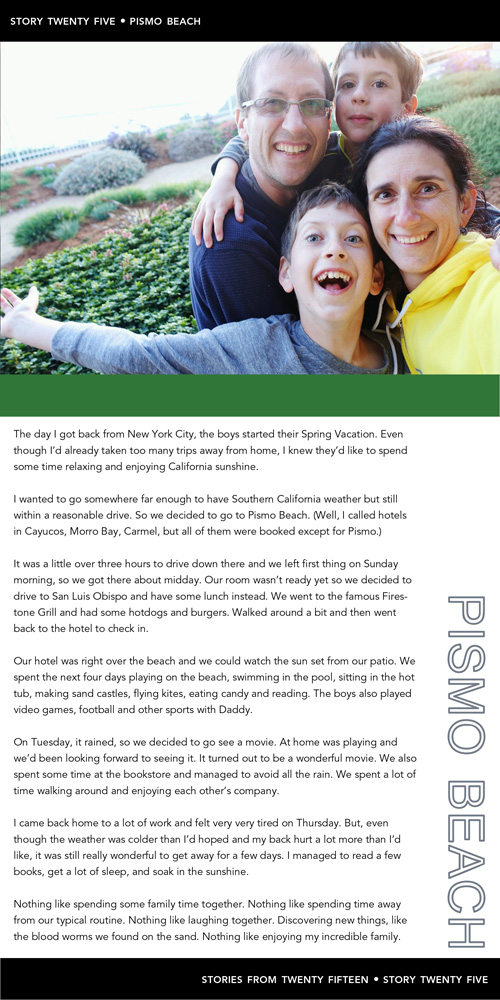 Title: Pismo Beach
Story:
The day I got back from New York City, the boys started their Spring Vacation. Even though I'd already taken too many trips away from home, I knew they'd like to spend some time relaxing and enjoying California sunshine.
I wanted to go somewhere far enough to have Southern California weather but still within a reasonable drive. So we decided to go to Pismo Beach. (Well, I called hotels in Cayucos, Morro Bay, Carmel, but all of them were booked except for Pismo.)
It was a little over three hours to drive down there and we left first thing on Sunday morning, so we got there about midday. Our room wasn't ready yet so we decided to drive to San Luis Obispo and have some lunch instead. We went to the famous Firestone Grill and had some hotdogs and burgers. Walked around a bit and then went back to the hotel to check in.
Our hotel was right over the beach and we could watch the sun set from our patio. We spent the next four days playing on the beach, swimming in the pool, sitting in the hot tub, making sand castles, flying kites, eating candy and reading. The boys also played video games, football and other sports with Daddy.
On Tuesday, it rained, so we decided to go see a movie. At home was playing and we'd been looking forward to seeing it. It turned out to be a wonderful movie. We also spent some time at the bookstore and managed to avoid all the rain. We spent a lot of time walking around and enjoying each other's company.
I came back home to a lot of work and felt very very tired on Thursday. But, even though the weather was colder than I'd hoped and my back hurt a lot more than I'd like, it was still really wonderful to get away for a few days. I managed to read a few books, get a lot of sleep, and soak in the sunshine.
Nothing like spending some family time together. Nothing like spending time away from our typical routine. Nothing like laughing together. Discovering new things, like the blood worms we found on the sand. Nothing like enjoying my incredible family.
---
Stories of Twenty Fifteen is a project for 2015. You can read more about it here.