Here's this week's story: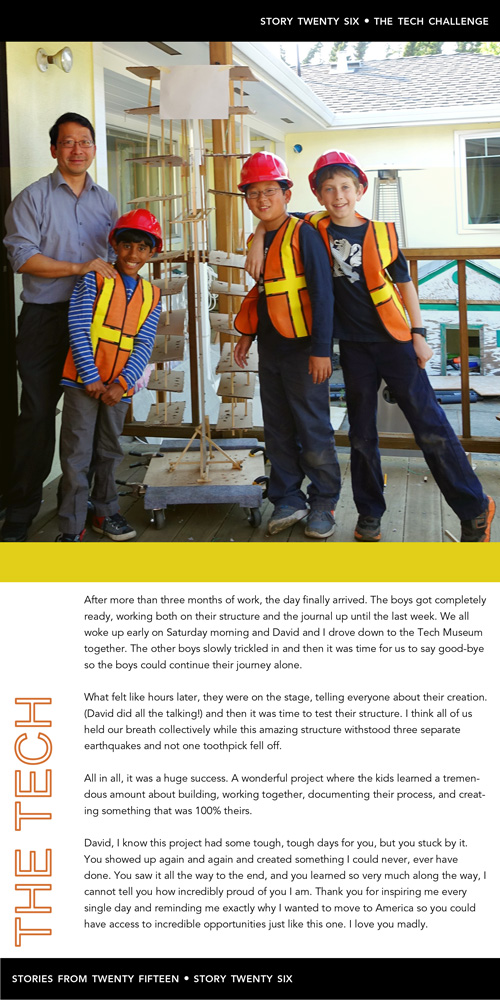 Title: The Tech Challenge
Story:
After more than three months of work, the day finally arrived. The boys got completely ready, working both on their structure and the journal up until the last week. We all woke up early on Saturday morning and David and I drove down to the Tech Museum together. The other boys slowly trickled in and then it was time for us to say good-bye so the boys could continue their journey alone.
What felt like hours later, they were on the stage, telling everyone about their creation. (David did all the talking!) and then it was time to test their structure. I think all of us held our breath collectively while this amazing structure withstood three separate earthquakes and not one toothpick fell off.
All in all, it was a huge success. A wonderful project where the kids learned a tremendous amount about building, working together, documenting their process, and creating something that was 100% theirs.
David, I know this project had some tough, tough days for you, but you stuck by it. You showed up again and again and created something I could never, ever have done. You saw it all the way to the end, and you learned so very much along the way, I cannot tell you how incredibly proud of you I am. Thank you for inspiring me every single day and reminding me exactly why I wanted to move to America so you could have access to incredible opportunities just like this one. I love you madly.
---
Stories of Twenty Fifteen is a project for 2015. You can read more about it here.