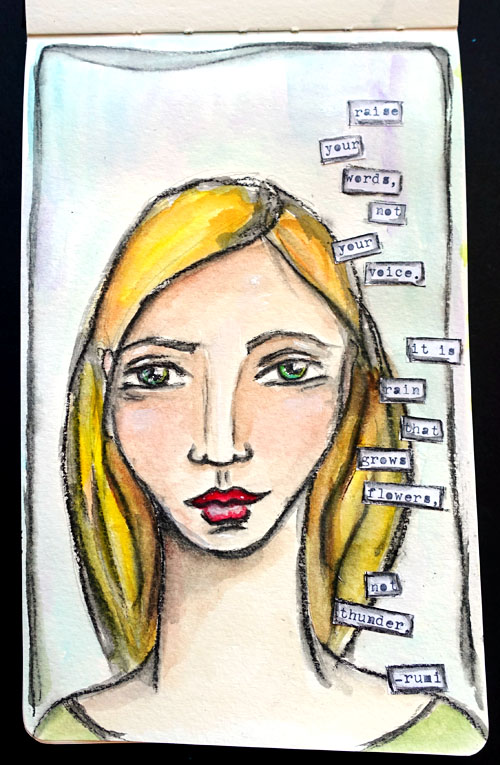 Today's girl was still a challenge to make. A bit better but really very, very far from where I wish I were. Alas we keep going.
As for today's quote, it says:
Raise your words, not your voice. It is rain that grows flowers, not thunder. -rumi
Oh man.
This is something I really struggle with. And something I desperately want to be better at. I come from a family of screamers. Even though I make a resolution to not scream multiple times a day, I break it almost as often. I just can't seem to control myself when the moment comes. Especially when David knows exactly what to say to step on every single one of my triggers. Especially when his words sting and bring me back to my childhood years.
Especially when I am back to being the vulnerable, lonely, hurt person who lives inside me.
I noticed that most of the time when I am yelling, it's about me. It's about how I feel. Not about the other person in any way. I feel disrespected, entitled, sad, and hurt in that order. And those feelings are uncomfortable so instead of sitting with them or swallowing them, I just scream. It allows me to discharge the discomfort.
And even though I intellectually know all this, it doesn't bring me any closer to emotionally being able to control myself in the moment it's happening. In that moment, I am back to my ten year old self and I just want to have a tantrum.
After it's over, my 41-year-old self wallows in the shame of it all and apologizes and swears not to do it again.
Until the next time.
I just hope that each of these times is a practice for me to get a tiny bit better. So that eventually there will be this one magical day where I sit with the discomfort and let is wash over me instead of taking it out on those I love.
I will keep trying and wishing and hoping and trying until that moment comes.