These are from Ali's 31 More Things class. More context here.
So here's my day twenty-eight – happy.
(journaling below)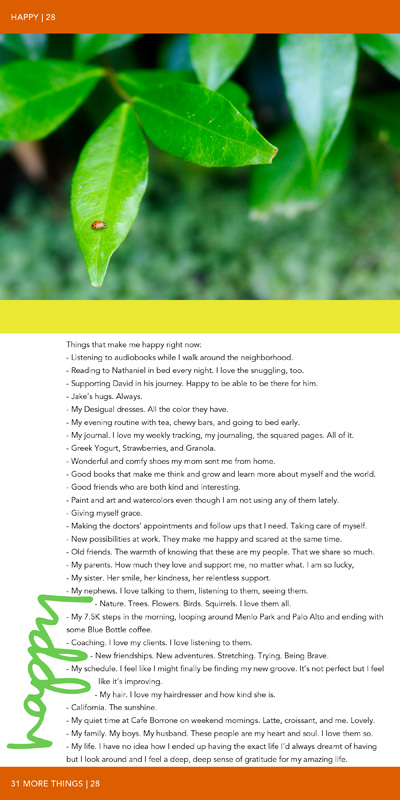 Journaling:
Things that make me happy right now:
– Listening to audiobooks while I walk around the neighborhood.
– Reading to Nathaniel in bed every night. I love the snuggling, too.
– Supporting David in his journey. Happy to be able to be there for him.
– Jake's hugs. Always.
– My Desigual dresses. All the color they have.
– My evening routine with tea, chewy bars, and going to bed early.
– My journal. I love my weekly tracking, my journaling, the squared pages. All of it.
– Greek Yogurt, Strawberries, and Granola.
– Wonderful and comfy shoes my mom sent me from home.
– Good books that make me think and grow and learn more about myself and the world.
– Good friends who are both kind and interesting.
– Paint and art and watercolors even though I am not using any of them lately.
– Giving myself grace.
– Making the doctors' appointments and follow ups that I need. Taking care of myself.
– New possibilities at work. They make me happy and scared at the same time.
– Old friends. The warmth of knowing that these are my people. That we share so much.
– My parents. How much they love and support me, no matter what. I am so lucky,
– My sister. Her smile, her kindness, her relentless support.
– My nephews. I love talking to them, listening to them, seeing them.
– Nature. Trees. Flowers. Birds. Squirrels. I love them all.
– My 7.5K steps in the morning, looping around Menlo Park and Palo Alto and ending with some Blue Bottle coffee.
– Coaching. I love my clients. I love listening to them.
– New friendships. New adventures. Stretching. Trying. Being Brave.
– My schedule. I feel like I might finally be finding my new groove. It's not perfect but I feel like it's improving.
– My hair. I love my hairdresser and how kind she is.
– California. The sunshine.
– My quiet time at Cafe Borrone on weekend mornings. Latte, croissant, and me. Lovely.
– My family. My boys. My husband. These people are my heart and soul. I love them so.
– My life. I have no idea how I ended up having the exact life I'd always dreamt of having but I look around and I feel a deep, deep sense of gratitude for my amazing life.