These are from Ali's 31 More Things class. More context here.
So here's my day twenty-nine – break.
(journaling below)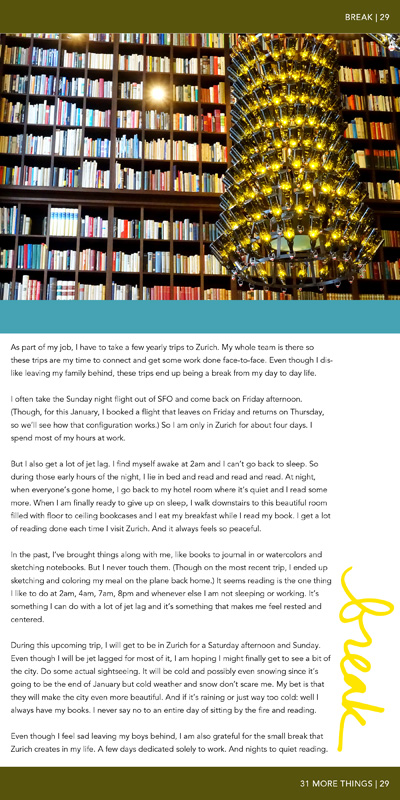 Journaling:
As part of my job, I have to take a few yearly trips to Zurich. My whole team is there so these trips are my time to connect and get some work done face-to-face. Even though I dislike leaving my family behind, these trips end up being a break from my day to day life.
I often take the Sunday night flight out of SFO and come back on Friday afternoon. (Though, for this January, I booked a flight that leaves on Friday and returns on Thursday, so we'll see how that configuration works.) So I am only in Zurich for about four days. I spend most of my hours at work.
But I also get a lot of jet lag. I find myself awake at 2am and I can't go back to sleep. So during those early hours of the night, I lie in bed and read and read and read. At night, when everyone's gone home, I go back to my hotel room where it's quiet and I read some more. When I am finally ready to give up on sleep, I walk downstairs to this beautiful room filled with floor to ceiling bookcases and I eat my breakfast while I read my book. I get a lot of reading done each time I visit Zurich. And it always feels so peaceful.
In the past, I've brought things along with me, like books to journal in or watercolors and sketching notebooks. But I never touch them. (Though on the most recent trip, I ended up sketching and coloring my meal on the plane back home.) It seems reading is the one thing I like to do at 2am, 4am, 7am, 8pm and whenever else I am not sleeping or working. It's something I can do with a lot of jet lag and it's something that makes me feel rested and centered.
During this upcoming trip, I will get to be in Zurich for a Saturday afternoon and Sunday. Even though I will be jet lagged for most of it, I am hoping I might finally get to see a bit of the city. Do some actual sightseeing. It will be cold and possibly even snowing since it's going to be the end of January but cold weather and snow don't scare me. My bet is that they will make the city even more beautiful. And if it's raining or just way too cold: well I always have my books. I never say no to an entire day of sitting by the fire and reading.
Even though I feel sad leaving my boys behind, I am also grateful for the small break that Zurich creates in my life. A few days dedicated solely to work. And nights to quiet reading.