When I was trying to figure out what format might be the best for me to use for my gratitude journey, I decided to focus on what I value the most: photos and words.
I take pictures everyday. Mostly of my children, but also of other things that are in my life. This is something I've been doing every day for the last two years and I plan to continue doing it in 2010. I also write on my blog every day. I decided that in 2010, each of my daily entries will list three things that I am thankful for on that day. This is something I did for a while in 2008 and I really loved it, so I think it's good to bring it back. This way, I will have tons of ideas to choose from when it comes to doing my weekly art.
Since I am on the computer most of my day, I decided to do my project fully digitally. I made simple photoshop templates that accommodate photos of either orientation and different amounts of text. Each week, I will simply change the date, add a photo, and write my few words. This way, I am not spending so much time worrying about what paper to pick, what embellishments to add, etc. I am just focusing on the core element of practicing gratitude. I have found that sometimes worrying about the "artistic" side can get in the way of things and I don't want anything to stop me from doing this project and I don't want anything to take away from the essence of the project.
With all that in mind, here is what I made:
For a landscape photo: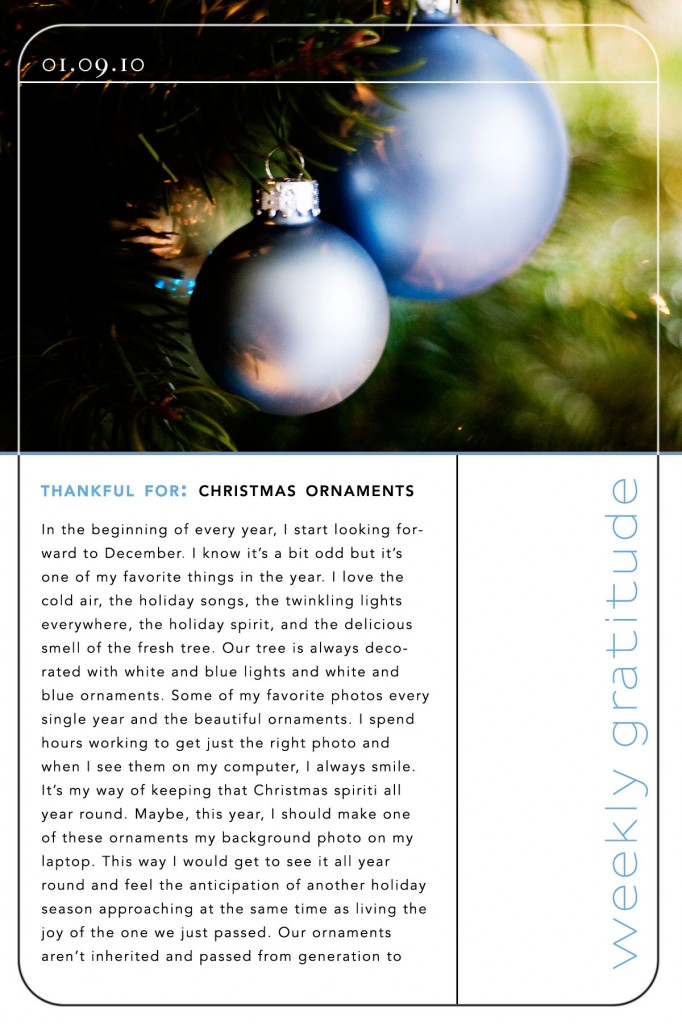 And for portrait photo (I made two options here). One with smaller photo, more text.
And another with bigger photo, less text.
All of these are 4×6 so at the end of the year (or at periodic times throughout the year) I will print them all out and put them in a photo album or box of my choice. This way, I get to have them in paper form as well. And I can embellish the cover or box as I please.
If you'd like to use the same format, you are welcome to download my templates.
The only caveat is that I am using two fonts that aren't free. For the date, I used "Big Caslon" and for the title and text, I used "Avenir" (in different weights.) Since neither of those are free, I changed the fonts in the templates so the dates are in "Old Rubber Stamp" (free download here) and the title and text are in Verdana. If you're a digi person, each of the frames are their own layer so you can also change their color as you wish.
If you have questions, feel free to leave a comment and I will do my best to help. And, remember, the goal here is to practice weekly gratitude so when you're thinking about your own format, make sure to keep it simple and doable.