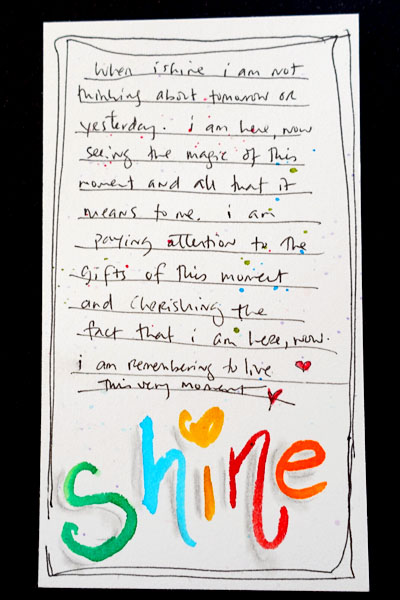 This card says: When I shine I am not thinking about tomorrow or yesterday. I am here, now, seeing the magic of this moment and all that it means to me. I am paying attention to the gifts of this moment and cherishing the facts that I am here now. I am remembering to live this very moment.
My word a few years ago was "present." The whole point of choosing that word was to remember this one fact. To be here, now.
This moment, right here, is so magical. In this moment, I am sitting on my couch with a blanket that's warming my feet, some really comfy, soft tights that are colorful and listening to "I Bet My Life" by Imagine Dragons while I sip some coffee. David is in the other room, taking some alone time and Nathaniel is reading Calvin and Hobbes. Jake is traveling with his brothers and father. I am healthy. I am sleepy. I am content.
There's so much magic in this moment. This exact moment will never come around again. In fact, it's already gone. I am in the next moment already.
And when I focus on what will happen three hours from now (I have to make lunches), or two days from now (all-day work summit) or one week from now (David will be leaving for D.C) or a month from now (almost time to leave for Sydney again) or a year from now (both kids at the same school and David almost done with middle school!) I am filled with emotions that are related to that moment. My expectations, my worries, my focus changes. It's not possible for me to hold on to this very moment and that other moment at the same time.
It's only when I am here, now that I can truly live this moment. Shining is only possible in this moment because it's the only moment I have.
---
Shining Means is a Monthly Project for March 2017. You can read more about my projects for 2017 here. You can read about the start of this project here.