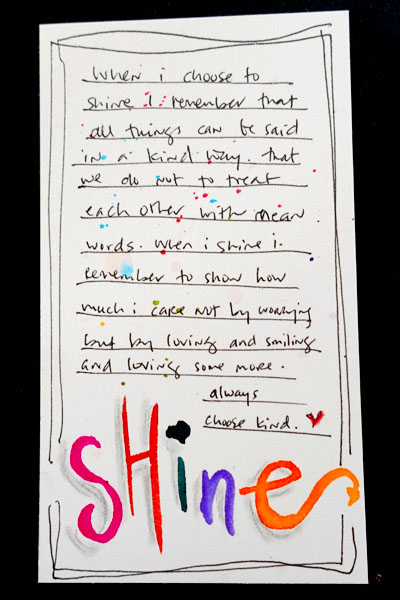 This card says: When I choose to shine, I remember that all things can be said in a kind way. That we do not treat each other with mean words. When I shine, I remember to show how much I care not by worrying but by loving and smiling and loving some more. Always choose kind.
Even though I've never picked the word "kind" for a One Little Word, I think kind is one of my life-words. A lens through which I am always aiming to live my life. I don't have many life words. The three that always seems to come are: kind, loving and brave.
I want to be kind. I want to be with people who are kind. I want to say everything with kindness. I want to receive everything with kindness. I don't want to worry. I want to love. I want to be there. I want to sit with hard things. I want to encourage my kids to be brave and not hold them back by worrying. I want to be kind and brave.
And I fail at both of these all the time. All. the. time.
And yet, I pick myself up and try again.
And I will again and again and again until I can get it right more often than I get it wrong.
Because word might come and go and people might come and go and projects might come and go but what will not ever go away is the way you make people feel and the way you feel around other people. And I want everyone around my to feel brave and kind. I want to exude it and receive it.
---
Shining Means is a Monthly Project for March 2017. You can read more about my projects for 2017 here. You can read about the start of this project here.