Several people have asked what I thought about the Soul Restoration class and instead of writing the same stuff again and again, I thought I'd post it here. Remember that these are just my personal thoughts.
I'll admit that I wasn't sure I needed to take this class. For the first time in many many years, I feel like my soul is in better shape than it's ever been, so I wasn't sure what it would do for me. I mean, I knew I could always use more work but I didn't feel like I needed it. Not like sketching and painting and drawing, all of which were calling to me with more urgency. But I've been reading Melody's blog for a long time and the way she writes really speaks to me strongly. It moves me and makes me feel empowered and inspired so I knew I was going to miss out if I didn't try. Since I have little kids, getting away to go to Brave Girl Camp wasn't an option for me. So when this opportunity presented itself, I had to take the plunge. I was taking 4 other classes at the same time and this was the one I thought I was least likely to learn "new things" in.
I could not have been more wrong.
I would have to say this is easily one of the best classes I have ever taken. Ever. One of the ones I learned the most in and grew the most in. I am the kind of person who pays attention. I would say I am aware. I listen to myself. I watch and observe and try to learn and grow. And, still, I learned so very much about myself in this class, it's almost impossible to explain how much. I had revelation after revelation.
Here are some basic details about the class: It's 6 weeks long (though we had a bonus 7th week) and each week is several videos. Each video is 5-15 minutes but there might be 4 to 8 for each lesson. There are downloadables too but you really need to be able to watch the videos, the content is in the videos. So you need reliable and good internet access. Then, each week, there are projects. You can make them as artsy as you want or not at all. There also are journaling prompts each week. Around 15 or so each week. You are strongly encouraged to journal the ones that speak to you. You are also encouraged to make something called truth cards. (I have only made one of these so far but it's in my list for April or May and I will definitely make them because I know it will be very very powerful.) There are many many many technique videos, too. On art, journaling, etc. There's also a community where you can share, listen, support, ask questions, etc. That's the basics.
I will admit that I didn't participate a lot in the community. I had limited time and decided early on it would be easy to sink it all into the community and not do any of the work but I wanted to do the work, so I chose that. Other than that, though, I did everything. I watched the videos when they went up (I excitedly awaited each one to be honest.) I did a lot of journaling. I did all the art. I used one journal to do everything in and here's what it looks like now.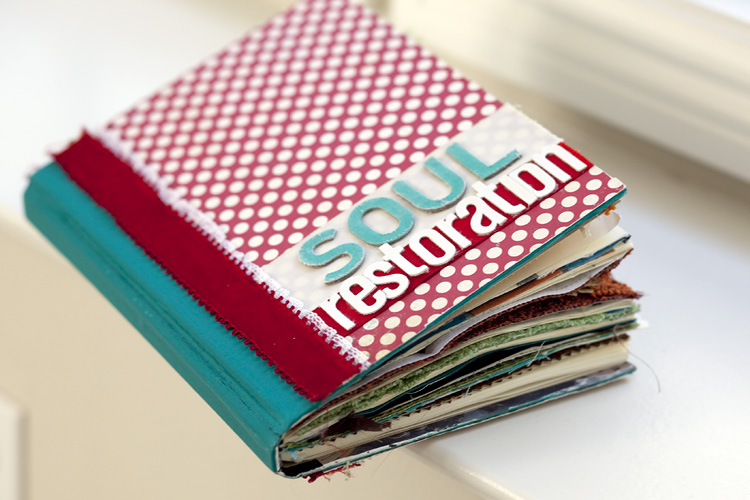 I think the single biggest thing that helped me was the journaling. The art was powerful, too but not as much as the journaling. The journaling made me keep it real. Dig deep. Art was also like that. Just not as deep. But maybe that was because I did the journaling first each time.
Here are all my posts about the class so you can see how much I grew and learned each week:
Week 1 – Soul House
Week 1 – TruthTeller (It looks like I never posted this one. The art is below.
Week 2 – My Timeline
Week 3 – The Two Karens
Week 4 – She Did it Anyway
Week 5 – The Good and the Bad
Week 6 – Where the Peace Is
Week 6 – Promises
Week 6 – No More and Focus On
Week 7 – Daily Soulwork
Here's the Truthteller page: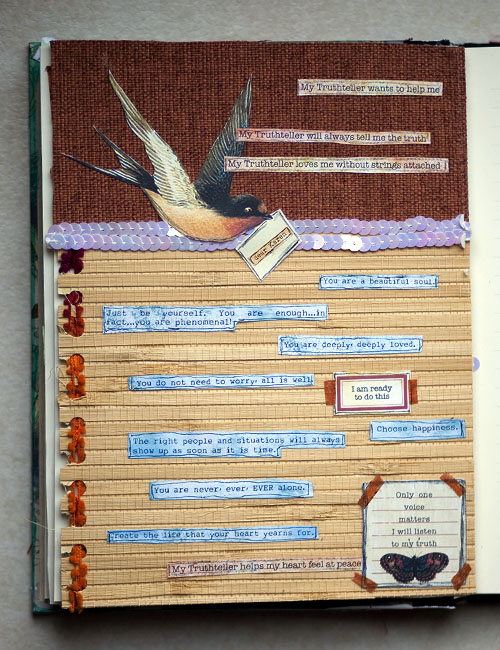 I should have written about that one for a long while, too. Apologies.
What made this class great was that if you actually sit and did the work, it was impossible not to learn and grow. It's genuine, it works. I will admit that I don't have anything truly horrible that is going on or went on in my life. I cannot speak for how hard it is to handle all this inward looking if you have. If you need real help, you should be seeking it with a professional of course. But if, like me, you like to be inward looking, more aware, and want to free your soul, this is the class for you. You have to commit to doing the work, though. Really really doing it.
I genuinely, deeply, truly recommend it. And I am so thankful that Melody and Kathy decided to finally do it online. I knew it would be truly transformative and, for me, it really was.
If you have any questions, feel free to ask in the comments, I will be detailed and truthful in my responses as long as you promise to remember these are just my personal opinions and your experience, of course, might end up being different.