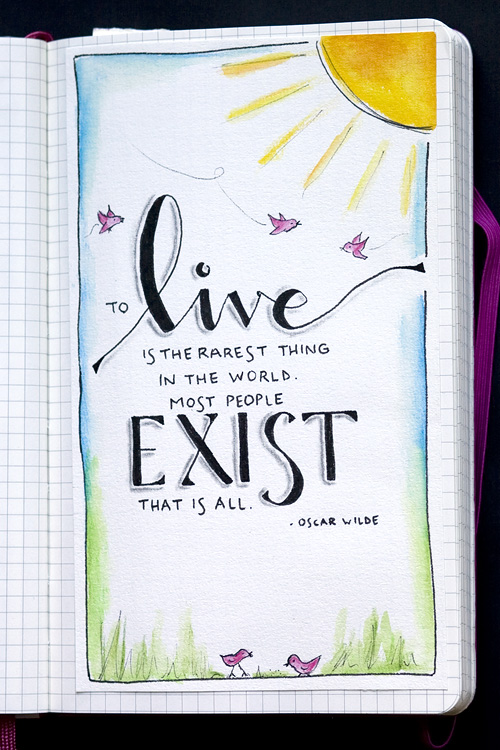 Today's quote is:
To live is the rarest thing in the world. Most people exist, that is all. – Oscar Wilde
This is one of those quotes that made me cringe when I read it. The truth of it hit me so strongly that I couldn't breathe for a moment.
The fact is, there are so many days, weeks, months when I am existing, and barely at that. I am just making it through my days, doing the things I've set for myself and the things that need to get done. And even those don't really get done.
At this very moment, my clean laundry is piled up high, my floor is full of toys, the kitchen table has piles of papers, and my hands are covered with paint. I haven't even begun to write my todo list for two weeks and I am hundreds of emails behind in my inbox. Random important things that I have to do pop into my head and I keep thinking I should at least write them down.
But I don't want to do any of those things.
And I don't.
I sit and read my book or write here or do some more art.
I am not even existing today but really in the place where I just avoid everything. I am numbing but not with food or internet, with just avoidance.
So when I read a quote like this, I feel like screaming.
Yes, I want to say, I want to live! I don't want to merely Exist.
I don't want it to feel so hard.
And then I remember that tomorrow is another day and I get to choose all over again.
So tonight, I'll do a little bit, I'll barely exist. I'll take a walk and then go to sleep. Tomorrow, maybe tomorrow, can be the day I can take on the task of living.