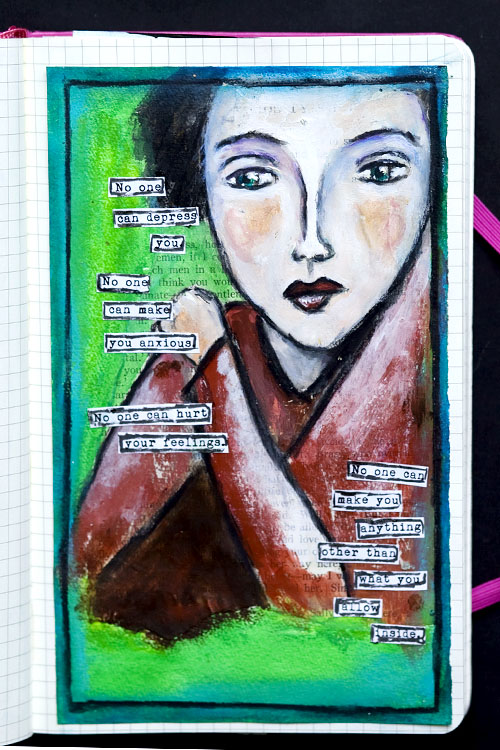 This face was made with neocolor watersoluble crayons and gesso for the most part. It's not one of my favorites but I made a whole range of them this month and this one is there. I like the quote on it which is why I wanted to make sure to post it.
No one can depress you. No one can make you anxious. No one can hurt your feelings. No one can make you anything other than what you allow inside.
This is one that has me thinking often. Even this morning. I had to make a decision at work and one of the engineers didn't like my decision. It wasn't an easy one, I thought a lot about it and then had to make a call. A big part of my job is making these calls. They are never easy and I often have to weigh all sides, think things through, and then make a decision between two bad choices. It's not something I love but it's something I have to do. Anyhow, I made a decision and he didn't like it and then he made some snide comment.
And it hurt my feelings.
I was so upset that I had tears in my eyes. (Reason #23463 I am grateful that I work from home.) And then I thought of this quote. He can't make me upset. He can't hurt my feelings. He can just make some crappy comments. And I get to choose what they mean. I get to decide their impact on me. I get to choose how I feel.
I get to choose.
I forget this often. I think it's easy to fall into the victim mentality and act like things are happening to you. What I like about this quote is that it's a reminder that you are in control.
Let me rephrase: You are never in control of what others do but you are always in control of how you feel about it. Every. single. time.
You get to choose how to feel. What to feel.
And once you claim that choice, you are now in a position of power. You are no longer a victim. You remember that you own your life. Every single part of it, including all of your feelings.
You own everything that you allow inside.