Here's this week's story: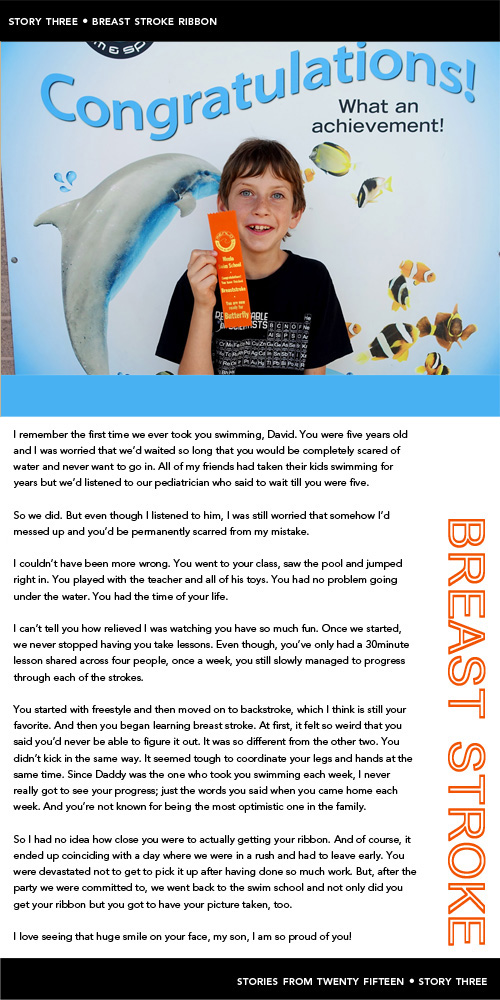 Title: Breast Stroke Ribbon
Story:
I remember the first time we ever took you swimming, David. You were five years old and I was worried that we'd waited so long that you would be completely scared of water and never want to go in. All of my friends had taken their kids swimming for years but we'd listened to our pediatrician who said to wait till you were five.
So we did. But even though I listened to him, I was still worried that somehow I'd messed up and you'd be permanently scarred from my mistake.
I couldn't have been more wrong. You went to your class, saw the pool and jumped right in. You played with the teacher and all of his toys. You had no problem going under the water. You had the time of your life.
I can't tell you how relieved I was watching you have so much fun. Once we started, we never stopped having you take lessons. Even though, you've only had a 30minute lesson shared across four people, once a week, you still slowly managed to progress through each of the strokes.
You started with freestyle and then moved on to backstroke, which I think is still your favorite. And then you began learning breast stroke. At first, it felt so weird that you said you'd never be able to figure it out. It was so different from the other two. You didn't kick in the same way. It seemed tough to coordinate your legs and hands at the same time. Since Daddy was the one who took you swimming each week, I never really got to see your progress; just the words you said when you came home each week. And you're not known for being the most optimistic one in the family.
So I had no idea how close you were to actually getting your ribbon. And of course, it ended up coinciding with a day where we were in a rush and had to leave early. You were devastated not to get to pick it up after having done so much work. But, after the party we were committed to, we went back to the swim school and not only did you get your ribbon but you got to have your picture taken, too.
I love seeing that huge smile on your face, my son, I am so proud of you!
---
Stories of Twenty Fifteen is a project for 2015. You can read more about it here.