Here's this week's story :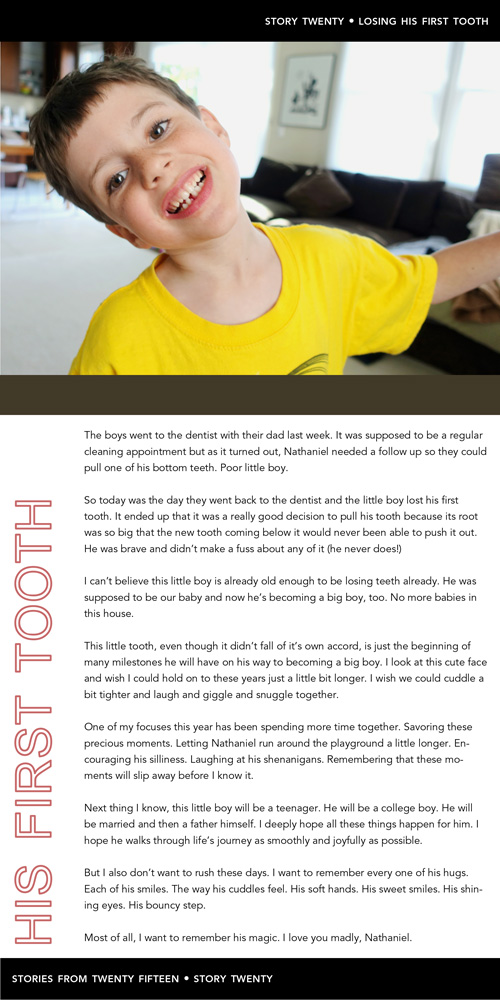 Title: Losing His First Tooth
Story:
The boys went to the dentist with their dad last week. It was supposed to be a regular cleaning appointment but as it turned out, Nathaniel needed a follow up so they could pull one of his bottom teeth. Poor little boy.
So today was the day they went back to the dentist and the little boy lost his first tooth. It ended up that it was a really good decision to pull his tooth because its root was so big that the new tooth coming below it would never been able to push it out. He was brave and didn't make a fuss about any of it (he never does!)
I can't believe this little boy is already old enough to be losing teeth already. He was supposed to be our baby and now he's becoming a big boy, too. No more babies in this house.
This little tooth, even though it didn't fall of it's own accord, is just the beginning of many milestones he will have on his way to becoming a big boy. I look at this cute face and wish I could hold on to these years just a little bit longer. I wish we could cuddle a bit tighter and laugh and giggle and snuggle together.
One of my focuses this year has been spending more time together. Savoring these precious moments. Letting Nathaniel run around the playground a little longer. Encouraging his silliness. Laughing at his shenanigans. Remembering that these moments will slip away before I know it.
Next thing I know, this little boy will be a teenager. He will be a college boy. He will be married and then a father himself. I deeply hope all these things happen for him. I hope he walks through life's journey as smoothly and joyfully as possible.
But I also don't want to rush these days. I want to remember every one of his hugs. Each of his smiles. The way his cuddles feel. His soft hands. His sweet smiles. His shining eyes. His bouncy step.
Most of all, I want to remember his magic. I love you madly, Nathaniel.
---
Stories of Twenty Fifteen is a project for 2015. You can read more about it here.