Here's this week's story: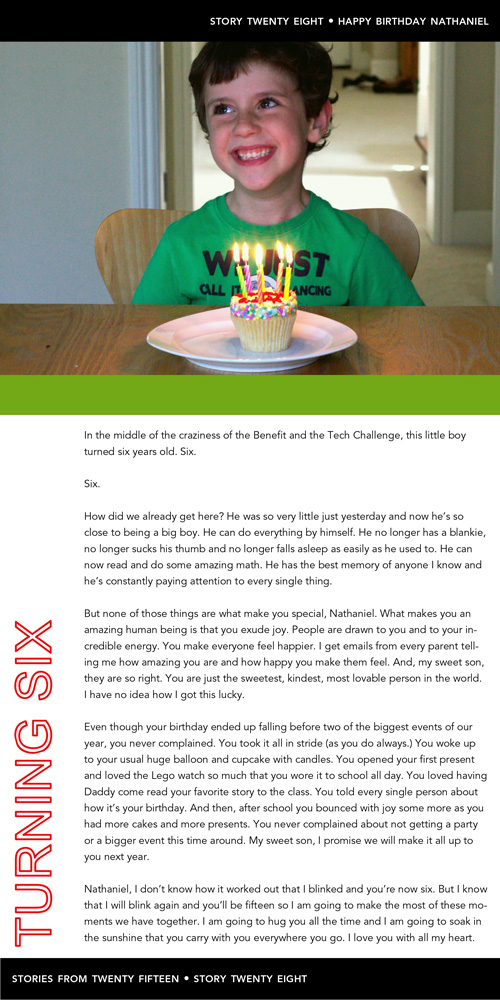 Title: Happy Birthday Nathaniel
Story:
In the middle of the craziness of the Benefit and the Tech Challenge, this little boy turned six years old. Six.
Six.
How did we already get here? He was so very little just yesterday and now he's so close to being a big boy. He can do everything by himself. He no longer has a blankie, no longer sucks his thumb and no longer falls asleep as easily as he used to. He can now read and do some amazing math. He has the best memory of anyone I know and he's constantly paying attention to every single thing.
But none of those things are what make you special, Nathaniel. What makes you an amazing human being is that you exude joy. People are drawn to you and to your incredible energy. You make everyone feel happier. I get emails from every parent telling me how amazing you are and how happy you make them feel. And, my sweet son, they are so right. You are just the sweetest, kindest, most lovable person in the world. I have no idea how I got this lucky.
Even though your birthday ended up falling before two of the biggest events of our year, you never complained. You took it all in stride (as you do always.) You woke up to your usual huge balloon and cupcake with candles. You opened your first present and loved the Lego watch so much that you wore it to school all day. You loved having Daddy come read your favorite story to the class. You told every single person about how it's your birthday. And then, after school you bounced with joy some more as you had more cakes and more presents. You never complained about not getting a party or a bigger event this time around. My sweet son, I promise we will make it all up to you next year.
Nathaniel, I don't know how it worked out that I blinked and you're now six. But I know that I will blink again and you'll be fifteen so I am going to make the most of these moments we have together. I am going to hug you all the time and I am going to soak in the sunshine that you carry with you everywhere you go. I love you with all my heart.
---
Stories of Twenty Fifteen is a project for 2015. You can read more about it here.